Disclosure: I am a brand ambassador for True Aussie Beef & Lamb. (Yes, I'm very lucky to be working with a great company!) And, I'm compensated for creating recipes, including this one, aussie grassfed beef harissa meatball fruit kabobs, and for them using their product(s). Believe me, I don't partner with any brand unless I truly believe in and support their product(s). And, most importantly, would feed these products to my family and friends! All these opinions and the creation of this recipe are credited to me.
Bottom Line
OK, so the most difficult thing about this recipe is holding your hand steady as you push that skewer through the bundle of yumminess! Watch out! Don't stick yourself!
Next hardest part, slicing that tender delicious Aussie grassfed beef flank steak on a bias. You want to have about an inch wide slices then have a very sharp knife to make your slices at an angle.
If you can find the mini baby zucchini and baby carrots, yay!! If not, just us regular zucchini and carrots and slice.
Precook in the microwave the carrot and potato wedges. But, keep them al dente because you don't want them falling apart when you slide the skewer through the bundle.
Finally, presoak those wooden skewers!
Fun Food
Food should be fun. Sometimes whimsical. And, that's what these Aussie grassfed beef grilled flank steak bundles are! Plus, they're just packed with vitamins and nutrients. From the veggies to the grassfed beef, which is choked full of heart healthy fatty acids and vitamins, you're going to be perfectly fine if you want seconds or thirds! This #aussiegrassfedbeef is less total fat and eating it doesn't carry a 'guilt' factor when you decide to refill you plate. Now, that's what I call fun food!
Depending upon how many sides you serve, like salads of all types (that's summertime to me!), then plan on maybe two bundles per person.
Good Information
Need more great Summer recipes to help you get #BackToPool featuring Aussie Grassfed beef? Click here!
For more information where to buy Aussie Grassfed Beef near you, visit: AUSSIE WHERE TO BUY!
Ever had Aussie grassfed beef lollipop sticks? No? Well, then click here because you are in for a treat!!
PS: My two taste testers for this recipe? My hubby and, Gene, my painter who's doing the final painting on my kitchen remodel. We have 'adopted' Gene! Both gave it two thumbs up. Good guy grub!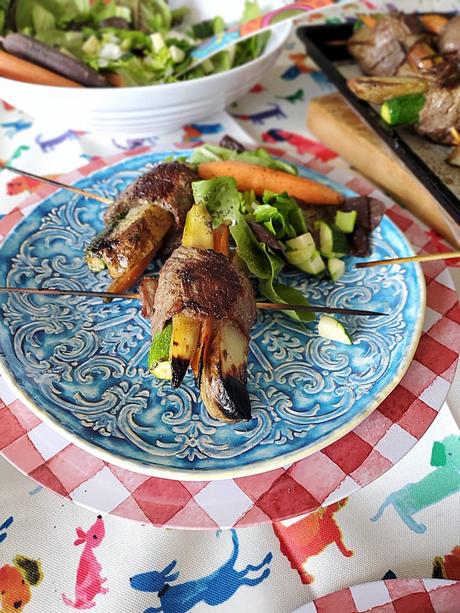 Ingredients
2 lbs. Aussie Grassfed Beef Flank steak, cut at an angle about every one inch
1 ½ tsp. sea salt
1 ½ tsp. coarse ground pepper + more for garnish
12 potato wedges, about 2" thick and 4-6" long
12 carrot wedges, about 4-6" long
12 mini zucchini, or zucchini strips about 4-6" long
¼ cup extra virgin olive oil
¼ cup butter, salted, melted (optional)
Instructions
Notes