I felt terrible when Merly Streep was once again nominated for this year's Oscars for best Actress, when the performance of Emma Thompson for 'Saving Mr. Banks' was ignored; but then i hadn't watched this insane and scorching movie. Merly Streep has that command over the character that we have seen over and over again and again, where she just sucks you into her characters head, and make you believe that if you were her(the character), this is exactly what you would find yourselves doing.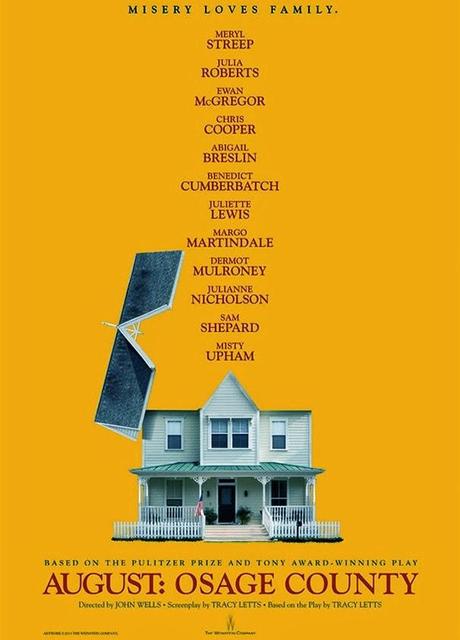 She is unbelievable as the highly melodramatic mother who is internally dealing with abandonment issues. She has cancer and she is living on pills. The death of her husband brings her three daughters home, where there is a constant fight among the four, about who is responsible of this whole mess.
Merly Streep swoops the whole area from her counterparts in all the scenes she makes a nod. She rants continuously about her abandonment, about her daughters lives, and about her husband. I have never seen Meryl so high pitched since 'Mama Mia' . She is bossy and a boastful know-it-all, that she doesn't notice who she hurts in order to make her statements.
Julia Roberts as the eldest daughter, has also earned a nomination in the supporting actress list for this years Oscars. She portrays a control-freak, who is on the verge of a divorce from her husband and has no idea how to deal with her disobedient daughter. She tries to come into this house and set straight all the mess made by her mother. Julianne Nicholson and Juliette Lewis are the other two daughters who, like anyone else in this dysfunctional family have a lot going on.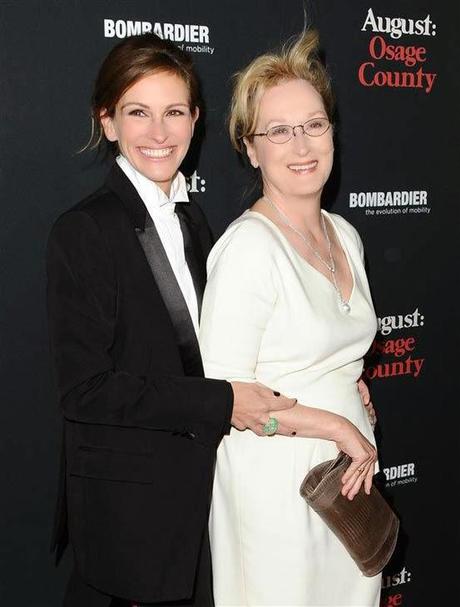 The movie is very much a performance based one, based on the dark comedic play by Tracy Letts, who has also written the screenplay for this movie. When you think of this movie with a Merly Streep as its poster girl, we would cease to look any forward for decent performances. But in here, we are shocked to find some excellent scenes where the supporting cast holds its own. With a genius actor in Benedict Cumberbatch who had a relatively easier role in here; but then when you see this on-screen arrogant mad genius play a humble and socially awkward character, you would stand up with a hearty ovation. The other surprise among the cast was Chris Copper and Margo MartinDale. Margo, an amazing actress who is very used to doing supporting roles, kicks in with a one-scene firework, that has her morph from the amiable fat old lady to a angry dark bitchy girl. It was Whoa!! The movie also features Ewan McGregor,

Dermot Mulroney and Abigail Breslin.


One very amusing part of the movie is that the main plots unfurl in two or three really big scenes, which happens around the dinner table. The characters talk about themselves, and others, and try to clean up their good slates, finding only more and more guilt and pain. The director John Wells, deliberately but yet subtly brings around engaging conversations, as if right out of a play, and delivers some really good moments for you to like about.
August Osage county, moves up my list, because of its engaging screenplay and intelligent performers.