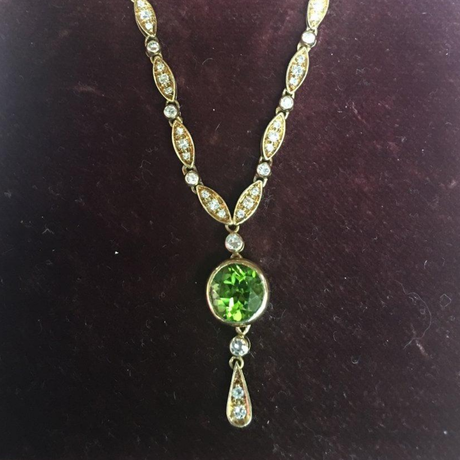 Peridot and Diamond Necklace posted by Bluegemz
Wow, what a whirlwind these past few months have been and we are just four months away from bidding 2020 goodbye. Now, we know many of you won't be sad to see this year go by. Until then, we will continue to celebrate the birthstones of each month that passes us by. In this case, we're celebrating August babies and their wonderful, and interesting birthstones. Peridot is a lime green gemstone and Sardonyx is a red banded stone loved throughout the ages.
SARDONYX
Sardonyx tends to be overshadowed when people are discussing August birthstones. However, Sardonyx holds some fascinating properties and should not be ignored when discussing birthstones. In times like these, you definitely want Sardonyx on your team. This is because the stone is known for offering protection and imbibing the wearer with feelings of happiness, confidence, and optimism for the future. This is the kind of birthstone we could all use today.
It is an ancient stone with fans throughout history. Sardonyx is actually Onyx with a natural infusion of orange carnelian which gives the resulting Onyx and orange carnelian blend Sardonyx's trademark reddish-brown color. Although the stone has been worn throughout centuries, it is more notably seen in cameos from the ancient world. This could be because the stone is quite soft, ranging between 6.0 to 7.0 on the Mohs scale, therefore making it ideal for carving and less ideal to wear as a daily piece of jewelry. Fortunately, the stone's "courageous" abilities will still be transferred to the wearer, so strap on a Sardonyx brooch on your fall blazers and be prepared to take on the world!
PERIDOT
From one ancient stone to another, peridot is literally from out of this world. It is the only stone, with some pieces discovered in meteorites and claimed to be 4.5 billion years old. It is truly a gift from the heavens. However, not all peridot is from meteorites; peridot descended from the earthly realm can primarily be found in Egypt. The ancient Egyptians mined this stone and gave it the moniker of "Gem of the Sun". Nowadays, the most prized peridot stones show the stone's color as grass green and not the more common lime green, yellowish hue.
Thankfully, Peridot isn't wildy expensive and if you desire to have one- you can definitely find a Peridot stone within your budget that looks amazing. Sadly, much like it's sister birthstone, Peridot isn't the hardest gemstone out there. It ranges from a 6.5 - 7.0 on the Mohs scale; making it a bit harder than Sardonyx initially. Therefore, we recommend that one saves this stone for special occasions or wear it in a piece that would not suffer from daily wear and tear.
August birthstones are a wonderful gift for August babies. However, buyers should be aware that the stones are not the most durable and can be easily scratched if not well maintained. Fortunately, the stones' looks make up for their one flaw. and we are hopeful that we can soon gather and be able to show off our fine jewelry at events in the near future!
Which August birthstone is your favourite? Let us know in the Comments section below.
Written By PS Staff