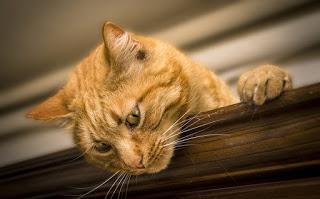 August 8th is...
International Cat Day, National Dollar Day, National Frozen Custard Day, National Zucchini Day, Odie Day (Garfield's pal), The Date to Create, Sneak Some Zucchini Onto Your Neighbor's Porch Day, Dalek Day, Wear Your Mother's Jewelry Day, Happiness Happens Day, Bullet Journal Day, National Psychiatric Technician Appreciation Day (1st Wednesday/week)
PLUS -
interesting books to read and free printables, papercrafts, kid crafts, activities and coloring pages...
---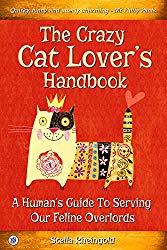 International Cat Day
-- It is not hard to see why our little feline friends hold such a special place in our affections. Funny cat videos, memes and cute pictures of cats are some of the most viewed content online, which just confirms our obsession with the furry things. While research shows watching funny cat videos can boost a person's energy and create positive emotions, owning a cat can also be good for your heart. Petting a cat is said to reduce stress levels, and with people having such hectic lives, they can be an easier and less demanding choice of a pet than owning a dog.
Source
Read: The Crazy Cat Lover's Handbook: A Human's Guide To Serving Our Feline Overlords
, by Stella Rheingold
-- This laugh out loud guide to all things kitty explains all that totally mad cat behavior... Full of cute kitty pics, humor and fun, as well as a wealth of valuable information on: Getting a new kitty, The cat-friendly house, Feeding fussy felines, Playing cat games, Grooming and petting, The health care essentials
As well as a bit of cat history and some fabulously famous cat quotes!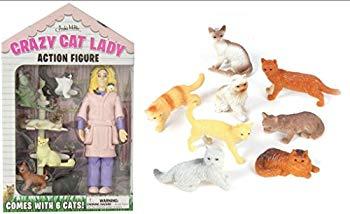 • Crazy Cat Lady Action Figure Set --
Know A Crazy Cat Lady Or Gent? Maybe you are one yourself! Hey, celebrate it and treat yourself or the cat lover in your life. Any animal lover will get a kick out of this 5 1/2" tall hilarious figurine.
• Cat Hair is My Glitter T-shirt --
Perfect gift for Birthday, Mother's Day, Christmas, or Any Holiday, or gift for a cat enthusiast.
• Kikkerland Cat Butt Magnets --
Includes 6 different breeds. Perfect for the cat lover, this set is the purrfect way to share a laugh with a friend.
Free Printables, Coloring Pages, Activities and Crafts:
•
Cat Crafts and Activities for Kids
•
Cats coloring pages
•
Cat Printables
•
Cats Theme Activities and Printables
•
Our Favorite Cat Worksheets
•
Cat Printables: Coloring and Worksheets
• Cat Papercrafts
•
Black Cat Paper Craft
•
The Cat in the Hat Printable Activities
• Cat Bookmarks
•
Surprise Big Mouth Cat Printable
• Cats Planner Printables
---