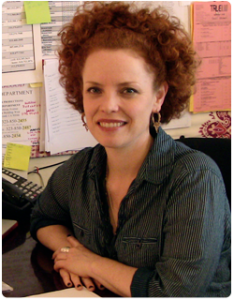 Sookie's sundresses, Bill's Henley's, Eric's dorky shorts, Pam's leather corsets…. and all the other fabulous outfits of our Bon Temps friends are selected and created by True Blood's costume designer Audrey Fisher.
Although each day on the "True Blood" set is different, the basic costume design process is the same. First Fisher receives a script or synopsis of an episode. "I usually get each script a couple weeks in advance, and often I can also see outlines of upcoming scripts so I can keep my eye on what's coming down the road, so the entire team has as much time to prep as possible," she says. Each script has about 40 characters with one to three costume changes per character, and typically spans a two-day period.
Then she meets with her team to discuss costume ideas. Next, she consults with "True Blood" producer-creator Alan Ball and the episode's director for further input and approval of proposed costumes. Then the costumes are put together and the actors are fitted — Fisher does fittings on anywhere from one to 10 actors a day. Fisher sends photos of the actors in costume to Ball for final approval. The costumes are then tagged with the actors' names and sent to the costume truck (an 18-wheeler), where 12 dressers make sure the costumes are worn correctly by the actors in each scene.
"It's always challenging to find costumes that reflect how she's becoming more sexual, more adult, more like a woman, yet still in this small town vernacular," she explains about dressing Sookie. For anyone who hasn't seen the show, Sookie is a polite, nice girl who happens to be having "crazy sex with a vampire," as Fisher puts it. So, in designing for this character type, she often turns to building dresses with tight bodices in small floral prints that suggest a young woman who is slightly sexy, yet somewhat demure and a little sassy. Fisher also tends to horde fabric such as the cherry-embroidered gingham currently stashed in Sookie's closet that she'll turn into a sundress one day.
Fisher finds designing for Lafayette (Nelsan Ellis) inspiring, as almost anything goes, especially the color palette. Equally enjoyable is Pam (Kristin Bauer), who she dresses in dramatic, sexy shapes to fit the story line that this fashion-forward vampiress has personal shoppers at her disposal in Los Angeles and New York. Fisher is most energized, though, when creating period costumes for the show's flashbacks that in past episodes have included the 1920s, 1930s, 1850s, Vikings, fairies and even goblins. "If we were just doing rural Bon Temp all the time, that would get a little tedious and this allows me to do crazy, weird," she laughs. She thrives on the change-up because it jump-starts her creativity within a restrictive set of boundaries in terms of budget and prep time. Where some designers may find this process nerve-racking, she finds it exciting.
In reflecting on the last four years, Fisher is amazed at the show's popularity and attributes it to a narrative that is risky, sexy and raw. She believes "True Blood" is becoming more fantastical and strange, which she personally likes and finds similar to "Twin Peaks," one of her old favorites. "I don't think there's anything quite like 'True Blood' that is not purely fantasy sci-fi but also has this very human element," Fisher explains. She's astonished it has become such a phenomenon, adding, "I love being part of a show that has that sort of fanatical following, that kind of devotion."
Read the complete articles on costumedesignersguild.com and www.oxy.edu