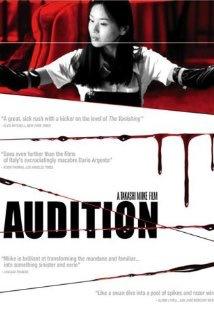 Director: Takashi Miike
Writer: Daisuke Tengan (Screenplay) Ryu Murakami (Novel)
Starring: Ryo Ishibashi, Eili Shiina, Tetsu Sawaki, Jun Kunimura, Renji Ishibashi, Miyuki Matsuda
Plot: A widower takes an offer to screen girls at a special audition, arranged for him by a friend to find him a new wife. The one he fancies is not who she appears to be after all.
There may be spoilers the rest of the review
Verdict: What Just Happened?
Story: Audition starts Ryoko (Matsuda) in hospital dying with her husband Shigeharu (Ishibashi) and son Shigehiko at her side. Now fully grown up Shigehiko (Sawaki) wants his father to move on with his life and potentially get married again. Yasuhisa Yoshikawa (Kunimura) decides to help his friend Shigeharu by holding a show where woman of a certain age audition to be his new wife.
When Shigeharu finds the profile of Asami Yamazaki (Shiina) he believes he has found the perfect woman, having the accomplishments he desires in a woman. As Yoshikawa tries to look in Asami past he struggles to find anything but Shigeharu can't help but remain attracted to her. We start to learn more about Asami' past and that not everything is as it seems with her but the true identity will leave Shigeharu facing the true terror.
Audition starts with a nice style of trying to create a romantic angle which if you knew nothing about the film works very well. The problem I think this film will always have now is people knowing it has a very twisted second half and simply put it will either shock you or disappoint you. I really don't know what happened in the final third of the film and this does work because it leaves you to figure what you want the ending to be. (8/10)
Actor Review
Ryo Ishibashi: Shigeharu Aoyama is the widowed man, who raised his child alone but after a few years he decides he wants to get married again. Everything is going smoothly with the beautiful but mysterious girl he meets but her secret will leave him fighting for his life. Ryo does a great job in the leading role. (8/10)
Elhi Shiina: Asami Yamazaki is the mysterious and beautiful girl Shigeharu meets and chooses for his new wife, but she isn't everything he thinks as she has a much darker side to her history. Elhi does a great job in this role showing a full range of emotions. (8/10)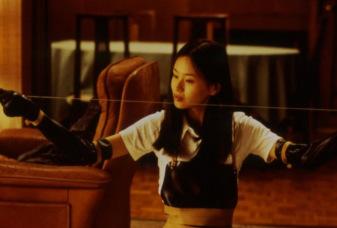 Support Cast: Audition has a small supporting cast which mostly helps the create the audition.
Director Review: Takashi Miike – Takashi brings us a film that really keeps us guessing right until the end. (8/10)
Horror: Audition has to get high praise on the horror in the final third of the film. (9/10)
Romance: Audition creates a good romantic angle for the characters and showing just how far the people would go for love. (8/10)
Thriller: Audition does keep us guessing right up to the final moments of the film. (9/10)
Settings: Audition uses the settings well to show the different society levels the two characters are leaving in. (8/10)
Suggestion: Audition is one for the hardcore horror fans to watch, if you only like certain levels of horror this will be too much for you. (Hardcore Horror Fans Only)
Best Part: The final third.
Worst Part: It will be too much for some.
Funniest Scene: The Auditions.
Oh My God Moment: Foot scene.
Believability: No (0/10)
Chances of Tears: No (0/10)
Chances of Sequel: No
Post Credits Scene: No
Oscar Chances: No
Runtime: 1 Hour 55 Minutes
Tagline: She always gets a part
Trivia: Described by Quentin Tarantino as a "true masterpiece if ever there was one," in a video discussing his favourite films released between 1992 and 2009.
Overall: A film that will test how much you can watch in one showing.
Rating