Slightly above $6 on Audible.com, I would recommend this book for all 3D print technology enthusiasts. Any technology aspirant wanting to know about 3D technology or a business aspirant planning to start 3D printing business must read (kindle) or listen to the audiobook

3D Printing Business: How to Start a Succesful 3D Printing Business

authored by

 ClydeBank Business

. I enjoyed listening to the audible audio book. The narration is by Lucy Vest that is quite clear and crisp. The book is published by Clydebank Media LLC.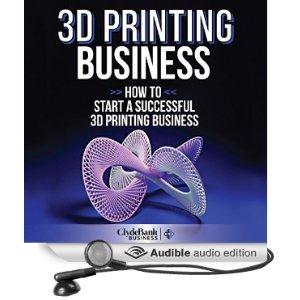 Though the author claims to show you a path on how to leverage 3D printing technology so as to start your own setup at home and start running a business in six-figures but I would like to suggest that there are many more factors also that play a major role in making you a successful businessman. I agree that setting up this kind of business at home is not that cumbersome as compared to many others provided you have sufficient knowledge on the subject that definitely this book assures to provide. If you know the basic operations of a computer and are creative in ideas, probably the business might suit you well if you opt to go for 3D printing. The book promises to remove all obstacles about the know-how of 3D printing and that can act as an inspiring factor for you to go for it without any hesitation. There is not only teaching, but it is a kind of walkthrough for each step involved in setup and running the show.
Overall there are 10 chapters in this audiobook and the total time required to listen to the complete book is slightly less than 70 minutes.  Chapter 1 talks about basics of 3D printing and that is the starting of your learning about this technology. This chapter is almost of 14 minutes and if you feel anytime you skipped something important ensure to go back and listen to it again as this is going to be the important information for learning about 3D technology. Next chapter talks about the current scenario of 3D technology in manufacturing. Chapter 3 focuses on teaching you how to start your own 3D printing business. And so it goes on to the advanced learning on the subject.
Overall, the book teaches you about various aspects of the 3D printing technology – financials, technology, market analysis, current scenario, future aspects and beyond.
Disclaimer: This free audiobook is received via audible.com from ClydeBank Media