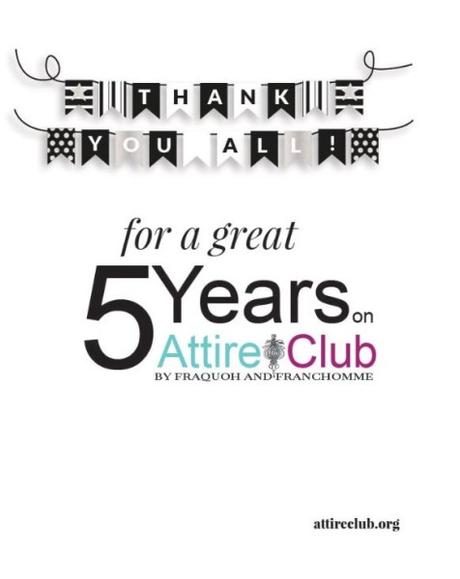 Attire Club is observing a big milestone this January, as our fashion concept turns five years old. Attire Club started out small, but with a great vision: to become a complete men's style, fashion and lifestyle experience that provides men with all the tools they need to discover and develop both their looks and attitude. To do that, Attire Club offers practical style guides anyone can use, regardless of age, budget or style, fashion inspiration and connections to other fields, such as music and technology.
We believe that one can have a truly great experience only if he understands that the elements in life are connected. This is why we look at everything from wearable technology and biotechnology incorporated into clothes to the way in which movie soundtracks can enhance your looks. We're also taking a look at the corporate world, offering advice on how to look your best in a corporate environment, as well as other practical tips, such as what gift you can get your boss or what gift to make if you are the boss.
In the five years since we've been online, we've also dedicated our efforts and energy to connecting with our fans and readers, which we call "elegantologists", a term which was first coined by writer Honoré de Balzac. Therefore, what started out with a social media page offering quick style advice rapidly turned into a personal consulting business, which has so far offered style tips to countless men and women from all over the world. We've styled people for both red carpets, special personal events as well as for corporate settings.
As a blog, Attire Club has since its start been connected with numerous bloggers, especially fashion bloggers. We love checking out the ways in which people present themselves and to connect with likeminded people. We're proud to say that we've been featured over 100 times in the Links a la Mode list, a weekly list curated by the fashion giant Independent Fashion Bloggers website, which featured the top fashion articles of that specific week. We've also written for many other publications, both online and in print and expanded as much as possible.
We've launched many projects along the way: a t-shirt shop, a collective fashion web documentary, and a series of style portfolios which featured our own fashion designs. One of the most important things we've created though in these five years was the recently-launched InCompany by Attire Club magazine. We have worked with so many amazing creative people and have been inspired from so many sources that we decided to create a concept journal. This way, when the magazine appeared, while it was an uncertain moment, as the print industry is not expanding much, we were excited to give a different form to our concept.
Currently, we have just launched the fourth issue of the magazine.
The fashion world is a tough business, but our elegantologists are really a support base that is amazing really a gift us. Therefore, last but not least, we are very thankful to everyone who is a subscriber, an occasional reader or just checks out the website once in a while for fashion tips or inspiration.
It is our mission to keep inspiring people, to challenge their thoughts and to make the world a more elegant place. We therefore invite you on this day to put your best foot forward, with your best shoes on and come with us as we are building our path in creativity and fashion.
Fraquoh and Franchomme
P.S. We want to hear from you! How do you relate to Attire Club? What would you like to see more of? Share your feedback, questions or thoughts in the comments below! For more articles on style, fashion tips and cultural insights, you can subscribe to Attire Club via e-mail or follow us on Facebook, Twitter or Instagram!