Attire Club is very excited to celebrate its 10 th anniversary on 6 January 2022. Ten years ago, we started out on social media and then as a small blog. It wasn't the very best thing in the world, but we had a concept and a structure that got many people interested, both as professionals as well as individuals who wanted to learn about fashion and style.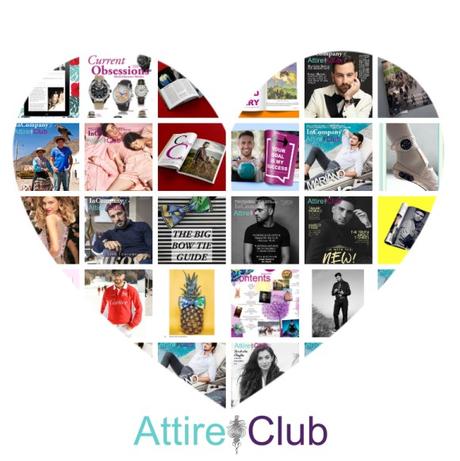 Soon enough, Attire Club started growing (with a lot of work and effort), and later, it became a go-to website for men's style, fashion and lifestyle (and more).
Our initial motto was "creating style out of fashion", which is an idea that is rather mainstream today. Attire Club's novelty relied upon the idea that we were based on offering style guides. These were general articles that detailed the ins and outs of style, as they could be applied to any taste, preference, age, or budget. For example, one of our most-read articles was about mixing and matching colors in various color schemes (analog color combinations, complementary color combinations, split-complementary color combinations, etc.). This type of article drew massive crowds from around the world and, soon enough, Attire Club was read in 98% of the world's countries. Attire Club was offering style guides of various complexities but was also commenting on fashion shows, reviewing brands and products, and offering philosophical insights in the world of fashion, appearance, culture, and style. Briefly put, it was offering, as we are saying today, a complete style fashion and lifestyle experience for the modern man. Moreover, Attire Club connected with many blogs and websites (it was the time of the spike in fashion blogs) and even put out a short documentary called We Are Fashion, which was a video collage of the thoughts of fashion bloggers from fashion bloggers all over the world. After becoming more established, being featured in many publications, and collaborating with numerous brands, AC started to also present its Style Portfolios, which represented our attempt at creating fashion. These were more of a visual statement and an arts and craft project rather than a complete fashion presentation, but they were well-received. Trend forecasting also became included in our body of work, and, if we may say so, the predictions were quite accurate.
In 2015, Attire Club launched its print publication, InCompany by Attire Club. The magazine was designed to be something like our haute couture collection: a journal that presented many interviews, stunning photography, mood boards, and fascinating features that documented our passions, the world at large and encouraged readers to be their best versions. The magazine soon became present in various boutiques and hotels (the St. Moritz Carlton and Badrutt's Palace, two of Switzerland's top hotels) and was a media partner for upscale fashion, watches, jewelry, sports, and technology events.
InCompany by Attire Club reached all continents and featured some amazing people in it. For example, we were surprised that Italian influencer Mariano Di Vaio wanted to be featured on our second cover. Back then, the magazine was bi-annual, but then it became a quarterly publication. In its many issues, the magazine has covered great people from the fashion world: designers, models, innovators, writers, bloggers, and lots of influencers. Moreover, it has also featured people from the field of arts, culture and sports: we cover music (both classical and pop), painting, car racing, acting and more. We coined the "metafashion" term, which describes everything one does before and after getting dressed.
The amazing global approach and the varied themes, all somehow connecting, are what we are most excited about. We've featured people from Switzerland, Germany, France, Austria, the UK, the USA, Israel, Kenya, Thailand, Japan, Egypt, Morocco, Kenya, New Zealand, Ukraine, Russia, Greece, Peru, Guatemala, Italy, Portugal, Sweden, Slovakia, Serbia, Hungary and more. It's quite a biglist, and we can barely believe that Attire Club is such a global presence.
Regular features in the magazine became the Fashion and Tech section, which detailed the latest in fabric innovation and other advanced technologies used for clothing and accessories, but also the travel alphabet, where we looked at a place, region, or country starting with each letter of the alphabet.
The issues of the magazine have a red string: there is always a connecting factor and often, there is also something that connects the issues with each other.
Along the way, in its 10 years of existence, Attire Club has also offered direct help to people from around the world with their outfits. From individuals who want to look their best to team outfits, we've covered it.
After doing all of these things, what we are most happy for are the millions of views we've received on our website and the many readers we have had. People's appreciations, whether per e-mail, in comments, or in person, are what tells us that we're doing it right.
In the future, we hope to evolve and develop, but to make sure that we always offer people amazing articles, images, and features.
Fraquoh and Franchomme
Further reading:
10 Reasons to Read InCompany by Attire Club
Fashion and Technology in InCompany by Attire Club
PS We want to hear from you! What is your take on us? What do you don't like? What do you like? Share your feedback, questions or thoughts in the comments below! For more articles on style, fashion tips and cultural insights, you can subscribe to Attire Club via e-mail or follow us on Facebook, Twitter or Instagram!