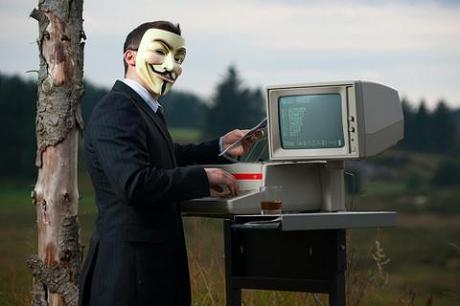 Anonymous affiliated group Hollywood Leaks have declared war on Tinseltown. Photo Credit: Stian Eikeland http://www.flickr.com/photos/stianeikeland/3696386615/sizes/m/in/photostream/
Hollywood Leaks, a 'hacktivist' group affiliated to Anonymous, has begun to rock the corridors of power in Tinseltown via celeb-hacking the stars and then crowing about their exploits on Twitter. According to tech blog reports, they have obtained confidential film scripts, celebrity phone numbers, Twitter feeds and behind-the-scenes images from magazine photo spreads. So far, their digital scalps include publishing online a list of celebrity cell phone numbers the pre-release script of the movie musical Rock of Ages starring Cruise.
Hollywood Leaks' most noteworthy hack to date is when the group hacked into (rapper) Kreayshawn's Twitter account and released nude photos and celebrity phone numbers found on her phone. They then released a video on YouTube saying their targets are "as numerous as the sands of time."
Hollywood Leaks pursuit of celebrities might seem somewhat out of sync with Anonymous' overarching social activist project to protect online freedoms. That has some observers suggesting that Hollywood Leaks is a loosely affiliated, just for the lulz breakaway group.
Hollywood is running scared. At CDnet Crave John Scott Lewinski said "in general, Hollywood Leaks wants to leave a trail of showbiz carnage in its wake … A perusal of the group's Twitter stream is a confusing cross switch of comments, encouragements, threats, and counter threats. But the consensus theme is that Hollywood Leaks is in this for 'LULZ' – a little laughter at Hollywood's expense." Lewinski stressed that the Hollywood spin machine are genuinely concerned: "How do I know? Like a lot of Los Angeles-based journalists, I have an address book full of studio and independent publicists, and no one is talking … At any rate, I rolled through that contact list looking for a publicist willing to go on the record with a quote on the Hollywood Leaks operation and its potential to wreak havoc on the industry, and all of them demurred. I sent out a total of 18 requests for a statement over 12 hours and received either dead silence or a buck-passing to another possible contact, who would then respond with more silence. That doesn't mean any of them represent someone with a lot to hide, but it could mean none wants to tempt fate."
"We're doin' it 'cause we can, 'cause it's fun, 'cause why not? Fuck Hollywood – fuck that vapid greedy bullshit. Fuck the 'artists' who aren't more than 'products'," hacker Dapper told The Daily Dot.
Anti-semitic agenda? "Unfortunately, this hacking group isn't JUST after celebrities," observed leading Hollywood blogger Perez Hilton, who speculated that Hollywood Leaks could have a nasty anti-semitic agenda. He posted their tweet "Attention Hollywood. We are Anonymous. We have been watching you. We have been listening to you. You have been allowed to run free too long. The time of Jew control media is over." But Hilton also drew attention to their follow-up: "LOL at people calling us anti-semites, Its for the LULZ. Get over it."