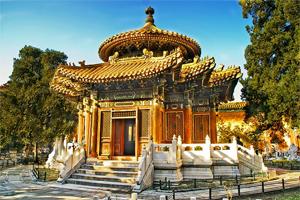 The Forbidden City in Beijing (Photo credit: Peter Fuchs, via wikimedia commons)
If you are thinking of going to China for holiday getaway, taking into account on learning the country's language is a great probability for you to achieve more fun and enjoyment as you go through your break. And attending in a Chinese school in China make you able to exchange a few words with the Chinese people out there as you get around for leisure. Along your enjoyment, you may gather some additional knowledge in your learning like accumulating more ideas about the Pinyin with basic Chinese.
Imagine how spoiling could it be when you want to satisfy your holiday but will be destructed just because you are being misunderstood by the local for you don't know how to speak their language even its basic? That's why several people learn Chinese language for this regard, or else, for their future development.
China is one of the premier countries in the world with a primeval civilization. When you want to perk up your holidays in Beijing, attend a mandarin training center or language school and complete a program throughout your break. You will see that your holiday is worth the best, most especially when you discover the charm of this vibrant urban metropolis.
Beijing City is a blend of ancient culture and modernity. Must-see sceneries in Beijing include the legendary Forbidden City and Tiananmen Square. The stunning temples like the Temple of Heaven or Lama Temple, the Chinese gardens in classic style, colorful markets, the historic buildings in old Beijing and the explosion of a modern architecture that the city has experimented during the last ten years. All these things and more will create a mesmerizing moment of you in China.
There are 2 kinds of holidays that Chinese people in China are traditionally celebrated:
Traditional holidays – this is when ancient religion, philosophy, and customs of this very old civilization for 5,000 years still exist.
Modern public holidays – this is when the influential public philosophy of the New China is reflected.
So take your learning to the next level into mandarin training center when you plan to set out to Beijing, China any kinds of holidays you prefer!