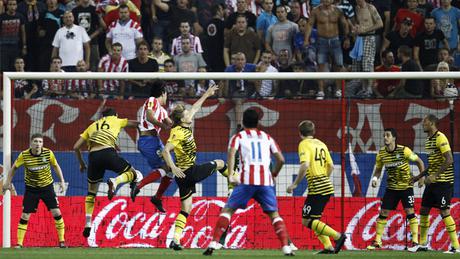 100% Colombian....100% asleep
FC Sion…come back…everything is forgiven – take the place…..Just kidding!
Celtic started off their Europa League group campaign going down to two goals either half in the Vicente Calderon stadium last night. As usual, a goal within the opening forays from the opposition seemed to catch the Bhoys unaware like a sleeping dog awaken by a startled skelp to the arse. As I walked past the punters  in Chapmans pub pre-game I could almost hear them hush under the breaths and to their mates concurrently "if we just keep it tight for the first ten minutes…." – ahem we should have really known.
But after that initial set back, Celtic actually did not too badly – they held the ball, combined decently in midfield and coped more competently than in Switzerland last month.  Lapses in concentration where the only excuses drawn for both goals – from a dead ball in three minutes, the Columbian Falcao got a run on a static Loovens to nod home via Mark Wilson at the far post, & the defence again looked ragged when Diego slotted around Kelvin Wilson to evade Forster in sixty-eight. Gary Hooper had a decent chance after the first goal to get the Bhoys back in following a nice one two with captain Kayal, but the ball got stuck under his feet and the opportunity was gone.
Apart from Madrid's goals, Forster I can recall only making one outstanding save in the second half, were reduced to long-range efforts which went mostly HW&H. Lennon's bhoys on the pitch, off it and back in Glasgow had more than one eye on Sunday I feel. Even the substitutions were unlike the gaffer,  with three changes in five minutes kicked off with Bangura getting a run with a third of the second period still to go. The bread & butter league game at Payment Protection Palace is the main objective this week, and a win is a distinct possibility given the previous week's confident display against Motherwell, & also Rangers lackluster start to the campaign.
Neil Lennon stated that positives are to be drawn from the display last night and the Bhoys did put in a decent shift against a side who could afford to splurge £35m on one player during the close season – apart from the goal he was kept at bay by an untried central defensive partnership. If Celtic can manage to contain their opponents during the early periods in the Celtic Park return, they can do some damage against the Spanish side who I felt looked quite dainty and unsure when probed in their defensive third.  Keep the faith & Keep the Heid!