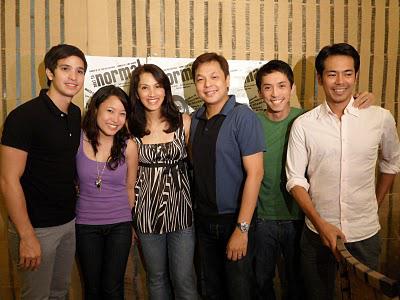 No musical numbers, no structured program, no speeches--just informal, round-robin face-to-face chats with cast members over lunch. That's usually how Atlantis Productions conducts presscons for its shows, and the one yesterday for its upcoming run of Next to Normal (opens March 11 at the RCBC Theater) was no different. Except, when the cast--all of six, namely (from left, photo above) Markki Stroem, Bea Garcia, Menchu Lauchengco-Yulo, Jett Pangan, Felix Rivera and Jake Macapagal--gathered for the obligatory photo-op, they were coaxed to sing a few lines from the musical. And they did--off the cuff, but already sounding good. (Isn't Jett Pangan's voice one of the wonders of our age?) I had to scramble for my Flip video camera and missed Felix's first few lines, but here's the rest of that unexpected teaser:

Atlantis Productions opens its 2011 season with the Tony Award and Pulitzer Prize-winning rock musical "Next to Normal."
Tom Kitt (music) and Brian Yorkey (book/lyrics) penned the emotional work that puts a woman's lifelong struggle with bi-polar disorder and depression center stage. The two earned the 2009 Tony Award for Best Score and the 2010 Pulitzer Prize for Drama.
Kitt and Yorkey reflected on their work in an interview with Playbill.com following their Pulitzer Prize win.
"Without 'Rent' and Stephen Sondheim, there is no 'Next to Normal,'" Kitt said. "I think that we've always been moved and inspired to write material that maybe says something a little different through musical theater. I think at the very beginning, when we set out to write this, we just wanted to write something that mattered to us, something that felt maybe that it hadn't been explored in musical theate4 before. But never could we have imagined in our wildest dreams that we'd be here."
Starring in "Next to Normal" is one of Philippine musical theater's most accomplished actresses, Menchu Lauchengco-Yulo as Diana, along with rock star/ theater actor Jett Pangan as Dan. They take on two of the most demanding roles written for the musical stage, originated on Broadway by Tony Award-winning actress Alice Ripley and J. Robert Spencer.
Joining them are Felix Rivera, Bea Garcia, Jake Macapagal, and "Pilipinas Got Talent finalist Markki Stroem."
Menchu will also be releasing a CD-Lite consisting of seven musical theater songs from shows she has performed in in the past. The CD, which will feature two songs from "Next to Normal," is produced by Atlantis Productions and released by Sony Music. It will initially be available at the theater lobby during performances.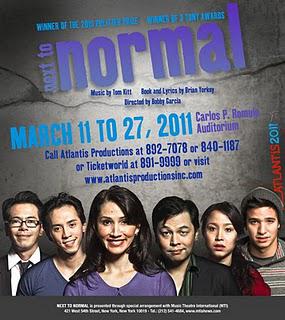 Bobby Garcia, fresh from his critically acclaimed staging of "A Little Night Music" in Manila and Singapore, directs the Manila production of "Next to Normal," which is the first licensed English-language production outside the United States. G
Garcia says, "I am thrilled that Atlantis is opening 2011 with a show as ground-breaking and as demanding as "Next to Normal." It is one of the most unlikely hit musicals to have ever opened on a Broadway stage, and I am thrilled that we will get to create our own unique family for this production. When I saw "Next to Normal" off-Broadway two years ago and on Broadway last year, I was once again excited for the future of musical theater."
The show's lighting design by Shoko Matsumoto, choreography by Chari Arespacochaga, costume design by Twinkle Zamora, music direction by Ceejay Javier and vocal coaching by ManMan Angsico.
"Next to Normal" runs March 11-27, 2011 at the Carlos P. Romulo Auditorium, RCBC Plaza, Makati. For tickets, call Atlantis Productions 8927078 or 8401187, or Ticketworld 8919999.