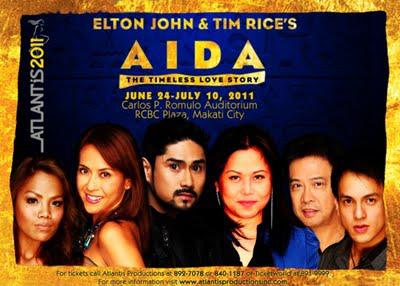 Ima Castro, last seen onstage by her countrymen 10 years ago as the post-Lea Salonga Kim in Miss Saigon-Manila, is headlining the Elton John-Tim Rice musical Aida, mounted by Atlantis Productions and directed by Chari Arespacochaga, that's opening this Friday, June 24, at the RCBC Theater. The show runs until July 10.
From my earlier entry on Ima: For "Aida," her co-stars include Myke Salomon as Radames, father-and daughter Hajji and Rachel Alejandro as father-and-daughter Zoser and Amneris, Alys Serdenia as Nehebka and pop singer Josh Santana, in his musical-theater debut, as Mereb. Directing the show is Chari Arespacochaga.
With Aida, says Ima, she's learning to adjust to a lower vocal register. The score is difficult to sing because of the range--there are high notes aplenty, which is her forte, but the role of the captive Nubian princess, especially as incarnated by Heather Headley, who sang and acted the part to a triumphant Best Actress Tony on Broadway, calls for a darker, more soulful sound, pitched to a lower timbre.
Here's what Ima means--Heather singing up a storm in Aida's Act 1 closer, The Gods Love Nubia:

PLUS: Another interesting thing to see in this Aida is the father-daughter team-up of Hajji and Rachel Alejandro, who last shared the musical stage in Rolando Tinio's Larawan, The Musical, 13 years ago. Rachel was Paula, the youngest Marasigan daughter, while Hajji played Don Perico, the poet-turned-politician whose great Contra Mundum speech literally changes the lives of the spinster sisters--and pivots the play toward a new direction. Tinio translated Nick Joaquin's words--the first part of the speech--into Filipino lyrics of poetic regret and resignation, with Ryan Cayabyab providing the complementary melody and Hajji singing it to perfection: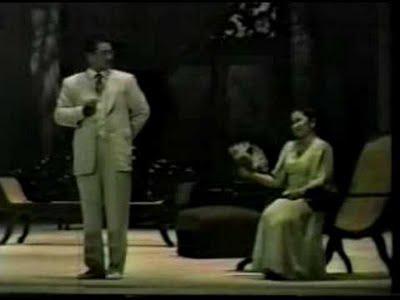 Podcast Powered By Podbean
[Note: That's Hajji Alejandro in the pic there as Don Perico in Larawan, with Louie Reyes as the elder Marasigan sister Pepang.]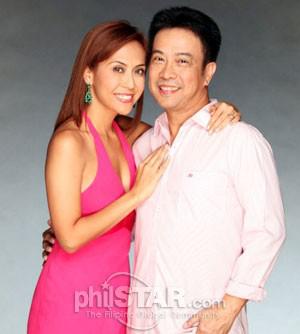 Rachel's last full-length album also featured a duet of her and her father on the song You Were There. Here's how they sound together:

Podcast Powered By Podbean
Atlantis Productions' "Aida" runs June 24-July 10, 2011 at the Carlos P. Romulo Auditorium, RCBC Plaza, Makati City. A limited number of shows are now available for show-buying and fund-raising opportunities. Call Atlantis 8927078 or 8401187.