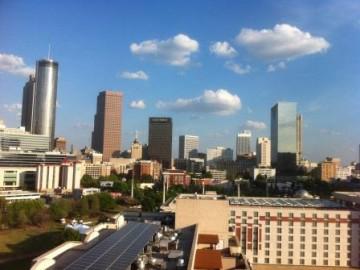 Atlanta's downtown skyline
Spring blossoms all around. Cherry and almond trees, lilies and hyacinths, pansies and dahlias, but above all peach trees with their tons of pink and white little flowers embrace the four corners of Atlanta's Centennial Olympic Park. The fountain located in the heart of the park is the perfect location for drowning the steamy and hot days of Atlanta's month of May; the thermometer marks 90° Fahrenheit with 45 percent humidity. The afternoon is just starting and the only thing that comes to mind is resting, right there, right then.
"This city is booming and becoming the rightful epicenter of the country's rebirth after a few difficult years. So it's just fair that every now and then, especially during hot days like today's it takes a little rest. It's a very Southern way of recharging one's batteries" says Ray Hughes before bursting into laughter.
We are standing outdoors on the wide and unbeatable rooftop terrace of Ventanas, a cool restaurant/event space embedded in downtown Atlanta from where you get a bird's eye view of the ever growing city. "I love to come up here and sip a chilled drink after work, relax and enjoy the moment. Looking at Atlanta from up here it seems like a totally different city from the one I grew up in. But deep inside I know behind this shiny new and exciting façade lies the old pretty Atlanta, the city I'll always be proud of" affirms Hughes before having another sip of his cucumber scented gin and tonic. In his early forties, Mr. Hughes runs a quite successful law firm from a smart looking building in the upmarket district of Buckhead, in northern Atlanta. He recently partnered with a couple of associates to open a trendy cupcake place downtown, on the other side of the Centennial Olympic Park, lying just beneath the terrace where we stand. He gathers exactly what this city is all about, a charming Southern accent and an avant-garde personality.
"Who would believe it's already been 16 years since the Olympics came to town. When I arrived here 35 years ago Atlanta was nothing more than a sleepy town, today it's a bustling metropolis whose rhythm I can barely follow" argued Ibrahim Ashamu on the way from Hartsfield's International Airport, the world's busiest, to my downtown hotel. He is a fifty-something years old taxi driver from Nigeria who married an American and moved to the US. And he might be right. The city that movie maniacs relate to thanks to Gone with the Wind has developed into a diverse and multicultural metropolis that has nothing to do with what Scarlett O'Hara represents.
The candor and pleasantries as well as the rites of passage from the South along with Atlanta's undeniable links to black America and the Civil Rights movement might be considered part of the past but are still inadvertently present in a city that struggles to find its 21st Century identity.
"We have all that America needs and we are up for grabs, if you know what I mean" says Hughes, without losing the smile, before finishing his gin and tonic. With a population of over five million people, Atlanta's metropolitan area is the sixth biggest in the nation; composed of white, Asian, Hispanic and, of course, black Americans. Its gross domestic product surmounts the $270 million barrier and its home based-conglomerates include CNN-Turner, Delta Airlines and The Coca Cola Company.
Atlanta, not only during spring time, is a city that should be considered beyond its historic and cinematographic heritage, by the regular traveler and by the business- oriented one. If Martin Luther King, Jimmy Carter and Rhett Butler aren't good enough household names for you just head to Hughes recently opened cupcake place or dine at one of Buckhead's AAA listed restaurants; indulge in a day spa or welcome your evening with a drink atop Ventana's. Enjoy the good old South while it lasts!