The first ever Atlanta Airport District Restaurant Week starts this Saturday! The diverse restaurants of the newly rebranded destination marketing organization (formerly Meet College Park and Explore East Point) will feature $9, $19 or $29 prix fixe menus and fabulous discounts.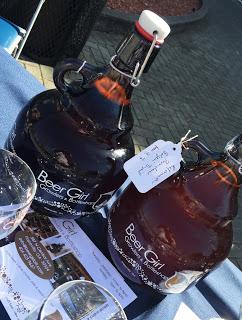 Throughout the nine-day culinary event, the Atlanta Airport District will offer a glimpse of the variety of charming restaurants and talented chefs that the cities of College Park and East Point have to offer. College Park and East Point are home to Hartsfield-Jackson Atlanta International Airport, the Georgia International Convention Center, more than 8,000 hotel rooms and is the corporate headquarters of Porsche and Delta Air Lines.
Atlanta Airport District Restaurant Week is the perfect time to explore the area's culinary excellence. Several bloggers were invited for a sneak preview of some of the menu items that will be available during the week. Here is a rundown of the offerings for four participating restaurants:
Our journey began at the Convention Center where the AAD offices are housed. As we arrived, we were greeted by Alexia Ryan, a.k.a. "The Beer Girl" who shared three of her favorite beers on tap from her Hapeville Bottleshop; Creature Comforts' "Tropicalia," Reformation Brewery's "Providence" and Red Brick Brewing's "Vanilla Gorilla." We sipped our brews before boarding a posh bus which would take us to our next four stops.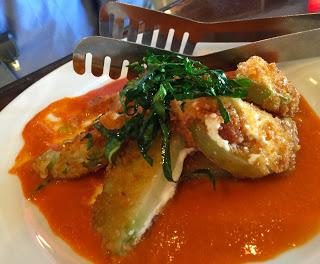 The first stop was Urban Foodie Feed Store which operated as an old-school feed store for 80 years and still shows signs (literally) of its former life has been converted into a hip and stylish restaurant where we were greeted warmly as plates of Kale Caesar salad with grit croutons, fried green tomatoes with red pepper coulis, and black bean hummus along side the crafted cocktail known as "KB Lemonade" an ode to a dear friend, made with fresh lemon juice, rosemary simple syrup, and Tito's vodka.
Our next stop was The Pig and The Pint where we were greeted by co-owners Dennis Maguire and Chef Michael Broom. Dennis told us a bit about the place and the drinks, while Chef Michael brought out plates with a hat-trick of Southern favorites: saucy smoked ribs, housemade smoked trout dip and tiny red velvet cupcakes topped with Amaretto-pecan buttercream. So good!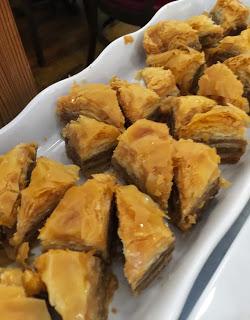 Kafenio was our next stop. In Greece, a "kafenio" is a traditional family-owned coffeehouse which usually serves as the social center of a community. That is exactly the kind of establishment that Johnny Gianoulidis was hoping to create when he opened his quirky little cafe in College Park. After sampling his gyro wrap, spanakopita, and baklava, it is easy to imagine this place becoming the favorite spot for pilots to sip some espresso between flights or students to do homework after school.
On our fourth and finally stop, we made our way to the East Point Corner Tavern (the sister restaurant to their Little 5 Points and Edgewood locations). The walk up a flight of stairs gives the bar a speakeasy feel with a full length bar and dark wood tables. Like any good pub, there are pool tables; five regulation pool tables to be exact, and karaoke (rumor has it you might catch my friend Mike singing some sultry John Legend on occasion) on Saturday nights at 10pm. When you go you must try "The Carpetbagger" burger, a bleu cheese stuffed hamburger patty that is battered, fried and dipped generously in Buffalo-wing sauce (What?!). For those who are a little less brave the Turkey Melt with house roasted bird and cheddar on Texas toast is a worthy choice. Of course, what is a bar without its signature cocktail? EPCT has a Bourbon Cowboy made with rye, root beer, bitters, flamed orange and nutmeg that will most certainly wet your whistle. I would definitely go back for that.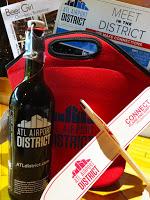 With bellies full, we waddled to the bus and headed back to the Convention Center to retrieve our cars. We had one last surprise waiting for us – beer swag!! Yes, the Beer Girl had a bottle of Monday Night Brewing's "Cinnamon Cocoa Drafty Kilt" waiting in a neoprene cooler from the Atlanta Airport District folks. Sweet! Promising not to drink the jaunty Scotch ale on the way, we headed home, vowing to return very, very soon!
Head over to the Atlanta Airport District starting this Saturday (through Sunday, March 20th) and explore some of College Park and East Point's fabulous dining destinations just minutes from downtown Atlanta!


Disclosure: Thanks to Phase 3 PR for the inviting me along on this Tweet-up. While the menu items we sampled were complimentary, the opinions included herein are honest and unsolicited.