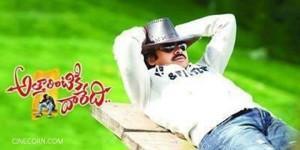 Story:
Gautham Nanda is the son of a wealthy industrialist who comes to know after a long time about his estranged mother-in-law. His grandfather wants her daughter back with whom there have been no relation for many decades. In his trailer of bringing her back Gautham has to overcome many hurdles and that is what the basic crux of the film is all about.
Along the way Gautham turns into Siddharth and falls in love with Sushi. Why and how he becomes Siddharth and what does he do being that person make for a hilariously engaging part of the film.
Performances:
Pawan Kalyan just towers over everyone else in the film with his all round performance. He makes you laugh, he makes you cry, he dances and does everything in his capabilities to entertain from the word go in his UN-inimitable style. He is in short the lifeline of the film.
Samantha on her parts compliments the zany and ever exploding hero with her charming self. Although she doesn't have nothing much to do emotionally, she does provide the film it's very many little memorable moments.
Pranitha has even lesser screen time to showcase any skill. Also she as just one song but she makes up for the less screen time with her likeable presence when ever seen.
Apart from the hero it's the troika of Nadhiya, Rao Ramesh and Boman Irani, who have good to great performances in the film. Boman among the three has very little screen time and acts one dimensionally but he lends his character a great dignity with his calculated act. Rao Ramesh who is now fast turning into the go-to man for such real and instantly connectable characters, once again shines in the film. He has a couple of scenes in the film which are sure to leave an impact on the audience. Finally Nadhiya as mother-in-law couldn't have been any better casted. She brings the character a lot of grace and in the process bring, the freshness in the film. It is because of this freshness that one buys the whole set up in the first place as anyone instead of her could easily given the film seen-there-done-that kind of vibe.
There are a number of comedians in the film like Ali, Brahmanandam, MS Narayana, Raghubabu etc who are a regular in Trivikram Srinivas films. Well they do their small moments but overall its Brahmanandam and MS who get major roles along with Raghubabu. Brahmanandam however easily steals the shows even though he comes very late in the film. His portions in the film constitute the high point of the film, in terms of laugh scale.
Positives:
Pawan Kalyan, Pawan Kalyan and Pawan Kalyan
Performances
Picturization of a couple of songs
Picturization of bit songs
Comedy in second half
Climax
Dialogues
Negatives:
Wafer thin story
Flat narration at the beginning
Analysis:
Director Trivikram Srinivas combines for the second time with Powerstar Pawan Kalyan and together they bring us a complete family entertainer this time with a little bit of message in the end. The director has a wafer thin storyline on hand as we have mentioned above and like very Telugu cinema success of the recent past what makes this one click is the overall packaging of the film with nonstop entertainment.
In the first half the entertainment seems pretty flat despite having a number of situations that fits his style of humor. His writing isn't that sharp, may be years of work is finally catching up with him. One starts to get many such doubts as the film progresses further but once one gets used to the electric performance and presence of Pawan Kalyan which gets better and better as the film progresses, one forgets about these blemishes as well. The second half of the film in comparison brings back the director's touch a bit however Pawan Kalyan still towers over everything making everything seem entertaining and fun with his act.
So in the end it could be said that the writer in Trivikram Srinivas isn't as much of a highlight compared to the director who extracts a brilliant performance from his cast. The director far outweighs the writer in Atharintiki Daredi. Now if this is a good thing or bad, is something that has to be decided by the audience.
Music by Devi Sree Prasad is another highlight of the film along with the background score which elevates the proceedings at crucial junctures especially in the second half.
Cinematography is superb and gives the film a rich look. Editing could have been a bit sharper. Choreography of a couple of songs is outstanding.
Bottom-line: Don't miss this entertaining one-man joyride
Rating: 4/5
BUY NOW! Atharintiki Daredi Official Merchandise

@CelebOutfit
Enjoy reading cinecorn.com on your Smartphones. Download the FREE App right now.

Android App

/

iOS App