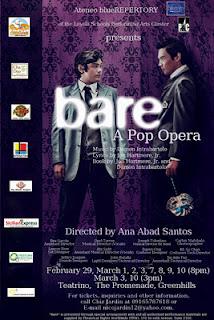 The Ateneo Blue Repertory of the Loyola Schools Performing Arts Cluster brings back "Bare: A Pop Opera"--the Off-Broadway musical about two boys at a Catholic boarding school who fall in love.
First staged in a 2009, the original BlueRep production had a sold-out three-week run at Ateneo's Gonzaga Hall. This year, the musical opens February 29, 2012, 8 p.m., at Teatrino in The Promenade, Greenhills, San Juan. Succeeding play dates are March 1-3 and March 7-10 with gala shows on Wednesdays, Thursdays, Fridays and Saturdays at 8 p.m., and matinee shows on Saturdays at 3:00 p.m.
"Bare" centers on a group of high school seniors at a Catholic boarding school who face issues of sexuality and personal identity. among them Peter, an altar boy, and Jason, the school's golden kid, between whom a clandestine romance develops.
With book, music and lyrics by Jon Hartmere Jr. and Damon Intrabartolo, "Bare" first ran at the Hudson Theatre in Los Angeles, California from October 2000 to February 25, 2001. Its New York production at the American Theatre of Actors, off-Broadway, ran April 19-May 27, 2004. The Los Angeles production and the New York production were both directed by Kristin Hanggi.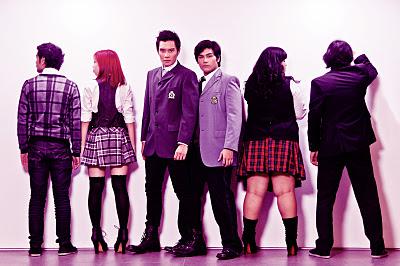 Ateneo BlueRep's "Bare" features Jaime Barcelon as Jason. He recently appeared in Atlantis Productions' "The Little Mermaid", Repertory Philippines' "Little Women" and Upstart Productions' touring show of "Much Ado About Nothing." He was an original member of The Ryan Cayabyab Singers, and has launched a solo album called "Lead Me to Love" under Universal Records.
Bibo Reyes will reprise the role of Peter. Bibo is a senior BFA Information Design student at the Ateneo de Manila University. He was recently seen in Atlantis Productions' "In The Heights", and was in a number of BlueRep shows such as "Hair", "All Shook Up" and "Zanna, Don't!"
The ensemble includes Maronne Cruz, Cassie Manalastas, Orange Sanchez, Franco Chan, Mark Bernardo, Jussy Peña, Mikah Franco, Mica Fajardo, Raisa Tabusalla, Jian Kho, Gabriel Perez, Lara Antonio, Luigi Du, CJ Francisco, Bernice Reyes and Dar Uy.


Veteran actors Jenny Jamora and Rem Zamora will also be back to reprise their roles from the original run. And Ana Abad Santos once again directs.
The artistic and creative team includes Onyl Torres (musical director for vocals), Abi Sulit (assistant musical director for Vocals), Joseph Tolentino (musical director for band), Carlon Matobato (choreography), Leeroy New (set design), John Batalla (lights design and technical director), Jethro Joaquin (sound design) and Raven Ong (costume designer).
The marketing, sales and publicity of "Bare" is led by Toots Tolentino (PR & publicity) with Gala Sanchez, Aldrich Alcantara and Luis Marcelo (promotions and marketing) and Jojit Lorenzo (photography).
For tickets, inquiries and other information, call Chiz Jardin 0916-5787618 or email [email protected] For show buying, call Luis Marcelo 0917-5025847.
Subscribe to www.facebook.com/bluerepbare and www.facebook.com/blueREPERTORY. Follow @_blueREPERTORY on Twitter.
"Bare: A Pop Opera" is presented by special arrangement with, and all authorized performance materials supplied by, Theatrical Rights Worldwide, 570 Seventh Avenue, Suite 2100, New York, NY 10018. www.theatricalrights.com.