When you hear the name Pebble Beach, what comes to mind? Being one of the fortunate few who have played this renowned golf course, I would immediately say the magnificence of the place, from crashing surf to finely manicured fairways and greens makes memories that will last a lifetime.
For professional golfers like Phil Mickelson who has won the
AT&T Pebble Beach National Pro-Am
a staggering four times, "it's a special place for me, an emotional place… my grandfather having caddied here… the overall importance of the tournament to the game and how much I love the place." Only Mark O'Meara has more wins at this tournament (five wins).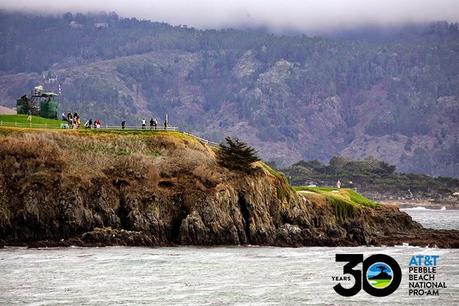 Some might say the magic lies entirely in the golf course, others might refer to the history and how famous crooner Bing Crosby gave fans a peek into the mystique back in 1947.
Improved visibility and worldwide knowledge of the tournament can be traced to when AT&T became the title sponsor in 1986 and brought the Pro-Am to the masses via television - a very powerful and recognizable brand began broadcasting to hundreds of millions of households worldwide and allowed everyday folks the ability to watch celebrities and amateurs play golf on a storied course.
Today, technological advances through social sharing will bring even more visibility to the AT&T National Pro-Am. A group of golfers, known as the Foursome, will be converging upon Pebble Beach to bring a fan's perspective to the tournament. As an #ATTBlogger, I will be covering the event as well, adding my unique perspective through @Golf4Beginners on Twitter!
The foursome will get to go where very few have gone before - walk the course, go behind-the-scenes at the tournament, basically show fans what it is like to walk the hallowed fairways of Pebble Beach, utilizing the AT&T Network and HTC devices to document their journey and share via their social properties.
Who are the Four?
Getting to know the foursome: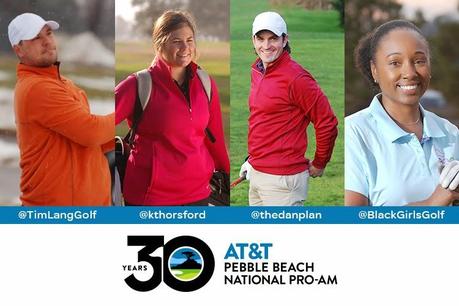 Their names may sound familiar if you have a Twitter or Facebook account.
Tim Lang
is a former Marine who discovered golf after having his leg amputated from an explosion (we thank you for your service). His passion for the sport has led to speaking engagements, motivation of other disabled veterans and, most importantly, the self-confidence that he lacked after his service. 
@TimLangGolf
Tiffany Fitzgerald
is a pioneer for black women who play golf, starting the organization Black Girls Golf as a way to help black women feel more like insiders in corporate America, gain confidence in themselves and fall in love with the sport of Golf. Keep up to date with Tiffany's experience on Twitter @
BlackGirlsGolf
 and on her
Facebook
page.
Dan McLaughlin
can be said to be the average golfer...
but not really
. Not many golfers work as hard as Dan on their games - he has spent 10,000 hours on learning the sport, documenting his journey every step of the way. "The Dan Plan" proves that hard work and persistence makes you a better player and that it's the journey, not the end result that pays dividends. Go inside the ropes with Dan @
TheDanPlan
 on Twitter and on his
Facebook
page.
Katie Horsford
is definitely not your average 17-year-old but, at one time, was just like any kid who was trying to find her way in the world. After taking up golf and realizing she was good at the game...very, very good at the game, she became an inspiration for other teens and offers guidance through The First Tee Program. Katie will be providing her commentary from the unique perspective of a teenager using her Twitter account @KTHorsford and on Instagram.
AT&T will be providing updates on @
ATTProAm
and via the #ATTProAm hashtag and the Foursome will carry the ball on social media. I will be following along and engaging with members of the Foursome throughout the week on
Golf4Beginners
and via
Stacy Solomon-Golf4Beginners on Google Plus
so join in the conversation at #ATTProAm, ask questions and enjoy the Pebble Beach experience!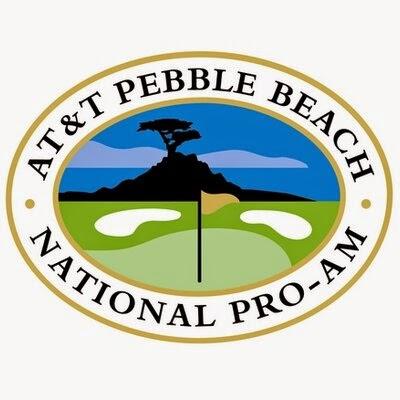 The AT&T Pebble Beach National Pro-Am will be played February 9-15, 2015 on Pebble Beach as well as two additional courses to round out the on-course excitement; Spyglass Hill rated one of the top twenty publinks in the country via Golf Digest and Monterey Peninsula Country Club Shore Course.
To get an inside look at their journeys, make sure to follow the hashtag, #ATTProAm and via their Twitter handles:
@TimLangGolf
@BlackGirlsGolf
@TheDanPlan
@KTHorsford
This post is in partnership with AT&T. All opinions are my own.