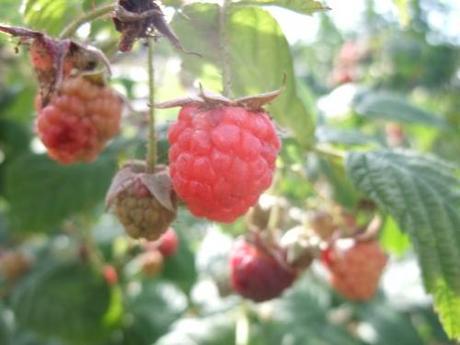 Raspberry Autumn Bliss
I am feeling smug, or maybe chuffed but generally elated as I have today cleared the last uncultivated bit of my new allotment site.  The uncleared area is one of two large beds which I will be using for potatoes and squash.  I had managed to clear a bit of it to accommodate two butternut squashes and have cleared the bed as the squashes grew but it was only today after quite a bit of rain that the task was achievable.  10 compost bags of perennial weeds later and the job was done.  I am expecting some soil improver (1 tonne for £15) in the next couple of weeks so I plan to put plastic sheeting down on this area and put the soil improver there.  Then come the spring I can dig it over again before planting the potatoes out.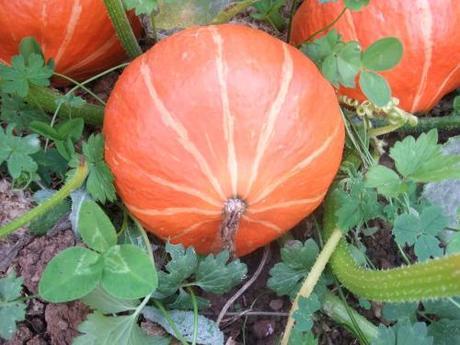 Squash Uchi Kuri - I can't wait to harvest it
I am definitely an allotment convert.  I love that I am constantly learning at a steeper curve than in the garden and it satisfies my thirst for knowledge far more than studying the RHS certificates which I found very dry.  On top of learning I regularly get moments of elation or excitement at having achieved some small victory or grown something I didn't think I could.  I doubt there are many people who punch the air as they drive away from the dump having deposited 7 big bags of perennial weeds!  I am even beginning to enjoy the comradery of the site.  Generally, I am not a gregarious person, I tend to be quite reserved until I know people and I don't like it when people impose themselves on me.  I initially found plot life hard but as I tend to go very early at the weekend or on my way home from work this wasn't too much of a problem.  Over the summer I have slowly met more of my fellow plot holders, particularly those at my end of the site, and I have to say the ones I have met so far are a jolly bunch.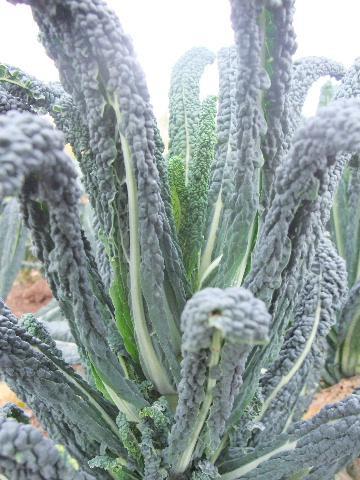 Carvelo Nero (Black Kale)
I suppose I have felt a little defensive as I am new to the whole edible growing malarkey and many of the others are very experienced.  I like the fact that we are all starting from scratch as it is a new site, it acts as a bit of a leveler.  I also like the fact that people I would consider very knowledgeable are asking me (!!) questions.  There is much interest in my Carvelo Nero Kale which really surprised me as I thought this was something commonly grown but apparently not in Malvern.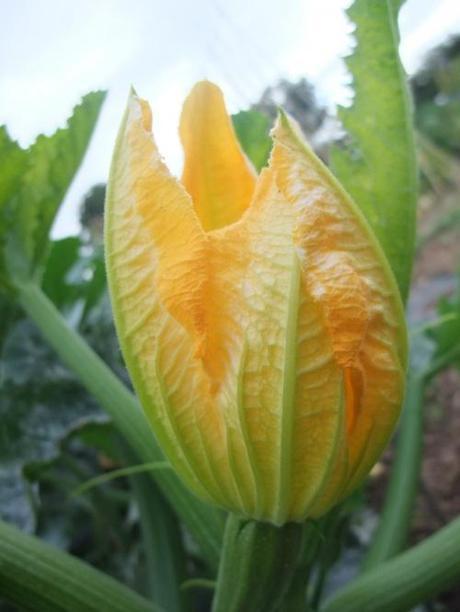 Courgette flower - I love their voluptuousness
When I took on the plot in November I decided to keep my plans quite basic to start with.  Not to throw lots of money at the plot, just spend the basics to get it going in case I decided that allotment life wasn't for me.  Nine months in and I am making plans for next year and beyond.  My eldest is going to help me extend the fruit supports and I am planning on adding a blackberry and another berry yet to be decided.  I am also investing in two small trees, probably apples, although there is to be a community orchard along the far side of the site which I think will be wonderful.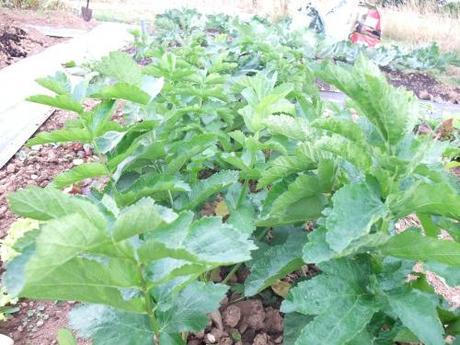 Parsnips for Christmas
I am also planning for a second compost heap and raised beds – one for salads and one for asparagus, which is definitely a long-term commitment, and also possibly one for a second strawberry bed. I was going to say that the biggest investment will be putting a wind break down one side of the plot which I think will make a huge difference but actually the biggest investment I will be making is time.  However, I think I have found a good balance of dropping in for just under an hour on the way home from work two or three days a week and a couple of hours at the weekend. Although weekends like this one where I have been for three days on the trot and really put in the hours are excellent for making a big difference and giving you a little boost.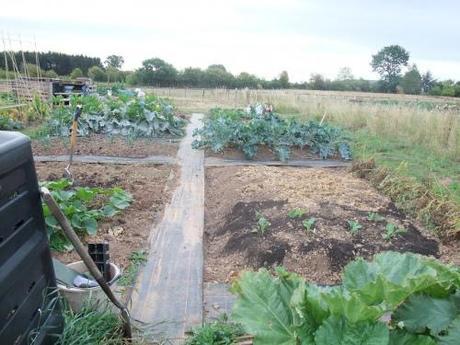 Looking down the plot from the fruit beds
I love my plot, it's as simple as that and I am proud that I have managed to more or less keep on top of it and improve it since my parents stopped helping me at Easter after the first big push.  I come home every time with a feel good factor and my head buzzing with ideas and plans.