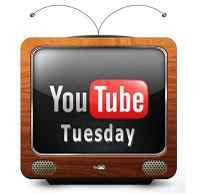 YouTube Tuesday, adopted from Josh at Its Tiger Time, is a day set aside for sharing your favorite video.
Feel free to join in each week and see how creative we bloggers can be. Each month, Josh will highlight a selected video and present the winner with the 'YouTube Tuesday' Award.
If you participate, remember to leave your YouTube Tuesday link at Its Tiger Time as well as all the blogs you visit.
Unless you were under a rock for the last two weeks… you might have heard that the greatest of great, soulfullest of souls, the talented Etta James passed away on Jan.20th. Well this isn't Etta singing in Heaven but, it is a tribute to her heavenly music. Christina Aguilera belts out 'At Last' while attempting to keep her voice and eyes tear-free at Etta's funeral. Sing that sh*t Christina. Let that pain be felt by every soul in the world…
And here is Beyoncé covering 'At Last' in the movie Cadillac Records. (2008)

And last but certainly never least and in my opinion the ONLY one who could ever sing this song with all the painful love it rightfully possesses and projects… is Etta James herself!

We love you and R.I.P. Etta! May God have you perched beside him with a Golden Microphone in your hand leading his Holy Choir!!!
At Last-Etta James (1960)
At last
My love has come along
My lonely days are over
And life is like a song

Oh yeah yeah
At last

The skies above are blue
My heart was wrapped up in clover
The night I looked at you

I found a dream, that I could speak to
A dream that I can call my own
I found a thrill to press my cheek to
A thrill that I have never known

Oh yeah yeah
You smiled, you smiled
Oh and then the spell was cast
And here we are in heaven
for you are mine…

At Last
Advertisement