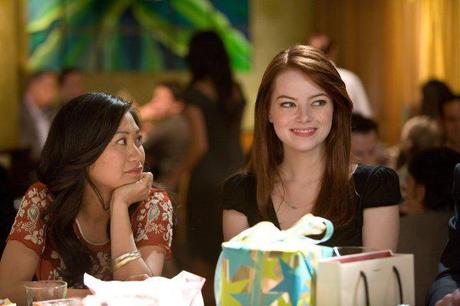 I'm going to help you rediscover your manhood. Do you have any idea where you could have lost it?
Just in time for Valentine's Day Crazy, Stupid, Love aims to sweep you on off your feet and whisper to you cloying messages about love, soul mates and, erm, masturbation.
It is a film that searches for love in every nook and cranny, not looking for answers but poking its head in, observing and then bounding off to the next storyline. It has at least four of them and it is with some difficulty that it manages to incorporate them into one satisfying whole.
It kicks off when Julianne Moore's Emily asks husband Cal (Steve Carell) for a divorce during a romantic dinner. Storyline number two centres around Ryan Gosling's womanising Jacob who sees a pitiful Cal drowning his sorrows at a bar and takes it upon himself to reinvigorate him. Storyline number three concerns Jacob and Emma Stone's Hannah, who is told her romantic life is like a PG-13 film and is urged to find someone who's a little dangerous. Storyline number four (wipes brow) revolves around Cal's son Robbie (Jonah Bobo), a soppy kid who believes in soul mates and is infatuated with his babysitter Jessica (Analeigh Tipton) who in turn has a crush on Cal.
Crazy, Stupid, Love is a good example of 'busy filmmaking', flooding its narrative with as many stars as possible and letting the charm, sincerity and cheese roll off the screen. It's not to the level of Gary Marshall's concoction of awful that was Valentine's Day and New Year's Eve but screenwriter Dan Fogelman hasn't come up with an adequate solution of juggling the story's multiple threads. Some characters provide comedic relief, others behave in an annoying manner and there's the sensation that some are ciphers lacking substance.
That being said directors Glenn Ficarra and John Requa (I Love You Philip Morris) keep it light and cheerful with fun jokes and some touching moments, managing to draw a good deal of chemistry from their cast. Bursting at the seams, the script by Fogelman is an interesting look at love through the eyes of each generation. Cal and Emily's relationship has lost its spark after seventeen years. Hannah and Jacob's storyline is like alchemy, changing the very essence of their nature. Robbie and Jessica's is about young love and infatuations that aren't reciprocated. Surprises are in short supply but the actors generate a lot of goodwill in place of the script's failings.
The lasting impression of Crazy, Stupid, Love is that it has too much on its plate. Kevin Bacon's David Lindhagen, John Carroll Lynch's Bernie and Marisa Tomei's pedantic Kate are forgettable. I haven't even started on the ending; one that's artery clogging and provides the platform for a soppy speech that drags the ending on and on.
So while Crazy, Stupid, Love is bloated, it entertains; where the script trips over its surfeit of characters, the actors rescue it with their charm. Enjoyable fluff.
7/10