Asymmetrical garland: an unexpected take on traditional Holiday fireplace mantel decor. Hear my thought process and how to create the look at your house.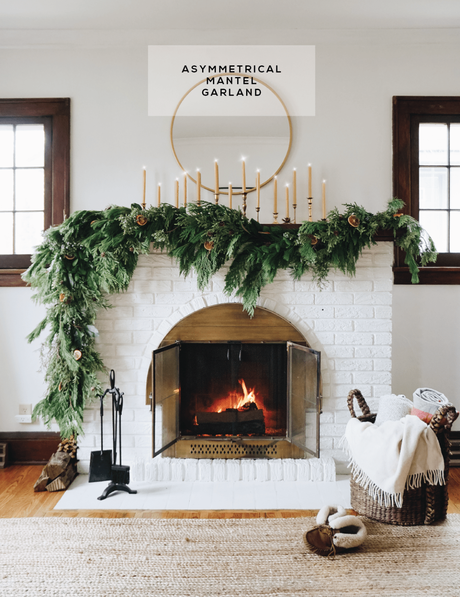 My college roommate and longtime friend, Shawnna of thatsmeinthemiddle.com has a beautiful 1920's home in Minneapolis complete with original casement windows and a substantial white brick fireplace-all those amazing details my 1936 depression-era house missed out on. Jk. I love my house, but man I also love fireplaces!
Anywho, we've been talking about doing some kind of house tour at her place for over a year now. And recently over a coffee play date, I finally invited myself over to style her mantel for Christmas.
You see, being that we are sans fireplace at the Francois abode, I've been deprived of getting to decorate one each year, and that's gone on long enough!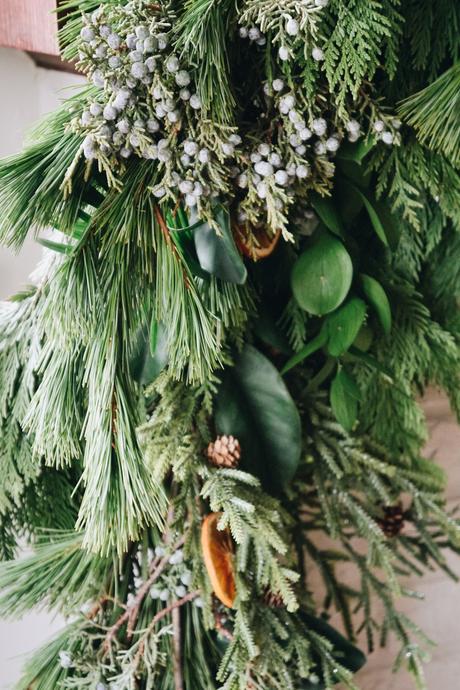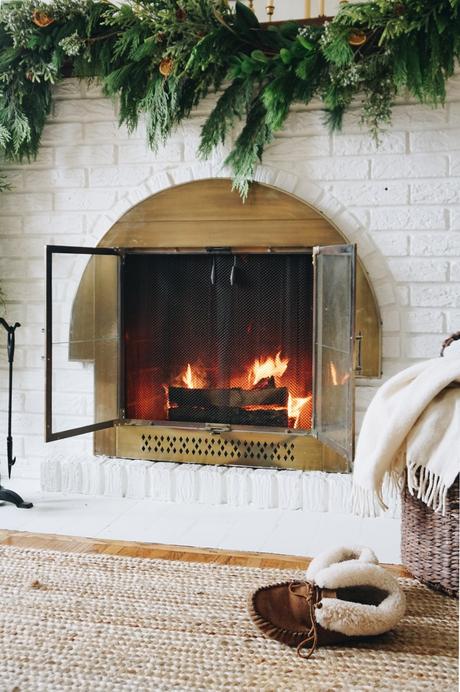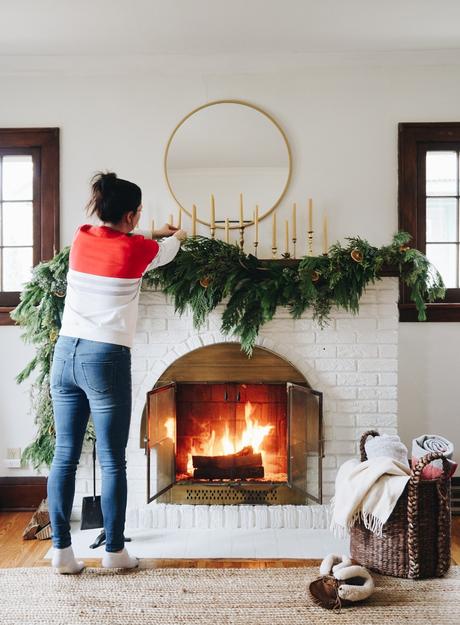 Shawnna was graciously up for it, and so the night before I headed over there, I ran to Bachman's, Michaels, and Target and rounded up a combination of real and permanent greenery to create a robust garland. I was going to buy a premade fresh garland, and zsush it up with additional faux greens, but the fresh garlands were crazy expensive to the tune of $70 or more, so I decided to make one entirely from scratch. The individual tips were nearly 1/2 the cost. This is my asymmetrical garland inspiration image. I'm so in love with the unexpected-ness of the asymmetry!
I did a tutorial on making the garland in my stories and decided to make it into an IGTV video too. There's also a hyperlapse of us decorating the fireplace, so make sure to head over to IGTV after this!
Here's the play by play on making the garland. Imagery is from a table garland I made last year for friends giving.
How to Make the Garland
Materials:
Several bunches of real and permanent greenery. I used fresh cedar, pine, and berried juniper, and faux magnolia and evergreen stems.
Floral wire
Scissors
Rope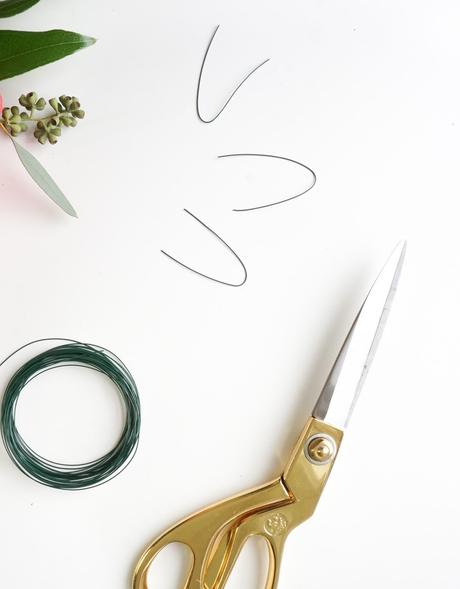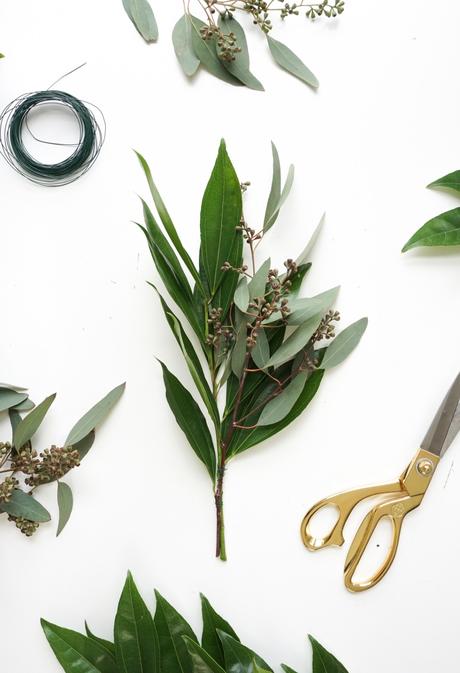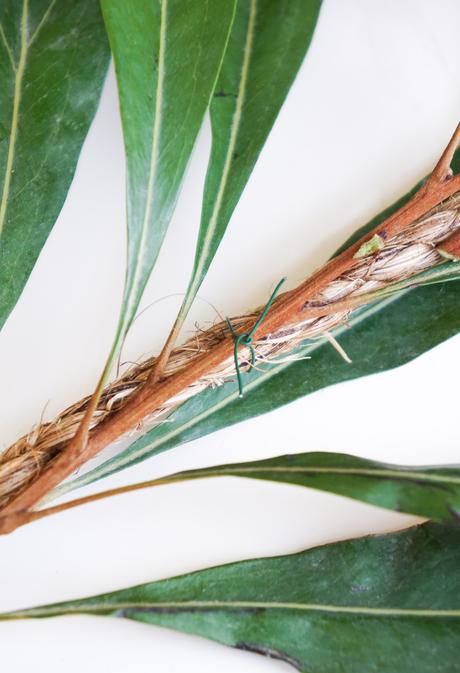 Trim some of the woody stem off the bottom with a scissors (or hedge trimmer if your stems are beefy).
Group your greens into bouquet bundles with a range of varieties mixed together. I like to do pine and cedar towards the back of the "bouquet" and berried juniper and magnolia leaves toward the front.
Cut the floral wire into 4″ pieces and bend them into a 'U' shape. Bundle each "bouquet" together towards the bottom with floral wire.
Cut longer pieces of floral wire (about 8″ long) and wire each bouquet to the rope. You may need to secure the bouquet to the rope in a few different spots. Overlap the bouquets by about 50% to conceal stems and wire and also to achieve a nice full garland.
Attach all the bouquets to the rope with wire. If your faux greenery is wired, bend up the leaves a bit to add more fullness.
Hang your garland! I like to use 7.5 lb heavy duty Command Hooks. Read more about how to hang heavy garland here!
Then tuck in or attach with wire, the dried orange slices.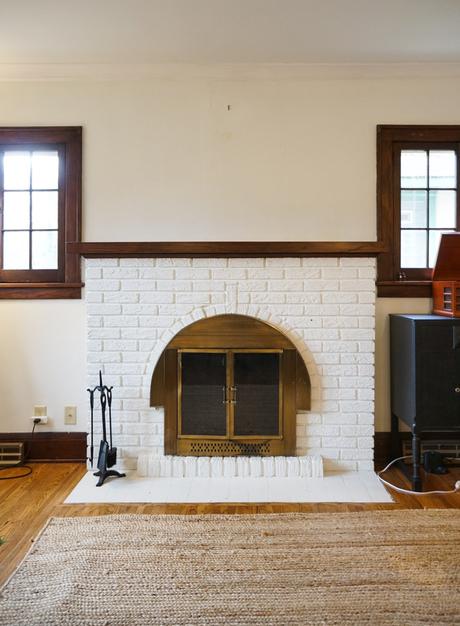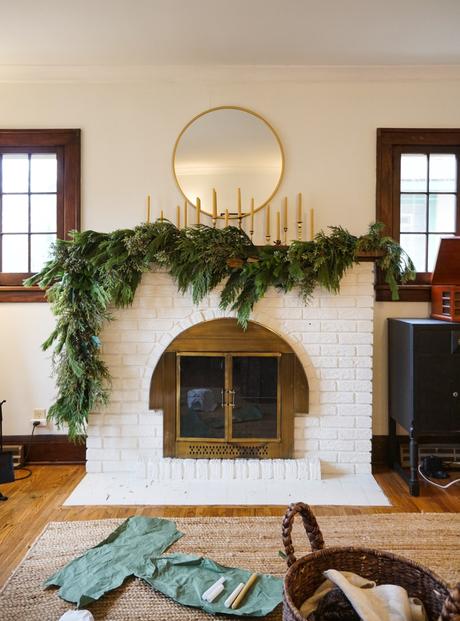 The next morning I popped over to Shawnna's with a couple of chai lattes, the garland, a collection of thrifted brass candlesticks, and these DIY beeswax taper candles. Shawnna had the Christmas tunes cued up on her record player ready for some Holiday decorating action.
So here's Shawnna's beautiful living room. The first thing we did was attach some 5 lb Command hooks on the mantel top. One on each end, as well as a third hook 1/3 way in from the left side to allow for the asymmetry of the garland design.
Next we hung the garland and fluffed it up as needed. The faux sprigs are wired, so I bent out the leaves and branches to create fullness. Then I tucked dried oranges in sporadically for depth and contrast.
The most complex component was the garland. Once that was hung, we centered the candlesticks in a random order on the mantel. And hung Shawnna's round brass mirror on the wall above.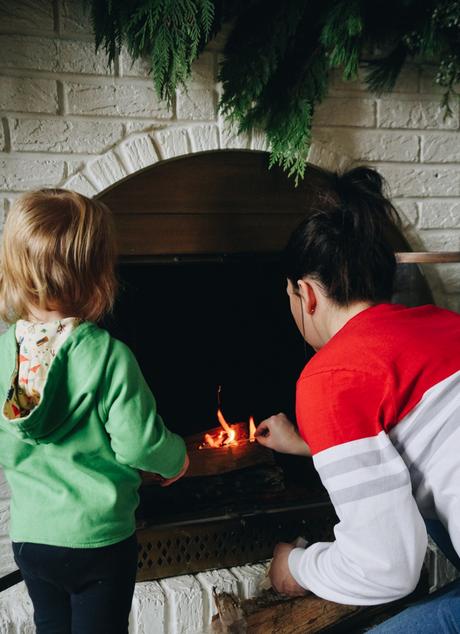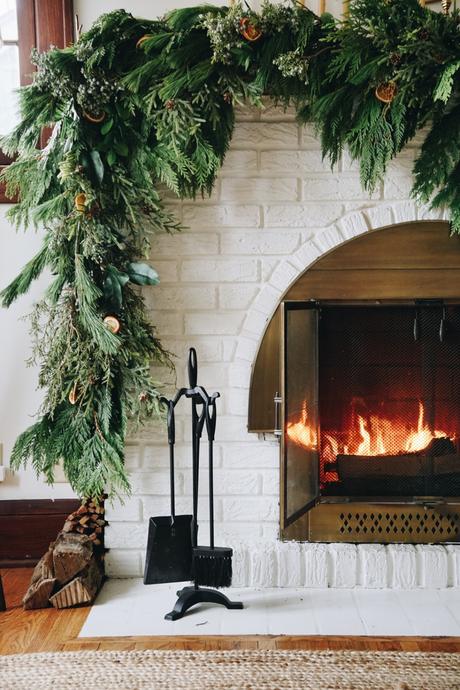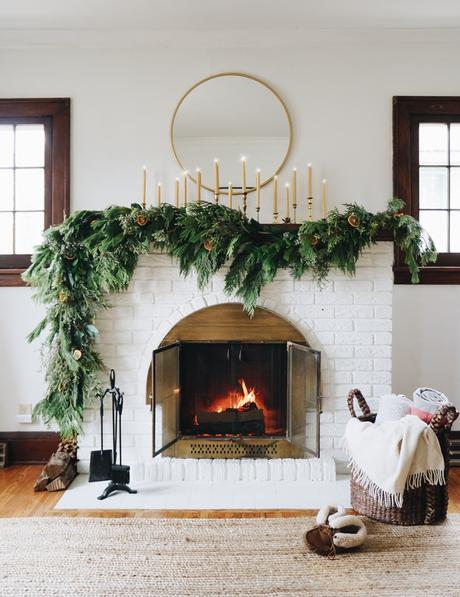 Then Shawnna went all Girl-Scouts-of-America on us and built a raging fire to dance around like crazy, yet mighty festive, people in front of. (See Instagram Story Highlights!) Btw, is her vintage brass fireplace enclosure not the most charming? I've never seen anything like this one!
Before I go, here's the source list. And a big thank you to Shawnna for helping me realize my Christmas fireplace mantel decorating dreams!
Round Brass Mirror | Basket (similar) | Beeswax Tapers | Brass Candlesticks: Thrifted
Fresh greens found at Bachmans
Faux magnolia leaves from Target
Faux evergreen stems from Michaels
Tutorial for dried oranges
Want to see what my own home looks like decorated for Christmas? Come on over!