Barry James is detained in a quarantine facility in the blistering heat of the Great Karoo. Here he exists in two worlds: the unforgiving reality of his incarceration and the lyrical landscapes of his dreams. He has cut all ties with his previous life, his health is failing, and he has given up all hope. All he has to cling to are the meanderings of his restless mind, the daily round of pills and the journals he reluctantly keeps as testimony to a life once lived.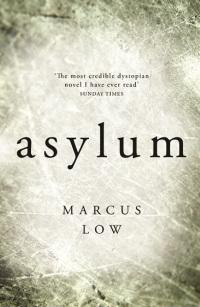 And then there's an opportunity to escape.
***
[TWO YEARS AFTER ARRIVING at the Pearson quarantine facility for pulmonary nodulosis in the Great Karoo of the Republic of South Africa, Barry Wilbert James started keeping a journal.]
***
(Legend Press, 15 April 2019, ebook, 288 pages, ARC from @Legend_Press, blog tour 1 May #Legend100)
***
***
I had a great time reading this book and got completely absorbed in the story. I love finding out where writers get their ideas and was delighted to learn Asylum was inspired by the incarnation of patients with drug-resistant forms of TB in South Africa in 2008. This made the book seem more authentic and at times I felt like I was reading a memoir. This is one of those books that you struggle to set aside once you start to read it. The book gave me a severe case of the creeps at times. Asylum includes James's current experiences in the facility as well as his dreams. This took a while to get used to and confused me at first but after a couple of chapters I got into the rhythm. Asylum is really disturbing at times and not for everyone. The setting in Karoo is spot on and adds to the uneasiness of the book. The alternation between the present and James's dreams makes narration unreliable to an extend and I was impressed by the way the author pulls this off.