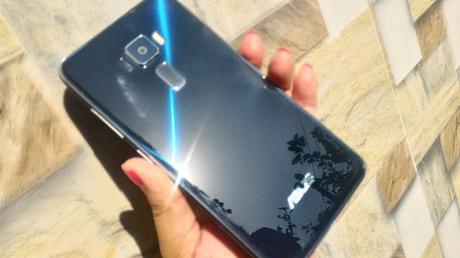 I recently had the opportunity to try Asus ZenFone 3 for a whole month. Being a ZenFone 2 user, I was eager to check out the enhanced capabilities of its successor. I must say, ZenFone 3 left me feeling much impressed.
Here's why:
Appearance:
I am quite satisfied with the appearance of ZenFone 2. It fits comfortable in hand and looks pleasant. But ZenFone 3 has a totally different design which is not just satisfactory, it's beautiful. No wonder it is the winner of a Computex 2016 D&I (Design & Innovation) Award.
Asus ZenFone 3 has metal and glass unibody design. Its display and the back are protected by 2.5D Corning® Gorilla® Glass. The 2.5D glass adds a slight curve at its front and back edges, giving cool 3D effect to the appearance of this slim device. The way light reflects on the rear panel in concentric circle adds to the visual appeal of this smartphone.
The glossy rear panel is a fingerprint magnet though and makes the device quite slippery. While ZenFone 2 has ergonomic back panel which fits comfortably in the palm, the straight and slippery back of ZenFone 3 makes the device a little harder to hold.
The speaker grill of the device is at its bottom edge. That is good because whether you put the device down on its front or back, the speaker grill remains unobstructed.
Specifications:
ZenFone 3 is equipped with Qualcomm Snapdragon 625 octa‑core processor which has 14nm FinFET process technology. It is available in 3GB RAM / 32GB Memory / 5.2" display and 4GB RAM / 64GB Memory / 5.5" display variants. The device I tried was the later of these two variants. It has 3000mAh battery, 16 MP rear and 8 MP front camera. ZenFone 3 had Android Marshmallow operating system which has now been updated to Android 7.0 Nougat. It is a 4G and Cat 7 LTE device and supports VoLTE.
When I tried the device, I loaded it up with several shopping, news, social networking and gaming apps. ZenFone 3 handled them flawlessly and I didn't experience even a single lag. ZenFone 2 gives excellent and lag-free performance too, but I felt the memory management was much better in ZenFone 3.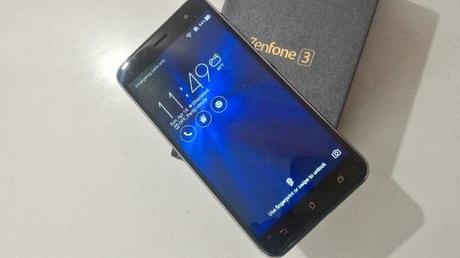 Display:
My review device had 5.5-inch Full HD (1920 by 1080) Super IPS+ display, capable of up to 600nits brightness. All ZenFone 3 variants have narrow bezel allowing the device to have 77.3% screen-to-body ratio. The display colour and brightness can be controlled using modes like Vivid, Blue Light Filter etc.
The display is bright, crisp and has good colour output and contrast. Quite readable in direct sunlight.
Battery:
The battery performance of ZenFone 3 really impressed me. The variant I tried (ASUS_Z012DB) has 300mAh fast-charging battery. I used the smartphone to stream whole season of Vampire Diaries from Amazon Prime Video (23 episodes, each episode 45 minutes long), did about 3 hours of net browsing and social networking, and half hour long Hangouts video call. All this took 2 recharges across 4 days. (* on auto brightness).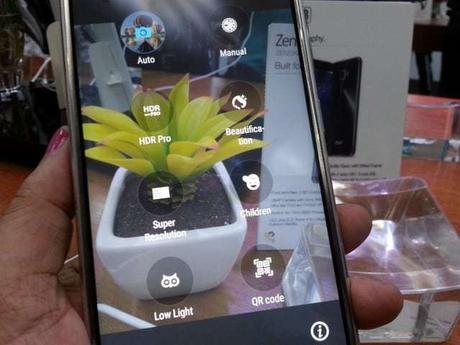 Camera:
The PixelMaster camera has always been a highlight of ZenFone devices. ZenFone 3 has 16MP PixelMaster 3.0 primary camera with Sony IMX298 sensor and ASUS TriTech autofocus technology that can automatically select 2nd generation laser, phase detection and continuous auto focus to deliver more accurate photos in 0.03 seconds. It has f/2.0, 6-element Largan lens, 4-axis photo OIS, 3-axis video EIS, Color correction sensor and Dual tone LED flash.
The front Camera is 8MP and can click a selfie with 84-degree wide view.
ZenFone 3 has 21 camera modes and 11 effects. The camera modes include Auto, Low Light, Beauty and Manual modes.
ZenFones click excellent daylight, outdoor shots. But some noise might crop up in the low light, night and zoomed up shots. In ZenFone 3, there's a very significant reduction of this noise. The daylight photos have very true to life colour reprodution. The Low Light and Night mode shots have less noise now. The shots at maximum zoom are better too. Clicking a picture from very close led to some distortion of colour though.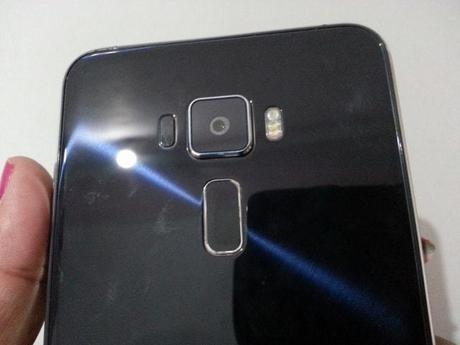 Fingerprint sensor:
ZenFone 3 device has the fingprint sensor at the back, under the camera. It can unlock the device in 0.2 secnonds and can be used to switch on the camera and click a picture. In my experience, the unlock and photo capture functions worked flawlessly. But to launch the camera, you need to double-tap on the fingerprint sensor. I tried that several times, but failed to launch the camera most of the times. I guess it requires a very specific double tap speed. Fortunately, the phone has several other shortcuts to quick launch the camera.
The fingerprint sensor can read upto five different fingerprints with 360 degree recognition. This 360 degree recognition works very well.
Interesting Features of ASUS ZenFone 3:
I'm a fan of ZenFones because of the various well thought out features of these devices. They may be loaded with some bloatware, but most of their features suit me perfectly. Here are some of the features that I enjoyed in ZenFone 3:
Mobile Manager & Auto Start Manager: These are very useful apps that help in keeping the device secure and optimized. Their features include blocking unnecessary apps from starting in the background , killing apps running in background when the screen is locked, securing the device against phishing attacks etc.
Nougat Features: While I was trying the device, it updated to Android 7.0 and got some new features like the Split Window. The Split Window feature allows one to use two different apps simultaneously.
Gesture & Motion command: The customizable Gesture Commands make available various shortcuts allowing users to lock or unlock the device by double tapping on the display and use various gestures to quick launch favourite apps.
Quick Memo: This is a small post-it note utility that pins a short note on all screens. This note can be moved anywhere on screen, it can be minimized and it is also available as a sticky notification.
Do it later: This utility is a memory-aid and can help users to create to-do lists, including calls to be returned and messages to be responded later.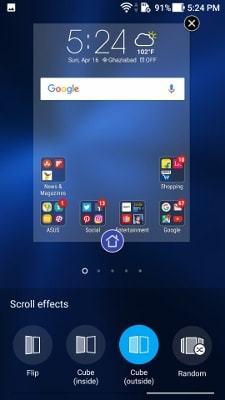 Customization: ZenFone 3 has ZenUI which is full of customization options. These include themes, icon packs, font packs, adjustable icon grid, wallpaper scrolling option and various screen transition options. The opacity of the status bar is adjustable. The Smart Folder option in the app folder is an excellent way to organize apps. The various customization options are intuitive and easy to use and can help the user design the Home Screen as they like.
ZenFone 3 Review:
When ZenFone 3 launched, I felt that the price was a bit high. But upon using the device, I now feel that it actually functions, looks and feels like a high-end device.
The only thing that felt less than premium in it is its FM Radio and audio quality. Also, there were several pre-loaded third-party apps in the review device I got. These included Puffin Browser, Go2Pay and Facebook. I didn't quite like that.
Other than that, ASUS ZenFone 3 was a pleasure to use and flaunt. At the price of Rs. 26,999 for the 64GB/4GB variant and Rs. 20,500 for the 32GB/3GB variant, it carries an excellent combination of good looks, good performance and useful features.
For more information, check out this video:
ZenFone 3 Key Specifications:
Model: ZE520KL (5.2″) / ZE552KL (5.5″)
Operating System: Android 6.0 Marshmallow, With ASUS ZenUl 3.0
Display: 5.2 / 5.5-inch Super IPS+ LCD, 1920×1080, 75.6% (5.2″) / 77.3% (5.5″) Screen to Body Ratio, up to 600nits brightness
Construction: Front and rear Corning Gorilla Glass panels with "2.5D" contoured edges and metal frame
Processor: Qua lcomm Snapdragon 625, Octo-core - 14nm, 8×2.0GHz ARM Coretex A53
GPU: Adreno 506,
RAM / Memory: 3GB RAM / 32GB Memory (5.2″ version), 4GB RAM / 64GB Memory (5.5″ version)
Main Camera sensor: 16MP ASUS PixelMaster 3.0 Camera (Sony IMX298 sensor)
ASUS PixelMaster 3.0 camera: f/2.0, 6-element Largan lens, 0.03 second TriTech Autofocus (Contrast / Phase / 2nd Gen Laser), 4-axis photo OIS, 3-axis video EIS, Color correction sensor, Dual tone LED flash
Front Camera: 8MP, 84-degree wide view
Wireless: WIFI 802.11ac, Up to Cat 7 LTE, 5G/2.4G, MiMO Wi-Fi
Fingerprint sensor: Rear sensor, 5-fin4r registration / 360 degree recognition / 0.22 second unlock
Connectivity: 4G with support for Reliance .lio VoLTE, Bluetooth 4.2, Type-C USB 2.0
SIM / SD slots: Slot 1: Micro SIM (4G), Slot 2: Nano SIM (3G) or Micro SD (supports up to 2TB)
Audio: Hi-Res Audio support, New 5 Magnet Speaker, NXP Smart AMP
Battery: 2650 mAh (5.2″), 3000 mAh (5.5″)
Dimensions: 146.87 x 73.98 x 7.69mm (5.2″), 152.6 x 77.4 x 7.7mm (5.5″)
Colors: Shimmer Gold / Sapphire Black / Moonlight White
Weight: 144 grams (5.2″), 155 grams (5.5″)
Accessories: USB Cable Type C, ZenEar, Adaptor, User Manual & Warranty Card
Price: Starting price of INR 21,999