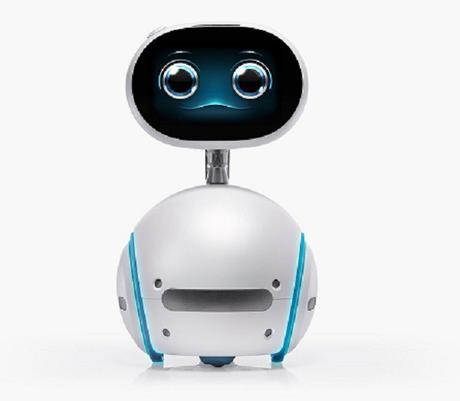 So far, robots for us were only stuff of movies. Sure we knew scientists were developing robots as scientific research and to help in the field of medicine, astronomy etc. But the thought of having a robot to help in household chores is still a matter of fantasies and imagination for us, isn't it? Well, not any more. Just a few days ago, I mentioned the Rolling Bot, that has been launched as a companion for LGG5. It is a robot that can roll around and do stuff like conveying videos and audio. Let me now tell you about another robot that can do stuff that can actually help us in our daily lives.
This is ASUS Zenbo. As per ASUS, the robot called Zenbo resulted from Chairman Jonney Shih's desire to make available robotic computing for common households. And thus, this robot by ASUS is a home robot. It can move around independently and has been designed to give timely reminders and assistance.
For example, it can remind the elderly people when it is time for them to take medicine. It can remind about excersise schedules, appointments, upcoming events or anything else that needs to be remembered. Not just that, Zenbo also monitors the home and detects in case there is some emergency . In case of emergency, Zenbo alerts pre-specified family members. For example, if someone at home has fallen down and got hurt, Zenbo would send alert to the pre-specified family member. Most likely, the alert will be transmitted to a connected smartphone. And no matter where that family member is, they can control Zenbo to show them the situation using its built-in camera.
Another interesting functionality of this friendly robot is that Zenbo makes it very easy for people to accomplish several online tasks like social media, doing online shopping, making video calls and streaming movies and TV shows using only voice commands. In short, even if elderly and less tech-savvy people are alone at home, they can still use all these online services by just telling Zenbo what they want to do.
Zenbo is not just a helpful friend for the elderly people, it has several features that would make it a cool friend of the kids too. It can keep the kids entertained in a fun and educational way by its interactive stories and learning games. It has a built-in library of stories that it can tell while showing related images. It also has several educational games and an interactive encyclopedia to entertain kids while imparting knowledge to them. Moreover, for those who love music, Zenbo can play songs using its built-in stereo sound system.
There are various other things too that Zenbo can do to help in the household. Like it can connect to and control electronic devices like lights, televisions, air conditioners etc. Zenbo can read out recipes, it can function as a voice-controlled timer, with its built-in camera, it can move around and be the family photographer, and it can also work as a remote-controlled home security camera.
Through the free Zenbo Developer Program, apps are being developed to enhance the capabilities of Zenbo even more. The members of the program can access the Zenbo SDK and a library of information they need to create their apps for Zenbo. Zenbo Partners can also work with ASUS to help in building a robotic ecosystem that will make Zenbo even better and more helpful for common people.
So you see, robots helping us at our home is no longer just a fantasy. It has come true. And this is just a beginning. Isn't that exciting? Zenbo hasn't yet arrived in India. But I do hope it will, and soon!
For more information about ASUS Zenbo and the Zenbo Developer Program, visit zenbo.asus.com. Do visit this and check out the Emote feature of Zenbo in the See What Zenbo Can Do section. When I saw it, I couldn't help but laugh at its cuteness. I bet you won't be able to resist smiling either.
And here's the promo video showing what Zenbo can do: