The way businesses connect with their consumers has changed dramatically thanks to chatbots. Chatbots add a new and fascinating dimension to services, goods, and websites, as well as speed up a variety of operational operations.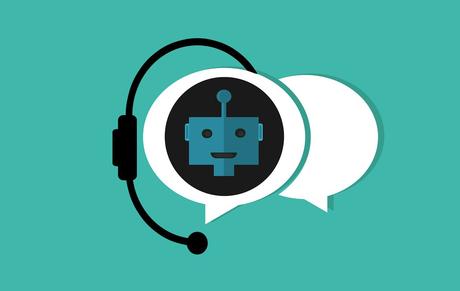 Image credit: wikimedia.org
The following data about the chatbot industry will demonstrate the global transformation currently underway. This post will give you all of the information you require to validate your chatbot strategy.
Statistics and Trends In Chatbots
Chatbots are used by 58 percent of B2B enterprises, but only 42 percent of B2C websites use them.
Chatbots are used by 39% of firms to create their websites more engaging. SaaS companies account for 65.1 percent of enterprises that have implemented chatbots. Consumers want to see more businesses use chatbots, according to 35% of respondents.
Chatbots are being used by 24 percent of enterprises, 15 percent of mid-sized firms, and 16 percent of small businesses.
In the last year, 60 percent of people have interacted with a chatbot.
By 2022, we may be conversing with bots more than we do with human partners. Within the next 18 months, 53% of service firms aim to deploy chatbots, representing a 136 percent increase.
Chatbots are thought to be causing disruption in 56 percent of firms.
The response time of chatbots is faster than that of people.
Consumers enjoy chatbots because they deliver quick responses, according to 68 percent of respondents.
Consumers also prefer the notion that a chatbot may assist them outside of office hours and refer them to a live human.
The most important feature of a chatbot, according to users, is the availability of service 24 hours a day, seven days a week.
Chatbots have been shown to reduce operational customer support expenses by up to 30%.
Consumers' top concerns about chatbots are a lack of knowledge & an inability to tackle complex problems.
Almost half of the customers believe chatbots obstruct their ability to communicate with a live person.
60% of customers appreciate the fact that chatbots can't grasp their demands, as well as humans, can.
Sixty percent of customers would rather wait and speak with a human than use a chatbot.
Business Statistics and Chatbot Marketing
Statistics about Chatbot Messaging Apps
Every month, about 5 billion people use messaging apps.
Chatbots are popular with 1.4 billion individuals who use messaging apps. Blue-Bot sent over 500,000 clients over two million messages in 2018.
On Facebook Messenger alone, there are over 300,000 chatbots.
Ten out of every eleven minutes spent on a mobile device is spent using apps.
Retargeting ads have a 30 percent lower ROI than conversations among customers and brands via Messenger.
Statistics on Consumer Preferences
Statistics for a Specific Industry
Real estate (28 percent), tourism (16 percent), education (14 percent), healthcare (10 percent), and finance (five percent) are the top five businesses that gain the most from chatbots.
The most profitable area for chatbots is real estate.
Finance
Chatbots are expected to handle 75-90 percent of banking & healthcare consumer queries by 2022, according to projections.
By 2023, economic benefits from banking chatbots will total $7.3 billion worldwide.
Since the outbreak of the worldwide epidemic, two-thirds of the world's largest financial services companies have begun to use chatbots in their apps.
Travel/Hospitality
A chatbot would be beneficial (40 percent) or extremely useful (26 percent) in managing their company and work travel arrangements, according to two-thirds of those polled.
When it comes to arranging travel plans or evaluating booking choices, 37% of consumers would prefer to work with a chatbot.
87 percent of people would opt to connect with a travel chatbot if it could conserve them time and money.
In the 2 and a half months since its inception, GRT Hotels & Resorts' chatbot has exchanged over 175,000 messages.
Retail
Over 1/3 of retail consumers would prefer to communicate with customer support via AI chatbot instead of live chat.
By 2023, retail chatbots will account for more than 70% of all chatbot conversations. According to a poll conducted in 2019, more than 40 percent of US customers were using chatbots to interact with retailers.
Clothing is the most popular commodity offered online using chatbots.
Clothing is sold by 22 percent of the most profitable online stores, trailed by health products (9 percent), furniture (9 percent), electronics (8 percent), & jewelry (8 percent ).
Recruiting
By the end of the year 2022, it's expected that 35% of companies would employ chatbots for a significant portion of the hiring process.
XOR, a chatbot vendor for recruiting, claims that their chatbot solution accelerates the hiring process by 33 percent, screens 85 percent more applications with similar budgets, and costs 50% less each hire.
58 percent of candidates were eager to communicate with AI & recruitment chatbots throughout the early phases of the application process, according to an Allegis poll.
Statistics on Chatbots for Customer Service
You can increase your eCommerce sales by up to 25% by using abandoned cart chatbots in conjunction with Messenger.
By adopting chatbots, you may expect to save 30 percent on customer support expenditures.
Customer service firms are expected to grow at a rate of 136 percent in 2019.
Chatbots have modified 58 percent of consumers' expectations for customer service.
Sixty-four percent of customer service representatives who utilize chatbots believe they get more time to tackle more complex and difficult issues.
When it comes to shopping, 16 percent of Americans have used Google Home or Alexa chatbots.
Quick Links:
Conclusion: Chatbot Statistics 2022
Consumers may interact with brands more interactively and easily with chatbots. Chatbots appear to be the digital communication method of the future. The chatbot market is expected to grow globally, with millennials driving user polls.
Chatbots will assist you and your team in growing and maintaining current relationships. Chatbots can help you provide quick customer support, conserve time on repetitive activities, and increase lead generation.
Sources:
No hyperlinks are provided on the source website of https://thrivemyway.com/chatbot-statistics/.
Startup Bonsai, OutGrow, Netomi, Landbot, Smallbizgenius, Backlinko, Tidio, Blogging Wizard, Finances Online, Leadoo, AIMultiple, Chatbot.com, 99firms