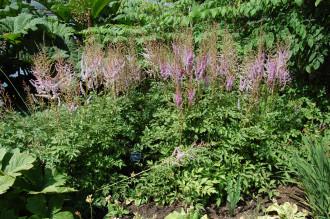 Astilbe chinensis (18/07/2015, Kew Gardens, London)
Position: Full sun to partial shade
Flowering period: Summer
Soil: Moist, well drained
Eventual Height: 1m
Eventual Spread: 1m
Hardiness: 4a, 4b, 5b, 6a, 6b, 7a, 7b, 8a, 8b
Family: Saxifragaceae
Astilbe chinensis is a deciduous herbaceous perennial with a clump forming habit. Its dark green basal leaves are ternately compound and up to 25cm long. Its leaflets are elliptic to ovate with serrate margins, up to 8cm long and 4cm broad. Its lilac/ pink flowers appear as slender terminal panicles, up to 37cm long and 4cm across. Its roots have fleshy rhizomes which aids its spread.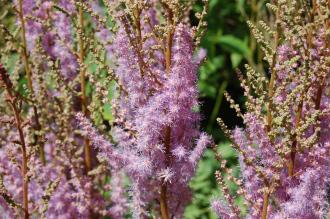 Astilbe chinensis Flower (18/07/2015, Kew Gardens, London)
Astilbe chinensis, commonly known as False Goat's Beard, is native to north east China and Mongolia. In its native habitat it grows in open broad leaf forests, riversides and meadows.
The etymological root of the binomial name Astilbe is derived from the Greek a meaning 'without' and stilbw meaning 'glitter'. Chinensis is derived form the Latin meaning 'from China'.

The landscape architect may find Astilbe chinensis useful as a large flowering perennial suitable for damp to wet locations. It is suitable for use within 'rain gardens' and bog gardens.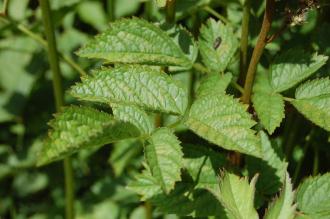 Astilbe chinensis Leaf (18/07/2015, Kew Gardens, London)
Ecologically, Astilbe chinensis flowers are attractive to pollinating insects, including bees and butterflies.
Astilbe chinensis prefers moist, humus rich, well-drained to wet soils. It tolerates most pH of soil. It dislikes dry soils.
Astilbe chinensis requires little maintenance. Faded flower stalks may be removed after flowering to keep a tidy appearance. Large clumps may be divided in late winter or early spring.


Landscape Architecture