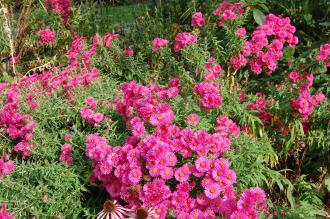 Aster novae-angliae (28/09/2014, Kew Gardens, London)
Position: Full sun
Flowering period: Late summer to early autumn
Soil: Moist, well drained
Eventual Height: 1.2m
Eventual Spread: 1.2m
Hardiness: 3a, 3b, 4a, 4b, 5a, 5b, 6a, 6b, 7a, 7b, 8a, 8b, 9a, 9b
Family: Asteraceae
Aster novae-angliae is a deciduous herbaceous perennial with a clump forming habit. Its dark green leaves are lanceolate with entire margins, up to 6cm long and 15mm broad. Its pink to blue flowers are daisy like with yellow centres, up to 5cm across and appear in corymbs. These are followed by seeds which are achene. Its roots have fleshy rhizomes which aids its spread.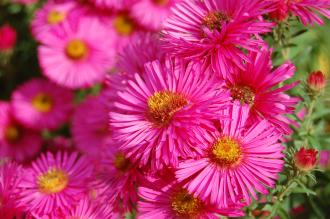 Aster novae-angliae Flower (28/09/2014, Kew Gardens, London)
Aster novae-angliae, commonly known as New England Aster or Michaelmas Daisy, is native to most of North America excluding the far north of Canada. In its native habitat it grows in fields and meadows. It has become naturalised in many parts of Europe. Aster novae-angliae is synonymous with Symphyotrichum novae-angliae
The etymological root of the binomial name Aster is derived from the Greek asthr meaning 'star', in reference to its flower. Novae-angliae is derived from the Latin meaning 'New England'.
The landscape architect may find Aster novae-angliae useful as part of a mixed herbaceous planting scheme. It may also be used as part of a prairie type planting scheme.
Ecologically, Aster novae-angliae flowers are attractive to pollinating insects.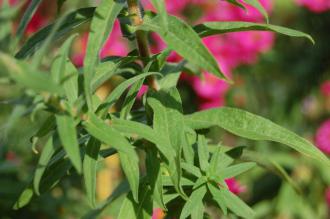 Aster novae-angliae Leaf (28/09/2014, Kew Gardens, London)
The Royal Horticultural Society have given the varieties Aster novae-angliae 'Harrington's Pink' and Aster novae-angliae 'Rosa Sieger' their prestigious Award of Garden Merit.
Aster novae-angliae prefers moist, humus rich, well-drained soils. It will tolerate most pH of soil.
Aster novae-angliae requires little maintenance. Large clumps may be divided in spring.