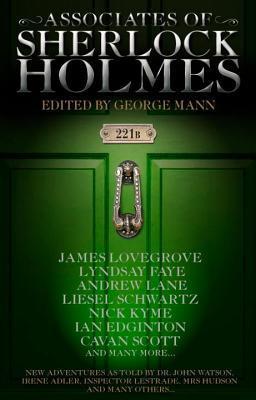 Associates of Sherlock Holmes
Published by Titan Books
Paperback ARC
Expected to be published on the 23 August 2016
304 pages
Book Page: Publisher's Website
I was given an ARC of this book by the publisher in exchange for an honest review.
WHAT'S IT'S ABOUT
A brand new Sherlock Holmes anthology to sit alongside George Mann's successful Encounters of Sherlock Holmes anthologies, and Titan's Further Adventures and New Adventures series.
A brand-new collection of Sherlock Holmes stories from a variety of exciting voices in modern horror and steampunk, edited by respected anthologist George Mann. Stories are told from the point of view of famous associates of the great detective, including Lestrade, Mrs Hudson, Sherlock himself, Irene Adler, Langdale Pike, and of course, Professor Moriarty...
OPENING
From The River of Silence by Lyndsay Faye
Dearest Mum,
Thank you for the new muffler and fingerless gloves - you're dead to rights in supposing a promotion calls for a fellow to look smart, and right to consider that I should have my hands free to boot!
WHAT I THOUGHT
I'm a huge fan of Sherlock Holmes. I've seen most of the various TV adaptions including movies based on Conan Doyle's own stories and more recent versions including Sherlock. I've read a huge amount of Conan Doyle's stories. The Hound of the Baskervilles is one of my favourite books of all times. I leapt at the chance to read an ARC of Associates of Sherlock Holmes.
I really enjoyed Associates of Sherlock Holmes. I liked the fact the stories are told by various characters that have played minor parts in various Sherlock Holmes adventures. I thought this was an original idea. The stories in this collection are quite varied and diverse. Some of the stories such as The River of Silence by Lyndsay Faye are quite traditional and what you'd expect from a Sherlock Holmes adventure and others offer something different. My favourite stories were The River of Silence by Lyndsay Faye, A Dormitory Haunting by Jaine Fenn, Nor Hell A Fury by Cavan Scott, A Flash in the Pan by William Meikle and The Vanishing Snake by Jeffrey Thomas. Associates of Sherlock Holmes is a treat for fans of the great detective.