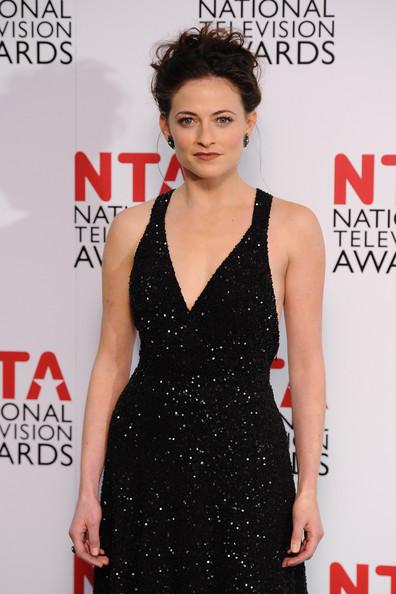 Lara Pulver (Claudine) did an exclusive interview with Assignment X just recently.  If you didn't already know she had a stage career in her home country England.  She was very recently in the BBC version of Robin Hood and played Isabella.  And of course we all know her from when she was Sookie Stackhouse's goblin fairy godmother Caludine in True Blood.  You can now see her in Sherlock.
Now we have to wonder if she read a lot of Sherlock Holmes stories before she got involved with the project.  Here is what she had to say about that.
"No. I'd read some of the Conan Doyle stuff in high school, but I hadn't touched it once. I got the project and started two days later and fortunately, Steven Moffat had written such a well-rounded character that I went into it knowing she was of American origin and there were little things that I thought if I want to work them in [it can be done], but it's knowing that they're there, they're somewhere in the layers of the character that I was building."
Now we have to know what the difference between Claudine in True Blood and her character Irene in Sherlock.  Here is what she had to say.
"There's something in them both – they're feminists in a weird way, aren't they? [laughs] It's using the power of being a woman. I feel for both characters. There are similarities. I'd say [the difference is more pronounced] in TRUE BLOOD, in the sense that she wasn't who she really was. She was of the goblin world and protecting herself [by pretending to be] a fairy. In SHERLOCK, I'm not even sure that she's aware – I don't know that awareness of her being different even enters her mind."
We also want to know what her challenge was with the goblin make up in True Blood and if she knew she was going to have to wear prosthetics at any point.
"No, I'd never used prosthetics before, and they did an amazing job."
This interview was great to have her input on her new project and what she did on True Blood.  Of course you can read more of the interview here.
Source:  AssignmentX.com – "Exclusive Interview: Lara Pulver Talks the New Season of Sherlock"
Image Credit: Ian Gavan/Getty Images