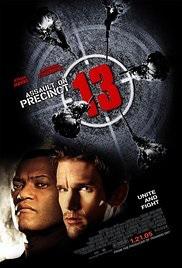 Director: Jean-Francois Richet
Writer: James DeMonaco (Screenplay) John Carpenter (Earlier Film)
Starring: Ethan Hawke, Laurence Fishburne, Gabriel Byrne, Maria Bellow, Drea de Matteo, John Leguizamo, Brian Dennehy, Ja Rule
Plot: A police sergeant must rally the cops and prisoners together to protect themselves on New Year's Eve, just as corrupt policeman surrounds the station with the intent of killing all to keep their deception in the ranks.
There may be spoilers the rest of the review
Verdict: Remake That Spins Original Well
Story: Assault on Precinct 13 starts as we follow Sgt Jake Roenick (Hawke) as he is undercover in a drug raid only for his team to get killed one thanks to terrible police work but Jake got his guys. 8 months later Jake is still recovering from his injuries both physically and mentally after what happened.
Jake now works in a small Precinct that is closing down on New Year's Eve with him having to see Dr Sabian (Bello) to deal with what happened. Captain Marcus Duvall (Byrne) has finally caught the notorious cop killer Marion Bishop (Fishburne). While transferring Marion with other prisoners the bus gets caught in a snow storm they have to take shelter in Precinct 13.
When the clocks strike midnight the Precinct finds themselves under attack by a group of masked men giving Jake a chance of redemption while trying to save the people inside the precinct, but not everything is what it seems as it turns out it is corrupt police trying to take out Marion and the people inside the precinct.
Assault on Precinct 13 is sold as a remake and one of the issues with the remake is the gang attacking the precinct seemed very random but this time we have direction in what is happening with police corruption going on. We have the standard copy idea where the group of police and criminals need to team up to take out an imposing threat outside which is all it needed to be really. The police angle does work but what left me feeling let down is talking about how badass Marion is but we never really see him do anything other than fire guns. It does build on what the original gave us on certain sides but in the end the characters are too generic.
Actor Review
Ethan Hawke: Sgt Jake Roenick is a former undercover officer who ends up in a small precinct after losing his team on the latest job. He is still recovering from his injuries but this final night in the precinct give him a chance for redemption leading a group of officers and criminals as a gang of corrupt officers ties to take over the precinct. Ethan gives a very basic performance in this role but th character is very generic.
Laurence Fishburne: Marion Bishop is the notorious criminal that has finally been captured by the officers only for us to find out that he has been working with police for years. To cover up their trails they want him killed as he must team up with Jake to fight back showing the honor that has giving him the respect of the criminal world. Laurence is good but I wanted to see so much more from his character.
Gabriel Byrne: Capt. Marcus Duvall is the leader of the corrupt cops who has been working with Marion for years, he brings his men to take him out before his whole unit gets exposed. He is deadly when it comes to taking prisoners and will kill without even blinking. Gabriel makes for a threatening villain without getting full psycho which would have helped a lot.
Maria Bello: Dr Alex Sabian is the lady treating Jake after his loss of partners, she ends up trapped in the precinct during one of the appointments where we get to see her quirky side which includes randomly doing her times tables to keep calm.  Maria is kind of wasted in this supporting role where she never gets a chance to show off her skills.
Support Cast: Assault on Precinct 13 has a supporting cast that all seem to make bad decisions through the film.
Director Review: Jean-Francois Richet – Jean does some great stuff with source material but then makes the supporting characters very sloppy.
Action: Assault on Precinct 13 has very basic action between the shoot outs going on.
Crime: Assault on Precinct 13 uses the crime angle well but is also very generic throughout.
Thriller: Assault on Precinct 13 tries to keep you on edge but with the modern technology it actually takes the tension away.
Settings: Assault on Precinct 13 uses the one location to show the characters trapped with no escape.
Special Effects: Assault on Precinct 13 has basic effects for the kills and shootouts.
Suggestion: Assault on Precinct 13 is one for the action fans to try but make sure you see original first. (Try It)
Best Part: Using the cops works well.
Worst Part: Marion has so much promise.
Believability: No
Chances of Tears: No
Chances of Sequel: No
Post Credits Scene: No
Oscar Chances: No
Runtime: 1 Hour 49 Minutes
Tagline: The only people more dangerous that the hardened criminals… are the cops. 
Overall: A remake that has certain parts better and others worse.
Rating