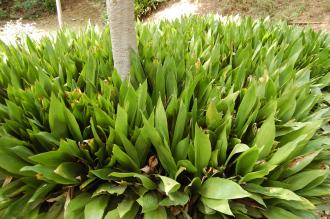 Aspidistra elatior (15/04/2015, Imperial Palace East Garden, Tokyo, Japan)
Position: Dappled shade  to full shade
Flowering period: Early summer
Soil: Moist, well drained
Eventual Height: 60cm
Eventual Spread: 60cm
Hardiness: 8a, 8b, 9a, 9b, 10a, 10b
Family: Asparagaceae
Aspidistra elatior is a slow growing evergreen perennial with a clump forming habit . Its glossy mid/ dark leathery green leaves are lanceolate with entire margins, up t0 5cm long and 10cm broad. Its brown flowers are inconspicuous and borne on it rhizomes. Its roots are rhizome which aids its slow spread.
Aspidistra elatior, commonly known as Cast Iron Plant, Bar Room Plant, Common Aspidistra, is native to the islands of south Japan and Taiwan. In its native habitat it grows and a woodland understory plant.
The etymological root of the binomial name Aspidistra is from the Greek aspidion menaing 'small shield'. Elatior is derived from the Latin elatius menaing 'proudly'.
The landscape architect may find Aspidistra elatior useful as an effective foliage groundcover plant. It is also useful for interior landscapes due to its tolerance of neglect, low light and low humidity conditions.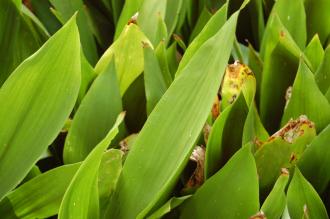 Aspidistra elatior Leaf (15/04/2015, Imperial Palace East Garden, Tokyo, Japan)
Ecologically, Aspidistra elatior is of little value to UK wildlife.
The Royal Horticultural Society has given Aspidistra elatior their prestigious Award of Garden Merit in 1993.
Aspidistra elatior prefers moist, fertile, well-drained soils. It tolerates most pH of soil. It dislikes wet soils.
Aspidistra elatior requires little maintenance.


Landscape Architecture