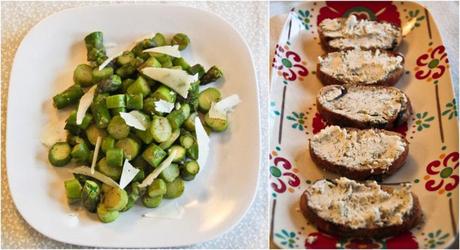 Spring is here :)
We've been eating lighter meals these days because it is getting so hot outside! I love spring produce: asparagus, artichokes, green peas — they just taste so fresh, which is perfect for the season.
These are two delicious and healthy side dishes that could be paired together for a quick and easy lunch, a light dinner, or as accompaniments to a dinner spread if you're cooking for a few people! (Just note that if you do eat this for a meal vs. a side dish, you will have to eat double the serving size for each recipe as one serving will be too small for an actual meal!)
I was inspired by this recipe from CookingLight, but modified it to make it a bit easier to cook. If you love asparagus as much as I do, you will absolutely devour this asparagus with lemon and pecorino.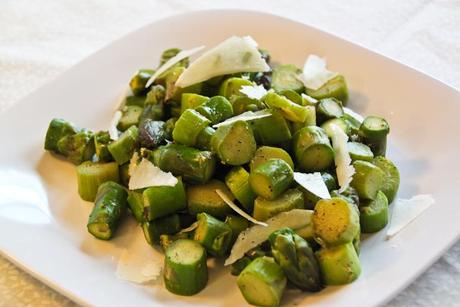 Pair it with these crispy, crunchy and creamy goat cheese crostini and you will be in heaven.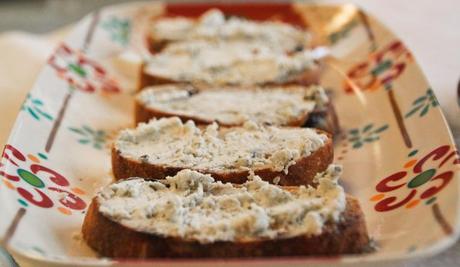 It's amazing how these two side dishes actually give you a balanced meal: healthy whole grains from the crostini, green vegetables from the asparagus, and protein from the cheese. Not bad for a small meal that takes less than 15 minutes to make!
Print

Asparagus with Pecorino and Goat Cheese Crostini
Total Time: 15 minutes
Yield: 4 servings
Serving Size: 1/4 of the asparagus + 1 crostini
Calories per serving: 45
Fat per serving: 2.8g
Nutritional Info Per Serving (Asparagus): 45 Calories, 2.8g Fat (0.2g Saturated), 40mg Sodium, 2.9g Carbs, 1.3g Fiber, 0g Sugar, 2.5g Protein
Nutritional Info Per Serving (Crostini): 73 Calories, 3.2g Fat (2.1g Saturated), 52.2mg Sodium, 6.9g Carbs, 0.8g Fiber, 0.6g Sugar, 4.1g Protein
Ingredients
For the Asparagus
1 pound asparagus, chopped into bite-sized pieces
1 tsp extra virgin olive oil
2 tsp grated lemon rind
1/4 tsp freshly ground black pepper
1/8 tsp salt
4 tbsp shaved pecorino Romano cheese
For the Crostini
1 tbsp fresh parsley
2oz goat cheese
1 minced garlic clove
4 slices whole grain baguette
Directions
For the Asparagus
Chop 1 lb asparagus, saute lightly in 1 tsp olive oil in a large skillet. Sprinkle evenly with 2 tsp grated lemon rind, 1/4 tsp ground black pepper, and 1/8 tsp salt. Toss to coat. Sprinkle asparagus with shaved pecorino cheese. 
For the Crostini
Combine parsley, goat cheese and garlic clove together. Spread over 4 slices of the whole grain baguette.
Notes
Adapted from CookingLight.com
2.4
http://pickyeaterblog.com/asparagus-with-pecorino-and-goat-cheese-crostini/
Recipe by: The Picky Eater, pickyeaterblog.com