Asparagus Pasta
…
or Spring Pasta.
..
a quick weeknight meal recipe when Amazon Prime or rather my new love Viking Ragnar Lothbrok awaits
…
quick, easy, pasta, bacon, greens, cheese – what's not to love
?
The pasta, not Ragnar
J
that one I feel a little guilty of falling in love with but the character combined with Travis Fimmel's smile gets me every single time
…
I cook the asparagus tips with pasta if using Fine Slender spears
...
and in the pan to slightly char/brown/caramelise if using the Regular/Giant/Jubilee spears
…
the recipe is adapted from Gimme Some Oven's 5ingredient Bacon Asparagus Pasta and Serious Eat's  Lemony pasta withAsparagus and Bacon
…
go with either the 5 ingredients or the 10 ingredient list or 6 or 7 or  8 or 9
…
you will end all singing
:
"This will never end 'cause I want more
More, give me more
Give me more"
P.S.: the last bit is Fever Ray's theme for Vikings
…
just in case you thought I've totally lost it
…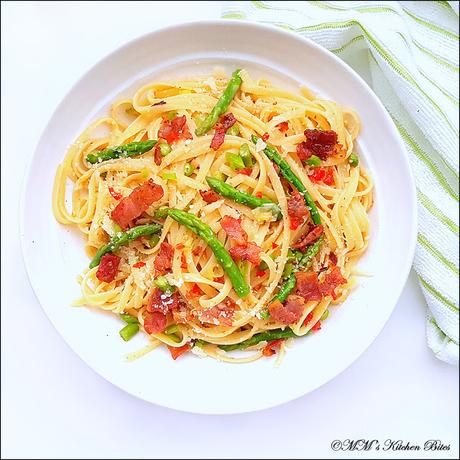 Asparagus Pasta with Crispy Bacon and Lemon
Ingredients:
Pasta, 250gms (Tagliatelle, Linguine, Spaghetti – any noodle shaped pasta would work)

Bacon or Pancetta, sliced into strips, 250gms

Asparagus, 250gms (refer to notes)

Wine, ½ cup (or chicken stock or just use pasta water)

Fresh Red Chilli, seeds and membrane removed, finely chopped, 1 (optional)

Spring Onions/ Scallions, whites and green separated and finely chopped, 2-3 (optional)

Lemon juice, 1 tsp and Lemon zest, ½ tsp (optional)

Butter, 1 tbsp (optional)

Parmesan Cheese, finely grated, ¼ cup /25gms

Salt and Pepper, to taste
Instructions:
Snap and discard the woody bottoms of the asparagus stalks
Cut off about 2 to 3 inches of the asparagus tops and keep aside. Chop the rest of the spears into about ¼ inch pieces.
Cook the pasta in a large pot of boiling generously salted water al dente according to package instructions. Add the asparagus tips for the last two minutes of the cooking time. (2 minutes for thick/regular asparagus, 1 minute for fine asparagus) Drain the pasta, reserving a cup of the cooking water.
 Meanwhile, add bacon to a large saucepan and set over medium-high heat. Cook, stirring frequently, until bacon is crispy. Remove the bacon with a slotted spoon and set aside.
Add chopped asparagus bits to the same pan and cook in the bacon fat, tossing and stirring frequently for about 2 minutes until lightly browned. Add spring onion whites and half of the chopped chillies, cook, stirring constantly for about 30 seconds, until fragrant. Remove everything with a slotted spoon and set aside with the bacon.
Lower the heat and add the white wine (or pasta water) to the pan to deglaze and scrape off the browned bits. Continue cooking until the liquid has reduced by half. Take the pan off the heat.
**your pasta would be cooked and ready to be drained about now**
Add the pasta with asparagus tips, previously cooked bacon and asparagus stalks, lemon juice, lemon zest, remaining chopped red chilli, spring onions greens, pepper and butter to the pan.  Toss together until butter melts.
Stir in most of the grated cheese and extra pasta water, stirring until desired consistency is reached.
Taste and adjust seasonings.
Sprinkle pasta with remaining cheese and serve immediately.
Notes:
I normally cook the asparagus tips with pasta if using Fine Slender spears...and in the pan to slightly char/brown/caramelise if using the Regular/Giant/Jubilee spears – toss the tips in the pan along with the chopped spears.