Two years ago, I gathered up my courage and wrote a blog post explaining why I was asking for help funding my album Aether. 
A few things have changed since then – a few things haven't. I have a book coming out this year – I'm (slowly) getting used to being on television, to pitching shows for national venues, to giving speeches and papers and interviews.
The things which haven't: being trans, being a trans artist, is all too often seen as an exploitable hook rather than an aspect of self to be respected. I would rather play community shows where I'm not paid but I am heard, than succumb to the offers to appear on reality TV where I know I'd be used for other people's profit. I don't want to sell my pre-transition photos, and I don't want to be reduced to a sob story or someone to be pitied. I don't want that for myself, and I don't want it for the message it would send about trans people, about our shared lives, the shared understanding of those lives.
But when you don't want to play the mainstream media game, it's harder to get your voice heard – and harder to get projects publicised and funded. I'm not saying this to ask for sympathy – far from it – but to say that, as an independent trans artist, the work I make is founded in my idea of community and, in turn, relies on my community for support. I'm not claiming to be perfect – but I'm trying my best. I know that that's appreciated by more than a few people – and I want to give more.
http://static1.squarespace.com/static/54c61d11e4b0b73c47952652/54c61dace4b06765d7ebbe19/56bdf7262b8dde5331754481/1455290404395/02+Teachers.mp3
New track 'Teachers' – live from The Colour House Theatre
Come Home is my third studio album, and my first album about love. Reviewers have called my previous work 'atmospheric' (The Advocate), 'ethereal' (Polari) and 'achingly beautiful' (For Folk's Sake) – I've tried to be all of those things with Come Home, but rawer, realer and more vulnerable than I've let myself be before. We've recorded the music: vocals, harpsichord, grand piano and acoustic bass. Now we just have to mix, master, create the art, pay the licensing fees, put it all together and print copies.
And we have three days left to make it happen, and £1000 left to raise.
Writing that number down is scary, to say the least – but I think, I hope, it's possible.
£1000 is 200 pre-orders of the £5 digital download – which works out to 4% of subscribers to this blog.
£5 is how much a pint of lager will cost you at the pub around the corner from me – and my self-esteem is just good enough to assure you that you'll get more for your money with my album than you will with a London pint.
There are other options, of course: discounted lessons (I specialise in composition and training trans voices), merch and private gigs.
You – Aether (2014)
If any of my music or writing has touched you in the past then please – take a chance on Come Home. I'm doing my absolute best to make it the best I've done so far. But I can't do it alone.
The Come Home Indiegogo campaign is here
My previous albums are on Spotify
You can read what my fans have to say here
Thank you for listening – in all the different ways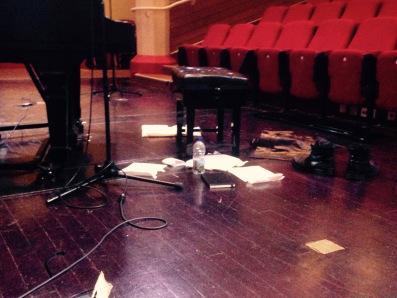 Filed under: alternative music