Winter is here for the foreseeable future. For years now, I have forced myself to wear dress pants to work in the winter months. I have cute dresses that sit in my closet and I tell myself that maybe this week will be the time I wear them! But alas, they sit in my closet unworn. So here is where I need your help.




I am a size 12/14. What tights can I buy that will fit correctly, be comfortable and stay up throughout the day? What color tights are appropriate for what color schemes? When is it appropriate to wear navy, or brown over black or even gray. What about sheer tights?  Thanks for helping me face my fears!
Funny how tights have been around for so long and are such a necessity, yet are so complicated, uncomfortable, and downright overwhelming for many! I'll admit, I shop winter dresses and skirts thinking about tights – will the garment go with tights? Will I need to purchase a new style or color for them? As I am the same size as you and have in the past been just as overwhelmed by hosiery options, here's some tips I use?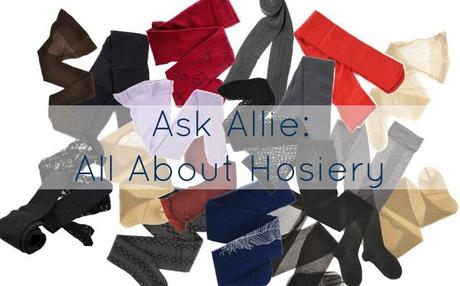 My Favorite Brands of Tights:
I have become extremely picky with my tights purchases. I have found that if I purchase quality when on sale, the price isn't too terrible and the tights will last more than one season. I don't like tights that cut me in half, have such intense control tops that I get gas pains by lunch, or stretch out so much I have baggy ankles. My favorites:
Spanx – Super durable, super opaque, and keep their shape. They have so many variations, I find the more Spanx-y types (high waisted, split gusset, lots of control) are more worth the money as they are made of better materials and keep their shape longer. While they are control garments, they are relatively comfortable. Their "regular" tights I find to not be as good – they cut me in half and stretch out.
DKNY – I have MAJOR love for DKNY hosiery. Their super opaque tights are exactly that – completely opaque, but not shiny or textured or weird. They don't cut my body in half, they hold their shape and don't fall down, and have even survived accidentally being washed and dried with a load of jeans. Not only that, DKNY has petite plus sizing, which is utterly fantastic.
Nordstrom – These are standard-issue opaque tights – not super opaque but not stockings/sheer. While they are considered control top, they don't really do much for that but the control top does keep the tights from falling down. I don't have issue with them cutting me in half, and if you hand wash or gentle cycle in a lingerie bag and drip dry, they will last at least one season, sometimes two. I don't know if this year the quality is as good as previous years as I have had my tights run a bit more this winter, but that just may be my clumsy self.
What Color Tights?
In my lingerie drawer, I have four pairs of black
(two regular, one super opaque, one with control top)
, one pair of brown, and one pair of gray. I really stick to neutrals because I find colored tights to not fit my personal style nor flatter my curvy yet petite legs. To elongate my legs, I usually match my hosiery to my shoes, this also helps with figuring out what color tights to pair with a dress or skirt.
Black

is a safe bet – for many seasons, designers have been showing opaque black tights with everything from frothy white frocks to neon leather pencil skirts. A relatively opaque leg with black shoes is a neutral and a good base for most prints and fabrics. Black however can be harsh and may be too overpowering for delicate prints, pastels, and soft neutrals.
Brown is a good alternative for those who find black too strong or wear primarily neutral or softer tones. Brown is also easy to find at retailers, though you want to look for a color that is the right amount of cool or warm to complement your wardrobe as well as your footwear (see here).
Gray is also a great alternative for those who find black too harsh and is regularly found at mass retailers. Gray is a subtle way to break up a primarily black ensemble (see here), and I have found it to be a color that is flattering to most figures. I love gray with pastels, deep jewel tones, as well as other neutrals.
Navy has always been a color I love but find difficult. However, these days navy has become quite chic when paired with black. Navy tights can be a great alternative to gray, adding interest to an all black or neutral ensemble. Navy is also great for vintage lovers since many prints from previous decades incorporate navy. However, navy isn't really a neutral for hosiery unless you have a lot of navy in your wardrobe. You will rarely find shoes to match, and like brown it comes in so many shades veering from dark bright blue to almost black.
Fun colors… are fun. Some people can really carry them off, as seen in this post I did about blogger fashion trends. However, I find you need to be extremely comfortable with your personal style and hosiery to wear them well. As that you're a tights newbie, you may want to stick to neutral shades until you get the hang of it.
Patterned hosiery I put in the same category as color – you need to be comfortable with both hosiery and your personal style to properly style them. I have worn patterned hosiery a totally of ONE time on this blog because I just don't feel as though they look right on me, though I see women rock them on a regular basis and look phenomenal. As with any fashion, if you feel awkward in something, I don't recommend wearing it. Confidence is the best accessory!
Hosiery Denier
Denier is a term used to measure the opacity or thickness of hosiery. The higher the number, the thicker or more opaque. Sheer stockings are usually around 10 - 15 denier, while opaque tights are around 40 denier or more.
Sheer Hosiery/Stockings went out of vogue for quite a while, but thanks to runway shows featuring sheer black legs and the Duchess of Cambridge wearing them with her classic personal style, such hosiery has again become acceptable.

Black stockings

can look a bit too sultry for day if worn incorrectly – it's important to note shoe and skirt height and style – a more conservative hemline and heel will balance the hose. 
Skin-colored stockings, it's important to wear something as close to your skin as possible – even if you are pale, it's better than artificially-colored legs that resemble ice skaters. Luckily companies like Frangi Pangi exist that offer a multitude of shades to better fit the many different colors of us women. As for any other color of sheer, I leave those to the True Fashionistas who are able to take the unusual and make it look natural and fabulous!
How to Stay Warm?
There are fleece-lined tights, but I'll admit I have never found any that fit my petite curvy frame properly. I know of many a woman who doubles up her tights to stay warm through the winter
(not only do you have better wind protection but more opacity!)
. A long commuter coat, tall boots, boot socks, and even legwarmers can do much to keep you comfortable when heading to the office. But now I ask you readers who live in far colder climates than me,
what do you do to stay warm, comfortable, and stylish when wearing skirts and tights in winter?
Follow Me | Twitter | Facebook | Instagram