I have a lovely brown leather jacket. However, I don't wear it as often as I'd like because I'm unsure of how to pair it with my mainly black and gray wardrobe. Any tips to point a girl in the right direction?
There is nothing more chic than pairing brown leather with other neutrals like gray and black. In fact, this look is very on trend this season, giving a luxe and casually refined look. I'm not sure what type of jacket you own, so I chose a pretty neutral style for some sample outfits. Hopefully these examples will show that in fact, a brown leather jacket is a perfect pairing for your mainly black and gray wardrobe!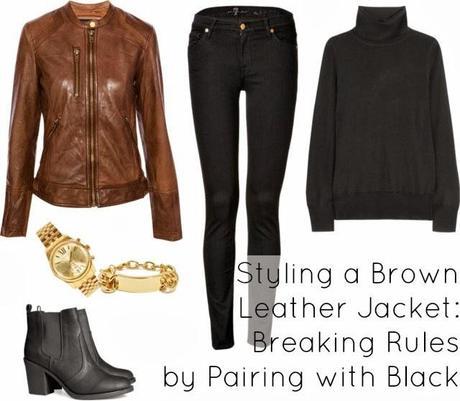 Shop this look: Jacket  | Jeans | Turtleneck Sweater | Watch | ID Bracelet | Ankle Boots
When I previously wrote about breaking the old rule of
pairing black with brown
, I used a picture of Anne Hathaway. I have always remembered how classic and chic she looked in a brown leather jacket, black turtleneck, jeans, and tall brown boots. I did a variation of this look considering you likely don't have much brown in your wardrobe. This look uses brown as an accent color just as you would blue or red. With a base of black and gold accessories, the brown is luxe and the quality and style of the jacket is the focal point.  I added a dark shadow for a smoky eye which adds toughness and a current trend. This sort of look could easily be changed with traditional indigo denim, or brown boots of any height.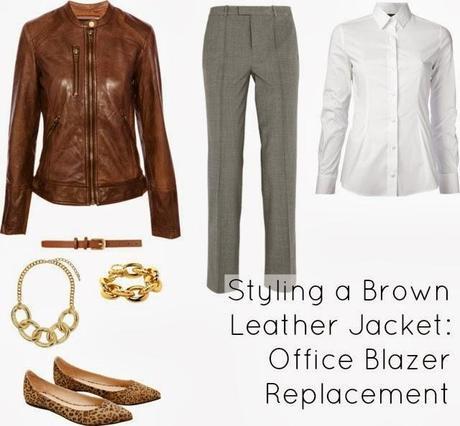 Shop this look: Jacket  | Pants | Shirt | Belt | Necklace | Bracelet | Flats
 One of my favorite ways to wear my leather jackets is to pretend they are blazers. It's a great way to give your jacket some more mileage and make it work-friendly. A white shirt tucked into gray trousers is a classic and elegant look as well as a perfect base for interesting accessories. Leopard flats are brilliant because they are neither black nor brown, neither suede nor leather. This way you don't need to try to figure out what to pair with a unique color jacket or when you're mixing neutrals. I added a skinny belt in the same color as the jacket to make it look more like a blazer and less like outerwear; gold accessories add elegance and keep the look from being too masculine.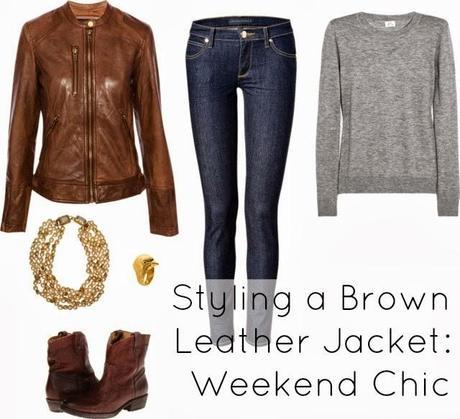 Shop this look: Jacket  | Jeans | Sweater | Necklace | Ring | Boots
I think this ensemble clearly shows how chic brown looks with gray. A simple cashmere or merino crewneck and narrow jeans is a weekend classic; pair with brown boots of any height for a cohesive look. A pearl necklace adds a glamorous touch and makes the neutral combo look even more luxe.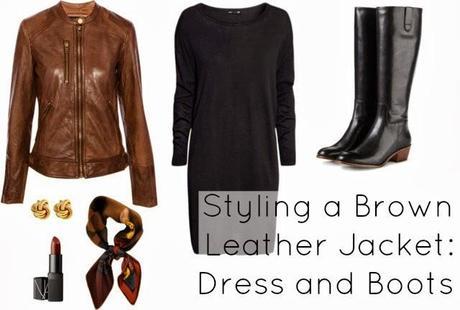 Shop this look: Jacket  | Sweater Dress | Earrings | Scarf | Lipstick | Boots
This ensemble shows how a leather jacket can be paired with a skirt or dress. I chose a black sweater dress but this could be switched for a sheath or shift dress in black or gray. A silk scarf that incorporates the color of the jacket pulls the separates together into an actual outfit; pairing the scarf with riding boots gives an equestrian feel which is both timeless and in style this season. Simple gold earrings and an on-trend dark red lip completes the look.
Follow Me | Twitter | Facebook | Instagram