I am a 44 year old SAHM. I have a daughter who is involved in sports, this means tournaments and several in a row. I want to look pulled together sitting in the stands, not in hoodies like the other mothers. I love the blazer from the old navy, definitely picking that up. I just need some ideas on how to not look to over the top but still chic.
I like that you gravitated towards
the knit blazer in that post
, because it's right in line with my suggestion: polished alternatives to traditional casual wear. You want to be comfortable, have pieces that will hold up over many hours, but fit in with the situation.
To create a cohesive, small yet versatile wardrobe, it's important to have a clear vision of the story you're trying to tell. Writing it down, creating a collage or Pinterest board can help you define this story and stick to it. This way, each time you shop, you can refer to it and be sure the garment or accessory will be a valuable purchase and you can have more variety with fewer pieces.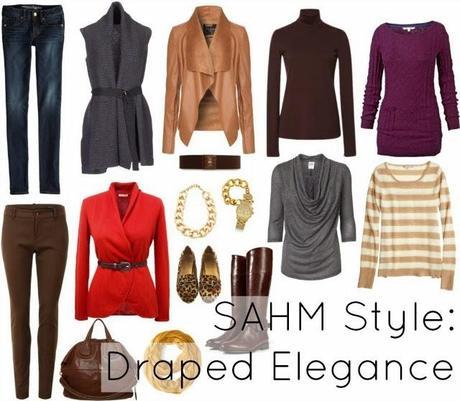 Shop similar: jeans | pants | vest | cardigan | jacket | necklace | bracelet | watch | loafers | boots | bag | infinity scarf | turtleneck | draped top | sweater tunic | striped sweater
For this collection, the concept is tailored draping, warm tones. Slouchy and draped knits, but with belts and bits of structure that keep them from looking sloppy. With a brown base, simple pieces look luxe. Put the most money towards the trimmings – a pair of nice leather riding boots will quickly glam up slim pants and jeans and even dresses for more polished affairs. If you care for your boots
(polish, put rolled magazines in them when not worn to ventilate and prevent creases, reheel and resole before each season)
, they can work three seasons of many many years. A quality leather bag in the same color and finish as your boots will make any outfit look chic and pulled together. Gold jewelry in classic styles adds shine without looking cheesy. A scarf is a great finishing touch and a budget-friendly way to dress up knits and add color to an outfit. As the weather warms, heavier sweaters and knits can be replaced with linen blends, slub knits, and refined jersey.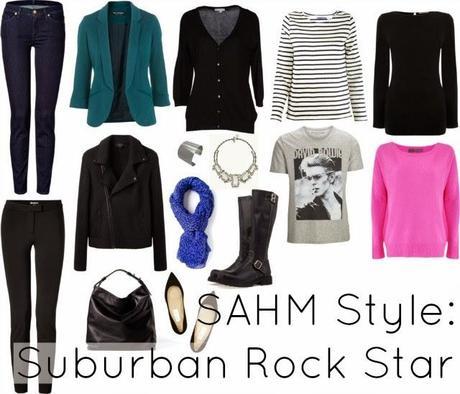 Shop similar:  jeans | pants | blazer | knit moto jacket | bag | cardigan | cuff | necklace | scarf | boots | flats | striped tee | rock tee | boatneck tunic | pink sweater
For this collection, I have to admit, I was thinking of myself and my weekend style as I shuttle Emerson to ballet class and birthday parties, dash to the grocery store and Target. With a similar base of stretchy yet structured pants and jeans, this look is more structured with proper blazers and jackets, though in knits that won't wrinkle or bind through hours in the stands. Cool neutrals of black and gray are the perfect backdrop for unexpected brights like cobalt and candy pink. Like the first look, having quality shoes and bags that fit the story will make cheaper pieces look luxe; a scarf is the perfect finishing touch and a way to show your personality. Silver jewelry fits the "Suburban Rock" feel; a statement necklace with a bit of sparkle will add a feminine touch and though it seems contradictory to band tees and engineer boots, it will actually make you outfit look complete and cohesive. As the weather warms, consider slouchy refined knits, tops with a boho vibe, or a pair of tastefully distressed boyfriend jeans.
Follow Me | Twitter | Facebook | Instagram