I recently found out that I am going to have a baby girl. I was never a tomboy, but I was also never girly… pink makes me gag, and there was no lace on my wedding dress! I nearly never wear make-up and wash and wear my hair. Just based on my own personal taste, my daughter will not be wearing girly stuff by my own choice.
But what if she is girly? How do I help her, from as early as possible, walk the fine line between feminine, modest (that's super important to me), and positive about her body image? Do you think I need to be focusing on something like that as early as ... gulp .. birth? If so, what can I do to help her?
I am a pretty girly girl. I like pink, love makeup, and while there was no lace on my wedding dress there were Swarvoski crystals and a little tiara in my hair. However, when I found that I was having a girl I was just as freaked out as you. For while I may be pretty "girly", I didn't want to have my daughter feel that she too had to be that way. I wanted to create an environment where she could be anyone she wanted to be, wear what she liked, and feel confident without having to fit into society's silly expectations of what a girl should be like.
We painted her room a pale yellow, a color that would work for a boy or a girl. The majority of the clothes and even cloth diapers we bought were in gender neutral shades. We bought books and toys and equipment that would be appropriate to any baby regardless of gender. Heck, we even gave her a gender-neutral first name. As a baby, it was easy. I didn't put bows on her head, I didn't put her in frilly dresses, didn't pierce her ears. But as she got older, it got a bit tougher for try as I might, Emerson became a girly girl.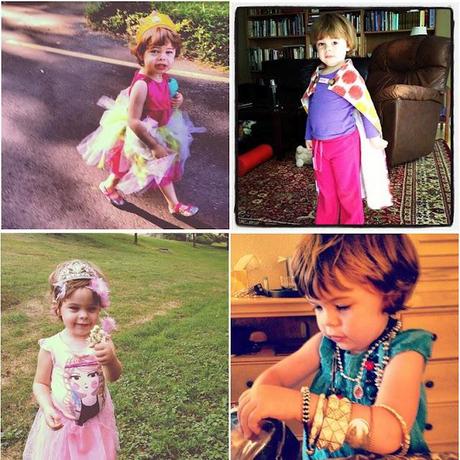 However, it's not the same girly that I am. She likes her hair short because she hates to brush it or wear elastics or barrettes in it, but she loves putting on crowns, hats, and headbands. She loves princesses and fairies even though I don't encourage such books or movies. But like me, she has a passion for accessories, and is very definite about what she wears. She's very confident, very sure of herself. She sings off-key at the top of her lungs, dances into corners of tables, and trips over her two feet on a daily basis, always laughing it off. She's very affectionate, blowing kisses and hugging friends and acquaintances while I am more reserved and shy. She's a neat freak – can't stand sticky fingers or toys on her bedroom floor, while I have been a slob all her life. While she may be girly, she has a personality and interests completely different from mine.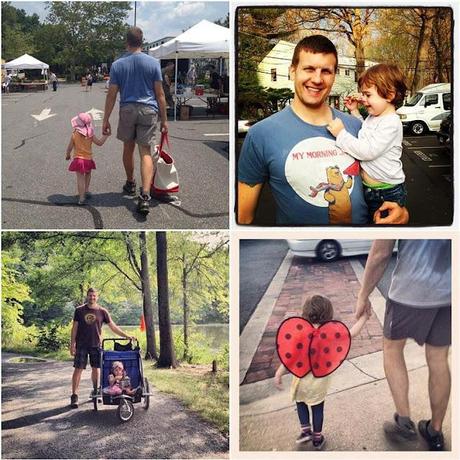 My husband is the stay at home parent, and he is surely not girly. He keeps his hair short and washes it with a bar of soap, lives in cargo shorts and band tee shirts, and is most comfortable out in nature on a bike or hiking in the woods. He doesn't know what a color wheel is, hates the color pink, and before Emerson didn't know a single name of a Disney princess. And like me, he finds her to be a completely different person with completely different interests from him.
Your child, whether she loves pink or hates it, will be her own unique person with her own unique interests. While she may learn from you, she will also figure out things on her own, be it from who she was before she came into this world, or through experiences in society. While you may have some influence on her interests, she will still be completely herself. And through her growth and development as an individual, you will find yourself learning from her – it is amazing how wise a toddler can be, and what you can learn about yourself by looking into your baby's eyes.
While I let Emerson fly her sartorial flag and have made her tutus and crowns, I still want her to be a child, not a young woman. I don't let her wear clothing with logos or messages, don't let her wear makeup, and teach her that her body is something to be treasured and belongs to her. She is not a diva, she is not a princess, she is a toddler. I am a feminist and want to raise my daughter believing that she deserves to be treated as a human being, and shouldn't have to act a certain way or not be able to do certain things because of her gender. While I buy her dresses and skirts, I believe I do it in a way that lets her be a little kid, and as she gets older will teach her that she can hone her personal style and embrace her femininity while remaining modest. My mother raised my sister and I to wear what we wanted and believe what we wished, we still understood modesty and dressing to respect the wonderful body we had been given – I hope I am doing the same with Emerson.  I never speak badly about my body around her, never discuss weight or the appearance of others. We as parents tell her that who she is and what she does is what makes her and other people beautiful and at least at this point, she believes it, and believes in herself.
Do what feels right to you as a parent, and it will be what is best for your daughter. Give her the space to find herself yet educate her on what you know, and whether she's fascinated by astronomy, insects, swimming, drawing, frogs or fairy princesses, she will let you know and guide you in the process.
And the biggest surprise to me as a parent? A lot of this is already inside you and doesn't appear until you have a little soul to care for and raise. I have said before that when I gave birth to Emerson I also delivered "Service Pack B" to figure out how to deal with a baby. Before Emerson, I feared babies, never changed a diaper and only held one or two
(usually after being teased by a friend who was a mother)
. When pregnant, I feared I would never figure it out, but hours after she was born I was changing her diaper like a pro and holding her in a way that I knew was secure and comforting. As caring for an infant came pretty naturally to me and my husband, so did understanding her as an individual. And I know that "Service Pack B" will come to you as well and you will be a fantastic mother. Worrying about this now shows that you truly care about your child being her own person, and that in my opinion is one of the most important aspects of being a great parent.
Note: I know this is a pretty personal subject and not necessarily fashion related, but it is one that has been asked by my readers more than once. For that reason I decided to make this a post and not just a personal reply.  I do not claim to be the best parent in the world and one should not consider my word gospel - it's just my experience as a parent, and I hope it can help other parents out there.
Follow Me | Twitter | Facebook