Dear Allie,
I don't go out a lot, but each time I do I wish I had something other than my big day purse to take with me. What would be a good choice of bag that I can have for when I get invited to a bachelorette party or a wedding or my husband's office Christmas party?
Thanks,Tonya
To have a bag that works for all those situations and to span seasons
(and years)
you will need to either go very simple, or choose something really unique.
As soon as I read your email, I thought of my patchwork clutch from Novica. It's a mix of cotton and leather and it contains most every color in the rainbow. The bag is so unique and eye-catching it can dress up and down pretty easily – I have paired it with a LBD, and as you see in this post, wore it with a chambray shirt and wool skirt. A clutch is a smart choice because it's a more timeless silhouette - bag shapes and sizes come and go but clutches have maintained popularity over the past decade and will continue to be popular and stylish.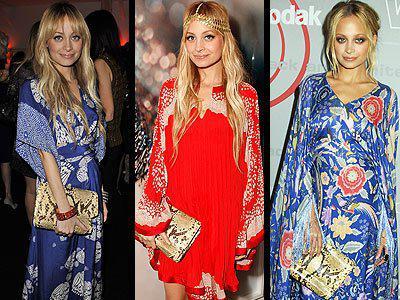 Nicole Ritchie shows how a snakeskin bag can work with all sorts of colors and styles
Something out of snakeskin or leather
(real or a quality faux)
is a classic choice and will hold up over the years; however don't rule out an unexpected finish. A twill or canvas bag with beading or feather detail can often be just as versatile. If there is a variety of colors, a print, or a statement color, you can have it work with most anything
(even if the color of your dress is not in the bag).
If you would like something more classic, you can't go wrong with a soft black leather clutch. Classic size
(around a foot to 18" in length and slim)
and silhouette
(pouch or envelope)
. The leather should be soft, buttery, no funky glazes, no flashy details. This is the type of bag you can wear today and 20 years from today. You may have to pay more to find such a bag
(or search vintage boutiques)
, but it will be a wardrobe staple for a lifetime.
Hi Allie--
I was advised by my physical therapist to consider wearing a cross-body bag, rather than a bag with a shoulder strap (to help with my neck/shoulder problems). However, I'm busty and feel uncomfortable with the 'boobage issue' created with a cross body strap. Any thoughts on how best to work with a cross-body bag?
Marcy
Like you, I shied away from cross-body bags for years because of my large bust. They always seemed to accentuate them, falling right between the breasts, often pushing them to the side. However, once I became a city commuter, I realized how very necessary they can be. Now I have several cross-body bags in my collection. A few tips:
Be picky about the strap.
My Brahmin handbag can be carried in my hand, worn as a shoulder bag, or the strap lengthened to become a cross-body. More often than not, it is worn across my body when I go to work so I can have hands free to hold onto a support bar on the Metro, read the paper, or hold a cup of coffee. The reason this bag works so well is because it is very narrow
(about a half an inch)
, yet extremely sturdy
(no chance of it breaking or cutting into my neck)
. The combination of narrow yet thick/sturdy helps with comfort… and it also helps with the 'boobage' issue by being too stiff to really slide between and under the breasts.
For smaller cross-body bags
(I like to use these when going to concerts and festivals),
I go the opposite route with a very lightweight strap. By being so lightweight of a bag and strap, it doesn't fall between the breasts causing separation.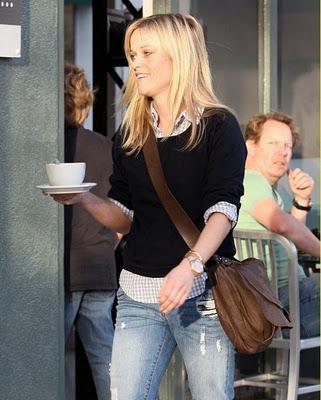 Reese Witherspoon in a Crossbody Bag
For a large heavy bag
(daypacker, to carry your laptop)
, there are bags made with an usually wide strap which ends up working more like a sash across your body.
Adjust the strap.
Sometimes one inch can make all the difference with a crossbody destroying the line of your figure. Look for an adjustable-strap bag so you can play in front of the mirror to find the perfect length for your body. For me, I find a longer strap
(bag hitting lower on the hip)
works better with my bust if the bag is heavy and large; I will do a shorter strap for smaller crossbodies.
Minimize.
A big problem with current handbags is the size – the larger a bag, the heavier it will be, and the more room to hold everything except the kitchen sink. The heavier the bag, the more likely it will divide your body.
Look for the absolute smallest bag you can handle – if you need a bag to carry your laptop or iPad, find a slimline style to minimize bulk. If you don't need a bag to carry your electronics, shrink the size all together. Seriously look over your bag contents – do you really need 5 lipsticks, 2 paperback novels, and that travel umbrella even though there isn't rain on the horizon for weeks? I find it's easier to organize and pare down when I keep my bag contents in smaller bags – one for cosmetics, one for purse essentials such as safety pins and gum, my wallet, and then my phone etc. When it is already compartmentalized it's harder to justify a random addition.
Hi, Allie!
I have recently started a new job in the finance industry at a more "corporate" location as opposed to "business casual." With my new position my manager wants me to bring my work laptop home with me each day. I have been carrying both my purse and small laptop bag each day, along with a water bottle, and if I pack my lunch a lunch bag. I'm looking into consolidating it all into just one bag. Do you think it would be better to get a laptop/tote bag with a padded section for the laptop and carry all my necessities in it, or should I get a basic work tote that would be large enough for all my stuff and buy sleeve to protect my laptop? Do you have any suggestions for a work bag that would accommodate carrying a laptop daily?
Thanks!Karla
I guess it depends on you and your lifestyle. I personally have a laptop bag that I use for everything when I need to carry my laptop. My work laptop is pretty large and integral to me being productive at work, so I have chosen to have a bag that best supports and protects it. It's not glamorous – it's black microfiber and clunky, but it keeps my bag safe and looks professional for onsite client meetings.
If I had a smaller standard-size work laptop, I would consider a sleeve, but the problem is that a sleeve can slide around in a non-structured bag, making it feel heavy and clunky and possibly stretching out your purse. I have carried my netbook in a sleeve in my structured leather J. Crew tote – the netbook and sleeve fit perfectly in the large center zipper compartment leaving plenty of space for my personal purse contents. I can then slip out the netbook and carry a lighter bag to after-work events or a lunch meeting.
As for your lunch… it may be hard to find a bag that can carry that and everything else. My laptop bag is the size of a piece of carryon luggage and I still can't seem to fit more than a Lean Cuisine in there, and if I do I don't have room for a water bottle. With all the padding to protect your laptop, it becomes hard to carry everything in one without dragging around a bag the size of a small child. It may less cumbersome to just carry your lunch separately.
Before you decide you need to consider:
The size of your laptop – is it standard (meaning it's easy to find a sleeve and easy for it and the sleeve to fit in a standard-size bag)
How often you need to carry your bag sans laptop (lunch or client meetings, after-work events where you can slip your laptop in the trunk of your car, etc.)
How much walking will you be doing – would it be more practical to get a rolling laptop bag? I know my laptop with it's cord and extra-large battery is ridiculously heavy and I have considered getting a rolling bag to transport it and all my other essentials. With such a bag, also carrying your lunch wouldn't be an issue.
A few laptop bags I have seen that are stylish while being professional: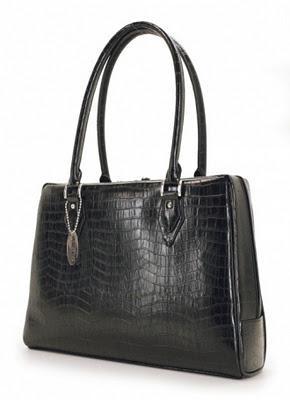 The MobilEdge Milano Tote
MobilEdge Milano Tote
– This bag holds a lot without looking bulky or as though it was purchased at REI. Online reviews state the faux croco finish looks quite nice and expensive in person. The strap is long enough to fit over your shoulder even while wearing a winter coat. While the version I link to fits a 17" laptop, there are other retailers (like this one) who have the same bag for a 15" laptop. This is regularly rated as a top choice for professional women (if you like it, Google it to find the best price as it is available on a variety of online shops).
McKlein "Deerfield" Laptop Tote
– A very sleek modern look, Italian leather, and a variety of amazing colors makes this 17" laptop bag a winner. Special compartments for business cards and pens, while still having room for essentials such as a wallet, cosmetic bag, and bottle of water. The dark red would be quite elegant with classic gray and black suiting, while the choice of other colors could be a fun choice for more creative offices.
Piel Multi-Pocket Laptop Tote
– This one even has a side pocket specifically for a water bottle! This bag gets rave reviews from business travelers which means it would have all the space and organization for one who wants to use this in place of a separate purse. Available in classic brown, black and cognac as well as a few subtle shades that would also work in most professional settings.
Royce Leather Cosmopolitan Computer Brief
- Very simple style, tons of pockets for all your essentials, and a size to fit most standard-size laptops. While black is a safe bet, I really like the red to add a conservative pop of color to a corporate wardrobe.
While there are thousands of different types of bags out there, I chose ones that were pretty conservative in silhouette and made to be primarily a laptop bag. If you find that a sleeve or a rolling bag is more appropriate for your needs, do check out these sites that have a great variety of bags:
eBags - a fave of mine because of the extensive customer reviews
Kolobags – amazing variety of fashionable bags designed for laptops and other technology
McKlein USA – laptop bags specifically designed for women
Handbags.com – quite a large selection of work-appropriate laptop bags
Overstock.com – I have a laptop bag from there that I got at 75% less than a similar (and same brand) bag at Macy's. If you know what you want, this site is worth a gander.

Laptop Bags

Follow Me | Twitter | Facebook