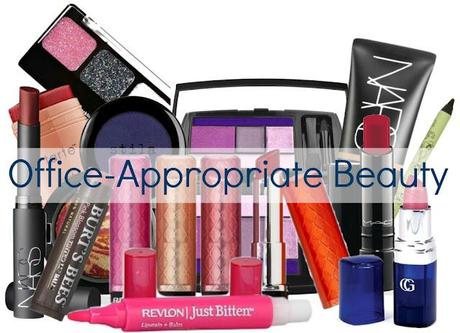 I am about to start my first internship in D.C. this fall and can't wait. I was wondering if you have any recommendations for subtle office-appropriate lipstick? Preferably something by Revlon or an inexpensive brand. I love wearing red lipstick but don't want to look too crazy in the office. Thank you!
Red lipstick doesn't necessarily look crazy if you do it right. I love
Revlon ColorBurst Lip Butters
for they provide sheer color that you can layer for strong pigment – one swipe of
Cherry Tart
is cheery without stopping traffic; add a few more layers for drinks after work. I also like matte reds for the office – they may have the pop of color but don't have the added shine to really call attention to your face –
Revlon Just Bitten Kissable Balm Stains
are a great budget-friendly option that can let you wear color without the color wearing you.
For at least the first week though, I would steer clear of a bold lip. Get a feel for your office culture. Choosing a brownish pink is a wise choice – something slimier to your natural lip color yet a bit darker or more intense. A shade that has mauve, dusty, or natural in it is a good choice.
CoverGirl Continuous Lipcolor
is a great budget-friendly lipstick that will last through your morning cup of coffee without drying out your lips;
Iced Mauve
and
It's Your Mauve
are great choices for women with fair to medium complexions that are neutral to cool in tone.
Finally, I am a big fan of
Burt's Bees Tinted Lip Balms
and now own four different colors.
Rose
is a sheer red that is playful yet office-appropriate,
Red Dahlia
is more of a sheer wine,
Hibiscus
is a sheer candy pink,
Tiger Lily
is a warm neutral that looks fantastic with a hint of a tan.
You often wear very bold makeup at work. I can't imagine smokey eye or magenta lips in my office yet you do it and from what I assume you have a managerial position at your company. Is such makeup now acceptable in the workplace?
Each office environment is different. I work in a very relaxed environment where people are free to show their personal style as long as it is within the dress code guidelines. I also work in a position where I don't meet with clients every day and only interact with my teammates.
Before you decide whether to wear a smoky eye or bold lip in your office, take a look around. Are there any colleagues who wear bold fashion? How are they perceived by upper management? Do they get the respect they deserve?
While I may wear a smoky eye once in a while and this winter did rock quite a few bright lipstick colors, I keep most of my "fun" makeup for after hours. No sparkle or shimmer, no intense or bold eye colors, no false lashes, nothing overly trendy. While my workplace may not blink at hot pink lip gloss, a peer company with a similar clientele may freak out over navy eyeliner. Respect your office, your position with the company and the position you desire to have in the future before going bold with your office beauty.
Follow Me | Twitter | Facebook