I bought this denim skirt and this summer I wore it with a T and TOMS but I don't really know how to wear it now that it's getting cold without looking like a school teacher. Advice?
Denim skirts are one of those items that seem like a perfect wardrobe staple, but once you have it you realize it's quite hard to style without looking dated or costumey. A few tips on how to style a denim skirt like this and have it look modern, fresh, and not at all like a school teacher.
This is not the denim skirt you may have worn in the early '00s. Back then, I had several denim skirts: distressed, dark and narrow, a-line and short, and everything in between. I went two ways, Lita Ford (would wear with engineer boots and a band tee or tank), or Faux Professional (with a blazer or ribbed turtleneck and knee-high heeled boots… and sometimes fishnets). This go-round with denim skirts, neither is really the trend. The goal, as it has been with fashion for a few seasons, is a bit of a juxtaposition. Hard with soft, dressy with dressed down. This should be in mind when styling your denim skirt.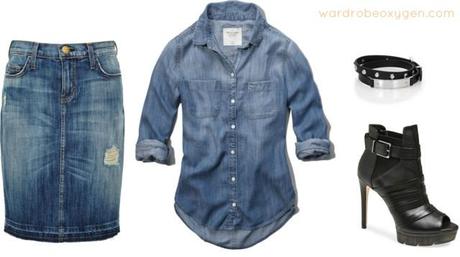 Turn on your JavaScript to view content
denim skirt
Seen this summer wearing double denim with a leather baseball cap and pumps
leather moto jacket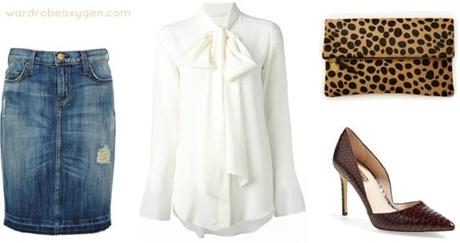 Turn on your JavaScript to view content
beat up denim
luxurious silk
pussy bow
elegant croco pumps
leopard clutch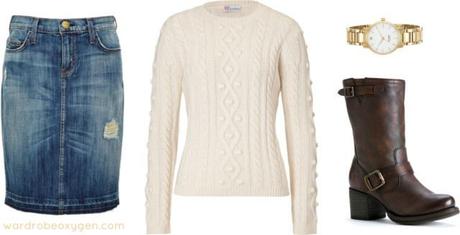 Turn on your JavaScript to view content
chunky cableknit sweater
chic sweatshirt
TOMS
sturdy boots
Instead of treating a denim skirt like your jeans or denim shirt, consider it an embellished or creative fabric piece. Instead of having the top be the feature, keep the colors neutral so the skirt can take the spotlight.  By changing your outlook on the classic denim skirt, you'll find so many new ways to style it in a modern way!