I love the idea of capsule wardrobes and minimalism but I can't seem to make it work. I buy basics but they don't work with each other so I end up buying more and more. I like neutrals (camel, cream, gray with jeans and brown shoes) and I like a polished and professional but feminine look but I'm buying and looking like a forest ranger instead of Katharine Hepburn. Help me get on the right track!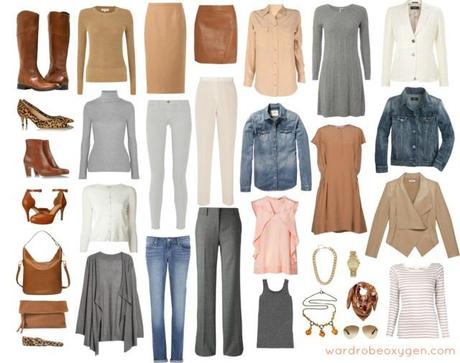 Shop similar: riding boots | pumps | ankle boots | heels | hobo bag | clutch | belt | crewneck sweater | turtleneck sweater | cardigan | waterfall cardigan | pencil skirt | gray jeans | jeans | leather skirt | ivory trousers | gray trousers | silk shirt | denim shirt | ruffled shell | tank | gray dress | camel dress | gold necklace | watch | beaded necklace | silk scarf | textured blazer | denim jacket | leather jacket | striped tee
Oh those must-have closet essentials, they get us every time! The thing is, what is considered a classic or essential to one woman can be useless or terribly unflattering to the other. The best way to figure out your personal closet staples or wardrobe must-haves is to look at what you already wear and love the most. Guessing by your forest ranger comment I'm betting you're purchasing a lot of structured pieces like crisp button-front shirts, trenches, straight trousers and that may be the problem. I made a capsule wardrobe of very classic pieces, but with a softer, more feminine touch to steer clear of any park ranger vibes.
A good way to make neutrals look luxe instead of uniform is focusing on texture. Leather, denim with strategic fading or distressing, lace and crocheted fabric, silk, cashmere, wool, ruffles and draping, cable knits. Almost every piece in this capsule has some sort of texture to make it stand out. Instead of a crisp button-front, choose a silk blouse or a weathered denim shirt. Instead of a blazer or twill jacket consider toppers in tweed, boucle, denim, and leather. Strategic pleating and ruffles make a simple camel dress or silk shell showstoppers without affecting their versatility.
The best way to make pieces in your wardrobe work with one another is to imagine or write down potential outfits before you shop and as you consider every new purchase. If it can't be incorporated into at least three outfits with what you already own, it doesn't deserve space in your capsule wardrobe. The point of a capsule is to have everything work in harmony, and adding items that aren't versatile can quickly cause your capsule to collapse and have you spend far more than you want. To help, make an album on your phone or jot down in a small notebook the current pieces in your wardrobe that work so you can stay focused when you shop. I also recommend wearing pieces from your wardrobe and the shoes you'll likely wear with the future garment when shopping so you get a realistic feel for its versatility and appropriateness.
And finally, go slow. It's not as though your closet is bare, it's just not what you like. So shop with care, adding slowly so the pieces are ones you love now and will still enjoy a year from now. If you shop slowly and purchase fewer items, you can wait for great sales and invest in higher quality items that will last more than a season. The point of a capsule wardrobe is to have more with less, more style with fewer garments, more options while spending less money, more outfits with less stress of figuring out how to put them together each morning. It's worth the wait for the right pieces that make you feel and look great and work nicely with one another.
Shop the Post:

JavaScript is currently disabled in this browser. Reactivate it to view this content.