I'm not fat per se , but I've gained back all the weight that I lost in the first few months after giving birth. My stomach has gotten enormous, like 6th month pregnancy enormous and I hate it. I can't find anything to wear that doesn't make it even more obvious at least to me. I tend to wear jeans + t-shirt like top 99% time. Skirts are supposed to be flattering on me but I couldn't find anything I like + know what to pair with + can handle my daily commute of 1.5 hours in the bus , each direction. Shoes wise -same rut. I got wide feet and wide calves and am yet to find boots I can wear.
I have a belly. When I used to go to the gym daily and was a size 4, I still had a belly. Before I had a child, I had enough of a belly that more than one person asked when I was due. And now, after having a child and gaining/losing weight and not making much time for crunches I have a very soft midsection that Emerson finds to be the best pillow in the world. She likes it far more than I do, to me it looks as though I have one big monoboob below my actual breasts. But it's a belly that created a human being, it's natural, it's me, and so I have learned to dress it and come to terms with it.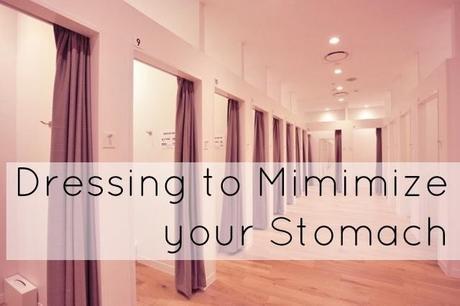 You can dress a tummy without drawing attention it, or hiding it in layers of fabric that will make you look like a big blob. Luckily, such pieces that flatter a figure with a belly also have stretch which hold up nicely through a commute or long day, and often are available at retailers of different pricepoints.
Wrap Dresses
Be they a true wrap or faux, such a dress gives the illusion of an hourglass figure and have a double layer right at the tummy, which disguises the shape and gives it a bit of added control. Choose a style that comes to your knees to flatter your figure and be more work-appropriate. If the neckline is too low, consider a camisole or strategically-placed safety pin.
Matte jersey doesn't wrinkle, it doesn't stretch out, and you can throw it in the washing machine and hang it up from your shower curtain rod and it's dry and ready to wear the next day. This fabric is stretchy polyester, but has a matte crepey feel that is more refined, not clingy, and dresses up and down with ease. I have found such dresses at
Old Navy
,
Target
,
ASOS
, and they are often at thrift stores
(I know I have donated quite a few from my days as a merchandiser at Express)
.
Other fabrics I like for such a style of dress are chiffon overlay with a polyester lining
(also doesn't wrinkle easily, but can be more delicate when it comes to laundry)
and ponte
(a very heavyweight and tightly-woven knit that is more refined than jersey and less likely to show lumps and bumps and can be laundered like matte jersey)
.
How to Wear in Winter:
With opaque tights
(I love the Spanx Tight End Tights for extreme durability, a control top that doesn't cut you in half, and matte opacity)
and boots or shoes of most any heel height. Keep the tights and shoe the same color to lengthen the leg, black is a safe bet with most any color, even brown and navy.
Vintage-inspired Dresses
The vintage trend isn't going away any time soon, and women with bellies are rejoicing. Be it
Modcloth
,
eShakti
, or true vintage, these dresses have a slightly higher waistband which hits at the smallest part of your torso, giving you more of an hourglass shape and allowing the skirt to hide your tummy.
With such dresses, fit is paramount. Go up a size if necessary and have it tailored, but don't let it pull at the shoulders or bust, cinch the upper arms, or ride up in the torso. A too-small fit will only make your figure look larger.
With many of these dresses, they have a percentage of polyester which will resist wrinkles. A print also can disguise creases that may take place on your commute
(or keep a bottle of Downy Wrinkle Releaser in your desk for a douse once you arrive).
How to Wear in Winter:
Opaque tights yet again, make such dresses perfect for the colder weather. Again, black is a safe bet with most any color or print, keep the vintage vibe going with a T-strap or Mary Jane shoe with a thicker heel.
Wrap and Surplice Necklines
It's amazing that a neckline can change the look of a midsection, but it really does work. A wrap or surplice
(faux wrap)
neckline elongates the neck, enhances the bust, and draws attention to the smallest part of your torso
(bottom of your rib cage)
. Like a wrap dress, you end up with a double layer at the torso which disguises the tummy. Surplice tops may not have that double layer, but they often have gathered side seams which provide strategic ruching at that part of the torso.
After I had Emerson, I lived in faux wrap, wrap, and surplice tops. Sure, they were great for nursing, but they also made my figure look amazing. I'd wear a wrap sweater with a black cami and black pants for a cohesive outfit; a necklace would draw the eye up and add interest. I had a half-dozen outfits of this style and looked great without a lot of effort.
Fit and Flare Styles
When trying to draw attention away from a body part, the worst thing to do is make the fabric on that body part too loose. A baggy top over a small belly will make it look Second Trimester. A fit and flare style will skim over the slim part of your figure, flare out right where your curves are, and work with, not against your figure.
Blazers often achieve this fit and flare look for you, if they fit well. Roll up the sleeves a couple times to let your slender wrists show, wear a top underneath with a v- or scoop-neck, and the line of the open jacket will disguise the tummy and allow for that fit and flare shape. Jackets of ponte and unlined stretch fabrics will give that shape nicely without adding bulk.
Wide Calf Boots
I have very wide feet, short toes, and ginormouse calves as well as thick shins and ankles. And yet, I own several pairs of tall boots. Get out of the mall and get online to find wide-calf boots that fit your feet and your legs. Check out these posts regarding wide calf boots:
My Favorite Wide Calf Boot Resources
Wide Calf Boots - My Favorite Retailers
Tall Boots for Wide Calves
A Wide Calf Boot Update
Ponte Knit Pieces
Ponte de Roma, otherwise known as ponte, is one of the greatest fabrics on the planet. It's stretchy like jersey, but heavy enough to hide lumps and bumps. It's a very tight refined weave that looks appropriate for work or social events, but is as comfortable as yoga pants. It is a pretty uniform fabric, so often a pair of pants from one brand will work with a jacket from another. With a fabric so heavy and tightly woven
(no stretching out or bagging)
, it flatters soft curves and even gives them a bit of support.
I own ponte pants
(fitted to slip into boots or wear with flats, fuller to wear with heels), ponte jackets (blazer style and longer trendy cuts)
, ponte dresses
(all styles worn year round),
ponte skirts
(pencil, drop waist, fit and flare… you name it)
, ponte tops
(drape-neck tanks, wrap-style tops, boatneck shells and more)
. I love how I can put two ponte pieces together for relaxed yet polished look appropriate for work or Sunday brunch. I love how I can usually machine wash the pieces to save time and money. And I love how the fabric works with my belly.
The goal with ponte is to find pieces that do not cut at the widest part of your belly. Drop waists, tops that end between the waistband and high hip, or shapeless styles that can tent out making the abdomen look even larger. But with styles that work with your curves, you can have a stretchy yet polished collection of garments that will survive a long commute and a busy day.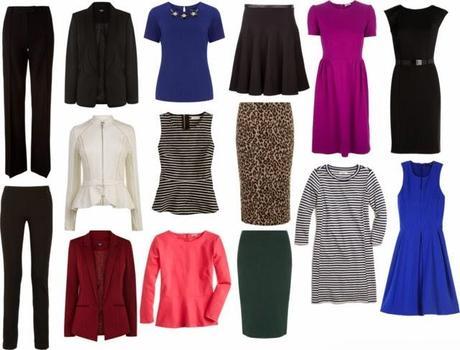 Build a ponte collection that can mix and match with itself and other fabrics for multi-season versatility. 
Shop similar looks:
Wide Pants | Skinny Pants | Black Jacket | Ivory Jacket | Red Jacket | Blue Top | Striped Top | Coral Top | Black Skirt | Leopard Skirt | Green Skirt | Magenta Dress | Striped Dress | Black Dress | Blue Dress
Powerful Accessories
The person who notices your belly the most is yourself. I bet the majority of the people you see each day don't even notice its size. That being said, accessories do a great job of drawing the eye to another part of the body:
Statement Necklaces will draw the eye up to your face. Right now such necklaces are very popular, so it's easy to find them in any style or pricepoint. Wear inside the collar of your shirt or over a round neck for a dramatic disguiser.
Heels are a great way to elongate the legs, make the tummy appear to be smaller with extra height, and also draw the eye away from the middle of your figure. I believe in commuter shoes – wear one style en route, and change once you get to your desk.
Wide belts worn above your natural waist can create an hourglass shape and provide subtle gathering over your midsection. You'll see in my outfit post archives that I own several wide belts and wear them at this location over dresses, cardigans, blazers, and more.
Proper Underpinnings
Control garments that cut you in half, hipsters that slide under the belly by lunchtime, bikinis that cut lines into hips… such pieces won't make your tummy area look any better. For control garments, I like the ones that either strap to or around your bra or else come right up to the bra line. This type of garment won't cut or emphasize your belly and give a smooth continuous line. For regular underwear, I like
Hanky Panky's Retro Thong
which has a higher waist so it doesn't cut or slide under the belly. A brief is better than a bikini for the same reason; some styles may look like granny panties but some brands make them high enough to stay put while looking darn feminine or sexy. Consider the same things when purchasing tights –
Spanx
makes tights that have a higher waist which prevents your tummy from being cut in half;
DKNY
does a good job of making an opaque durable tight with a control top that doesn't give gas pains, fall down, or cut you in half.
Follow Me | Twitter | Facebook | Instagram