I work in a casual office--and I mean CASUAL--but I feel my shoe wardrobe is lacking. Do you have any recommendations for casual shoes that aren't sneakers but would keep my tootsies warm in the Chicago winter?
I do believe that sneakers should be left for athletic activities, but that doesn't mean you have to dress up or sacrifice style. I used to work at an office where yoga pants,
UGG boots
, and flip flops were the standard, so I understand how you may not feel comfortable in pumps or even ballet flats. Here's three casual shoe styles I adore that are comfortable, stylish, and perfect for cold Chicago winters!

[collage source]
Unlike a sneaker which is chock-full of high-tech materials and cushioning to improve your game, a
tennis-style shoe
is far simpler. Usually of canvas with a rubber sole, this is a classic style that has come back en vogue and looks fabulous with everything from jeans to sundresses. This winter, wear with cozy socks and your casual pants, come spring pair with skimmers and full cotton skirts.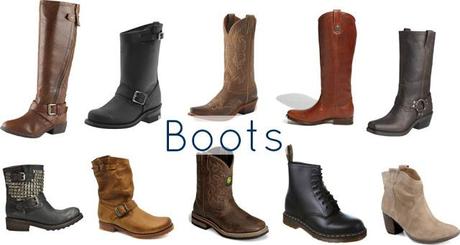 [collage source]
Boots are the type of footwear that just get better with time. Salt, snow, dirt… these just improve the character of many styles of boots. Brown boots weather best, especially if they are a
riding
,
engineer
, or
Western
style. Black boots in styles known to be worn a lot (
engineer, riding, work/Doc Marten)
also carry off the distressed look. A pair of pull-on style is easy polish for a wardrobe of slim jeans and casual tops and can be polished to wear with more casual dresses and tights. I find most weekends I am in a knit top, sweater, stretchy jeans and tall boots because it's not only easy and comfortable, but looks polished and put together.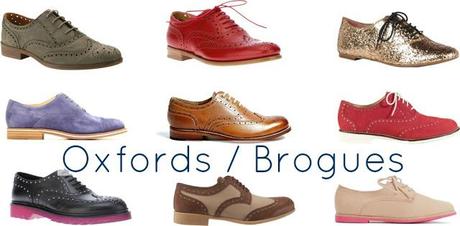 [collage source]

This is another comfortable shoe style that has come back en vogue and makes casual yet polished dressing easy. They can be worn pretty much the same way as tennis shoes but the plus to oxfords is that they beg to have your socks on display. A simple tee shirt and jeans are given a level of cool with some

nubuck oxfords

and pastel-striped socks, or

polka-dot brogues

paired with hot pink socks with skulls on them. Oxfords also look great with cropped pants and skirts

(see my post on how to style

brogues

here),

and are a style of shoe that begs for a statement-making color or finish!

While they aren't oxfords,

desert boots

has also returned to the fashion scene and look fabulous with jeans and casual pants. The

Clarks Desert Boot

is a classic, but there's a lot of alternatives in fun colors and with

wedge heels

and other unique details.

Follow Me | Twitter | Facebook | Instagram