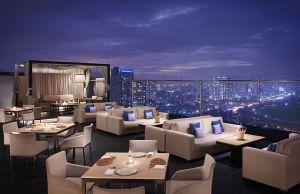 Starting 13th March 2016 featuring Ferenc Nemeth one of the biggest names in Jazz from New York City performing live in Mumbai.
ASILO, the city's much sought after rooftop destination, known for its decadent sundowners, lavish brunches and absolutely A List parties, now announces The Sunday Club with Chandon starting this Sunday 13th March from 5 pm to 8 pm.
This promises to be an evening where pure, unadulterated style meets the highest echelons of musical tastes. The firstSunday Club with Chandon features Ferenc Nemeth one of the biggest names in Jazz from New York City performing live in Mumbai.
Livewire performances, the setting sun and flutes of bubbly, is surely an unmatched combination of the finest tastes. A sublime evening in a perfect setting that the city hasn't experienced ever before!
Ferenc Nemeth is an accomplished and versatile musician who continues to push the boundaries of jazz drumming and composition.  Nemeth has since the early days of his career, been one of the most sought after drummers both, in his native Hungary as well as in the United States.  An exciting performer and imaginative collaborator, Nemeth is well regarded for his work with the Lionel Loueke Trio and GilFeMa and has also travelled, performed and collaborated extensively as a bandleader, co-leader, sideman and educator as well as initiating creative projects of his own. His expertise and vast knowledge beyond traditional jazz, has also seen him move effortlessly through contemporary jazz as well as pop, rock, electro-pop, hip hop and increasingly into ethnic and culturally diverse disciplines.
An ever-present thirst for exploration and experimentation has seen Nemeth travel widely and play with musicians from a variety of backgrounds and countries. This occupation in turn, has also resulted in Nemeth's regular participation in workshops and teaching programs, the most recent being the Swarnabhoomi Academy of Music in India.
Joining Ferenc at ASILO will some of India's best Jazz talents : Ryan Sadri, Racheal Varghese and  Karan Joseph .
"At ASILO we strive to bring only the most exclusive experiences to our guests. Ferenc's performance for The Sunday Club is yet another innovation that goes further to reinforce our position as a destination that stands for the best lifestyle encounters in the country today", says Sanam Sippy, Director, ASILO.
The Sunday Club will be serving free flow of Chandon & Cocktails at a very special and attractive price of Rs 2450 plus taxes per person and an upgrade to Moet & Chandon is priced at Rs 4450 plus taxes.
The Sunday Club at ASILO
40th Floor St Regis Mumbai
Timings 5 pm to 8 pm 
Tel Nos 022 61628031