Xin chao! [sinjao] – Hello!

Ban hay khong? [bahn nay khom?] – Would you like to dance?
Hoi An, Vietnam!
Of all the places on the travel agenda for this trip – this destination was for the shortest stay.  We flew out just for the weekend from KL, Malaysia to Danang, Vietnam ….a 30min drive from Hoi An, specifically for VLX – Vietnam's Lindyhop Exchange weekend!

This was my first time swing dancing outside of Canada!
If you remember from my previous post, there was a pie chart highlighting the various nationalities that would be at this dance exchange – I'm proud to say that me and my travel mate added to the 7% Canadian slice who were in attendance :)
Where We Stayed
We signed ourselves up for the full weekend – which meant we did't have to do a thing when it came to booking hotels and transportation to/from airport – VLX took care of us as soon as we landed!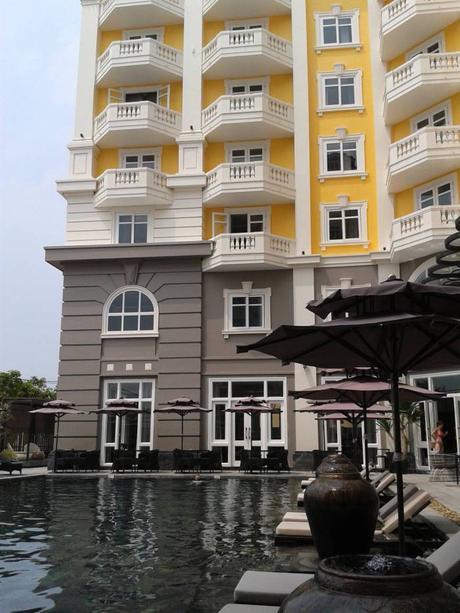 The glorious Hotel Royal Hoi An, MGallery Collection – we had breakfast around this lovely pool every morning!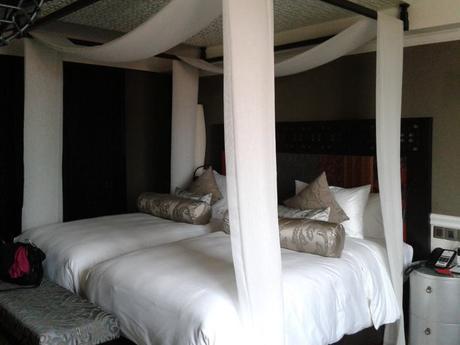 THIS was our fantabulous suite —- These Beds! These Pillows! These amazing fluffy robes!!! This place was divine!!!
We were on a tight dance-filled agenda which began with a Welcome dance our first night at the Hoi An Historic Hotel ….
The theme that night was "East Meets West" … here's what I wore: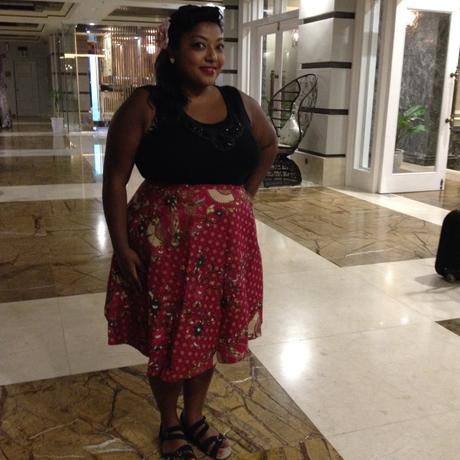 My gf and I found these lovely batik printed skirts from The Central Market in KL, and went twinsy for the evening complete with flower in hair and vintage bangs.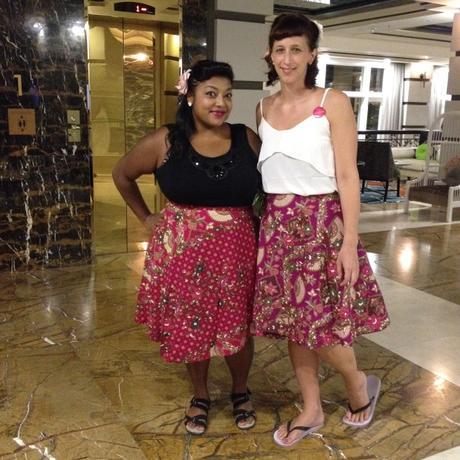 Batik skirts with fanny prints + tanks + vintage hair flowers + bumper bangs = East Meets West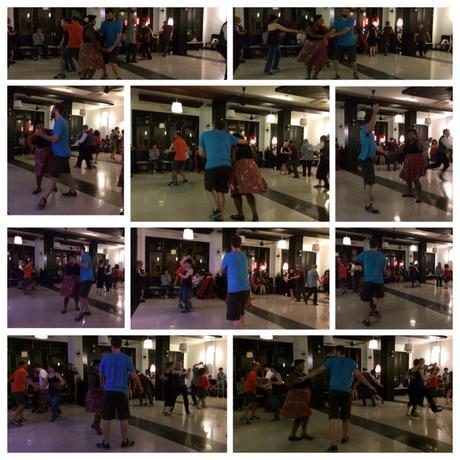 Caught in the lindyhop act … some kind soul snapped these (Thanks Jason & Sheila)
We were caught on camera and made the News in Nam!!!  See if you can spot ME in the news clip friends ;)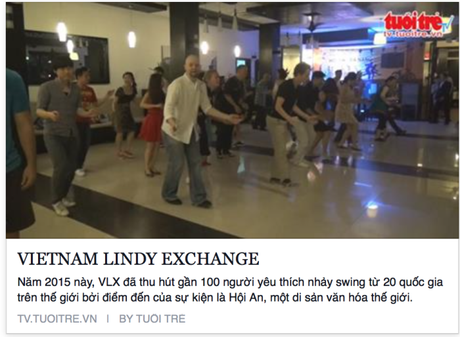 While other VLXers woke up super early for a bike ride to explore Hoi An (after dancing until 3:30am the night before) …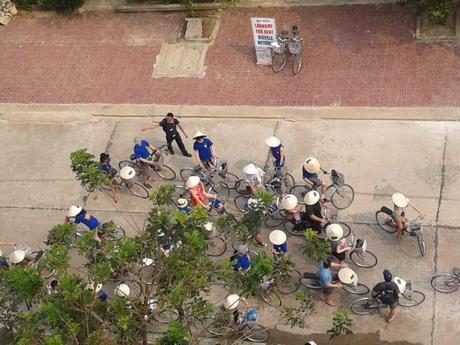 me and a few other deep-sleepers chose to enjoy the day in the pool instead – until the next dance of course :)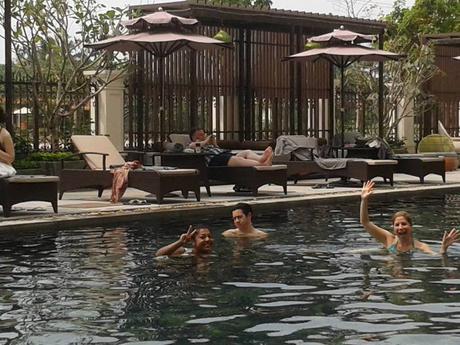 Beach Afternoon – An Bang Beach, Hoi An
On Sunday afternoon we were shuttled to An Bang Beach to Soul Kitchen and took over a lovely little section of sun and shade …and DANCING!!!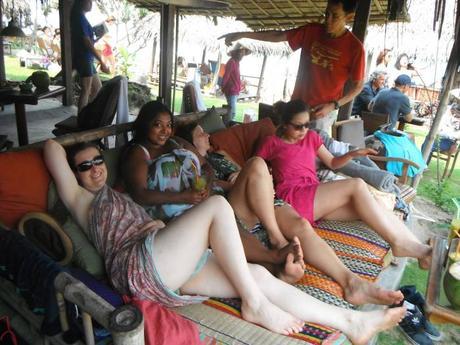 Day drinking + relax-o in between barefoot lindy hopping = Paradise!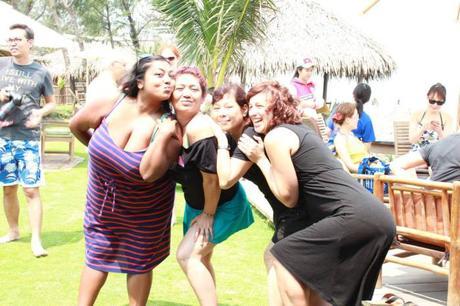 Me among the beauties representing Malaysia at the VLX :)
And then the barefoot Lindy Hopping began!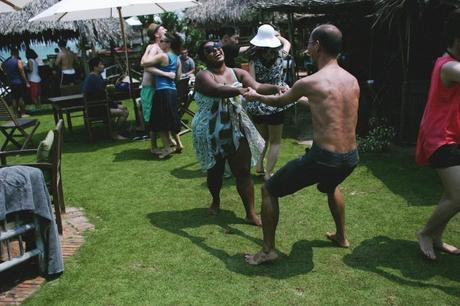 The VLXers of 2015…. such a great group of people!!!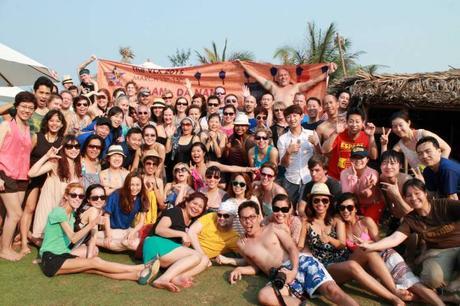 MORE Dancing Nights …
If you've been following me on Instagram, you've likely already seen a few of these pic and can watch a few vid clips too.
Every evening there was a dinner and a dance planned for us.  Here are a few shots of all the fun: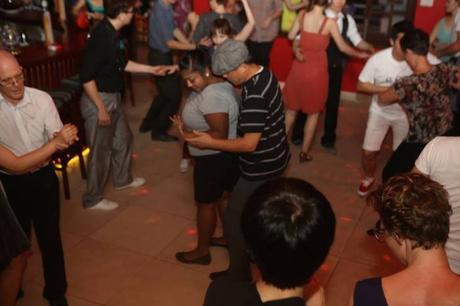 Dancing at the Bamboo Buddha
This evening's dress code as "Extreme Opposites".  I had no idea what that meant … and so I went as Batman!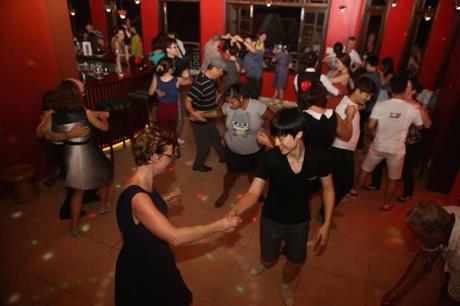 I'M BATMAN! ;)
Isn't this a great picture?  Borrowed this hat from a VLX Cowboy. He snap this photo complete with Asian sworded companion.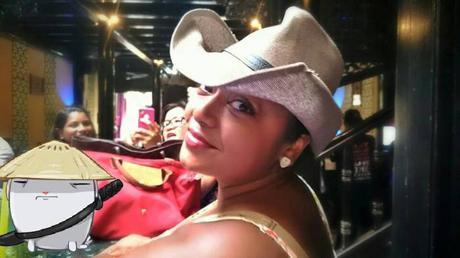 Our last night in Hoi An, we had a farewell dinner at Green Mango ….with a dress code of "Modern Vintage"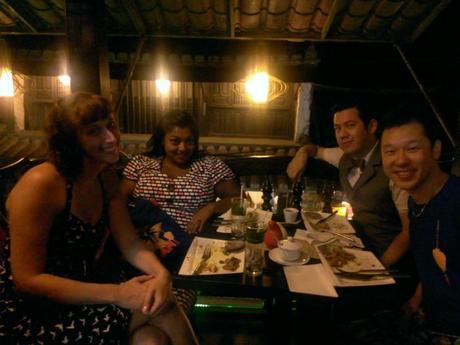 Dinner our last night there…le sigh.
After dinner our last night of dancing in Hoi An….we took the Lindy Hopping to the streets…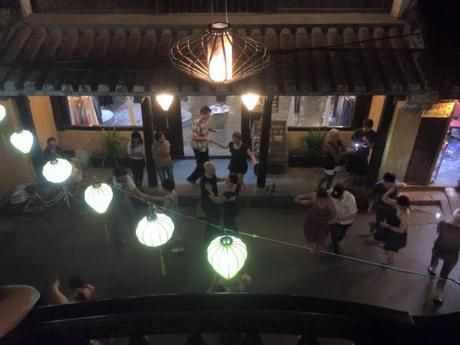 My dress is from the Canadian designer Cherry Velvet Plus, click here for outfit deets.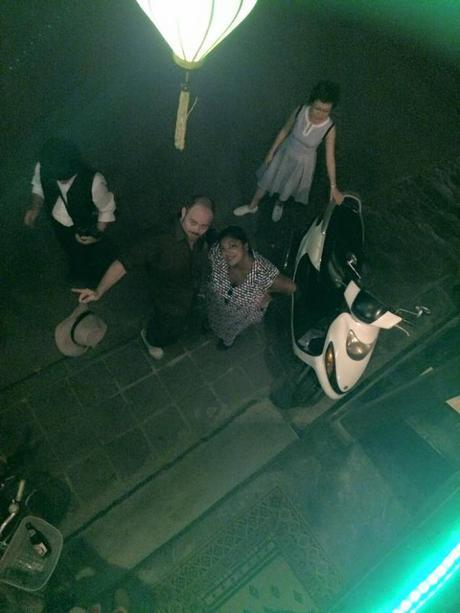 Dancing in the Streets! Loved it!!!
Of all the places I visited this trip, THIS is the city I wish I had spent more time in….sigh.  Guess this just means I've gotta make another visit sometime soon <3"><3"><3"><3"><3"><3
Although much of the trip was spent dancing …. I was able to check out a few sites, ate some amazing meals and even got to visit a tailor to get some custom threads made!!!  7 new pieces came home with me!
Stay tuned for the next blogpost highlighting these things specifically!!! Thanks for reading! xo
In case you've missed any… PPMeow's Asian Adventure includes:
Have you LIKE'd the Petite Plus, Meow's Facebook Page yet?
LIKE. Comment. Share.    :)