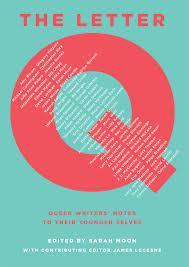 It is a truth universally acknowledged that LGBTQ teenagers must be in want of queer mentors.  Thanks to Editor Sarah Moon, it's now possible for them to glean the wisdom of a variety of LGBT role models in just one trip to the library.
The Letter Q: Queer Writers' Notes to Their Younger Selves is a compilation of letters from sixty-three LGBT writers – from literary greats such as Michael Cunningham, David Levithan and Malinda Lo to lesser-known authors, editors, playwrights, and cartoonists.
The sheer number of contributors is impressive, and ensures that there is a diverse collection of perspectives.  While The Letter Q can be a bit repetitive at times (as you might expect), it is well organized – the cartoons break up the text, and the length of the letters allow it to be a quick read.
Although there is a wide range of experiences represented, there are noticeably more stories from male writers than female.  The real lack is in transgender stories, however – only two contributors are trans*.
Identities beyond LGBT (intersex, pansexual, asexual, etc.) are not mentioned; while the book does not purport to include these experiences, their absence is indicative of how even an anthology marketed with a queer audience in mind is pushed towards the mainstream.
Additionally, there are no stories from indigenous writers, and surprisingly, none focused on religion.  While I understand that not every perspective can be included in one compilation, the stories that are missing speak to perhaps the most marginalized groups.  I suspect the teenagers searching for those stories are the ones who need this type of anthology the most, and hope their feedback will spark a conversation about more inclusive editions in the future.
I will say that one of The Letter Q's strengths lies in its illustration of how queerness relates to race, gender, and class.  Many of the selections reflect not just on gay identity, but how being a gay/lesbian/bisexual person changed the writer's relationship with her blackness or femaleness or lower-class status, for example.  This intersectionality is especially important for young readers to understand – that coming to terms with your sexuality will also change how you see other aspects of yourself.
Overall, The Letter Q is well worth the read.  Despite its omissions, it is still a step in the right direction in terms of supporting LGBTQ teenagers, and will be a source of comfort to all the girls wondering why they feel that inexplicable urge to kiss their best friend.