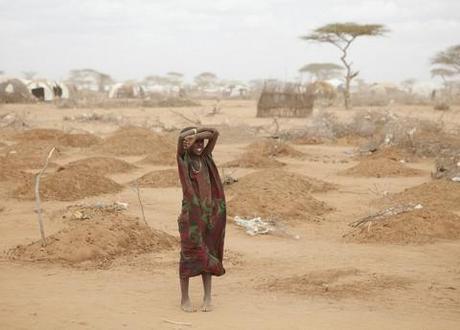 Mass grave for children, Dadaab. Photocredit: Oxfam East Africa, http://flic.kr/p/a6VkVi
Somalia remains in the grip of a famine that has so far killed 29,000 children under five. Four percent of all children in the country are likely to have died over the past 90 days, according to estimates from the US Agency for International Development. Aid agencies continue to operate in areas controlled by al Shabab despite the ban imposed by the Islamist group on humanitarian groups including the World Food Programme. Refugees from the south are fleeing to camps at Dadaab in Kenya and near Mogadishu; Reuters reported that ten people were killed in a firefight in the capital after trucks carrying food were looted. As debate rages over whether the famine in southern Somalia should have been predicted, Turkey has demanded that the Organisation of the Islamic Conference hold an emergency meeting on the famine. The magnitude of the situation clearly calls for the finest, most in-depth media response – or in other words, send in Liz Jones. At least, that's what The Daily Mail believes: the newspaper has dispatched the controversial writer, author of the column Liz Jones Moans, to report on the situation in situ.
Twenty-nine thousand children under five have died in Somalia over the past 90 days, according to the US Agency for International Development.
Ways to donate to the famine relief effort: DEC East Africa appeal, UNICEF, The Red Cross and Oxfam.
"I really hope my work out here does some good; a decent tan, a better figure, a newfound respect for human suffering – maybe a book deal?" @LizJonesSomalia